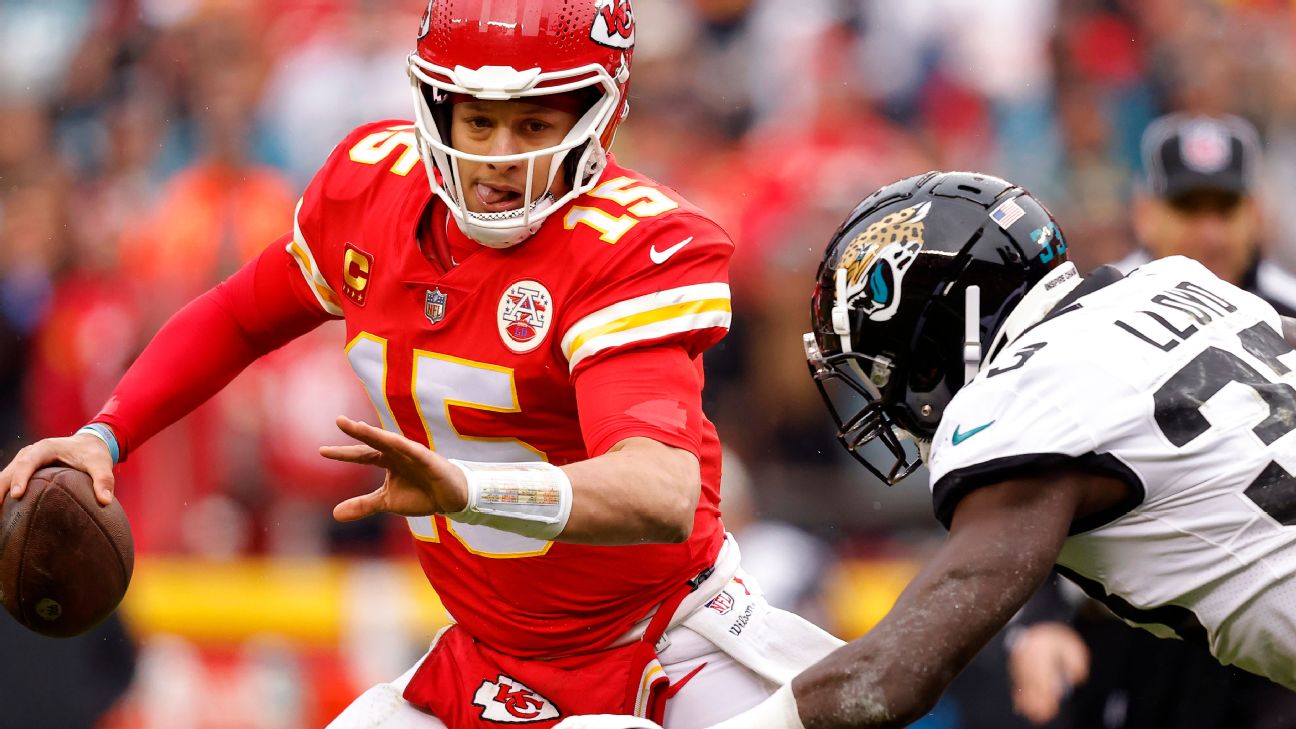 Chiefs QB Patrick Mahomes (ankle) returns in third quarter
Published
January 22, 2023
KANSAS CITY, Mo. — Kansas City quarterback Patrick Mahomes suffered a right ankle injury in the first quarter of the Chiefs' divisional playoff game against the Jacksonville Jaguars on Saturday, and later left for the locker room with training staff before returning to action in the third quarter.
During the second quarter, the Chiefs announced the injury and listed Mahomes as questionable to return. But the former NFL MVP tossed warmup throws after halftime and then took the field with his teammates after the second-half kickoff.
On a first-down play from midfield, Mahomes fell awkwardly under pressure after a 4-yard completion to Blake Bell with 2:40 remaining in the first quarter. On the play, Mahomes was moving up in the pocket when Jaguars pass-rusher Arden Key landed on his ankle.
At the end of the quarter, Mahomes went to the bench and had his right ankle taped in time for him to take the field for the next play.
Mahomes finished that possession and the Chiefs settled for a field goal, taking a 10-7 lead with 14:09 remaining in the half. He was 12-of-15 for 84 yards with a touchdown when he departed.
During the ensuing possession for the Jaguars, Mahomes flipped off his jacket and trotted into the locker room area. Jacksonville punted on that possession, while Chiefs backup quarterback Chad Henne warmed up on the sidelines.
Later during the next drive, with Henne under center Mahomes returned to the sidelines again wearing a jacket. The Chiefs scored on Henne's first drive, giving them a 17-7 lead.
"Listen, he went down there and got them right in the end zone," Jacksonville coach Doug Pederson said of Henne during his halftime interview on NBC's game broadcast. "So, we have to button up here at halftime."
This wasn't the first time the 37-year-old Henne has been pressed into duty in the playoffs. During a divisional round game against the Browns in January 2021, Mahomes went into the concussion protocol during the third quarter. Henne went 6-of-8 for 66 yards down the stretch, including an audacious fourth-down pass to Tyreek Hill that helped the Chiefs to a 22-17 victory and a spot in the AFC Championship Game.
The Associated Press contributed to this report.