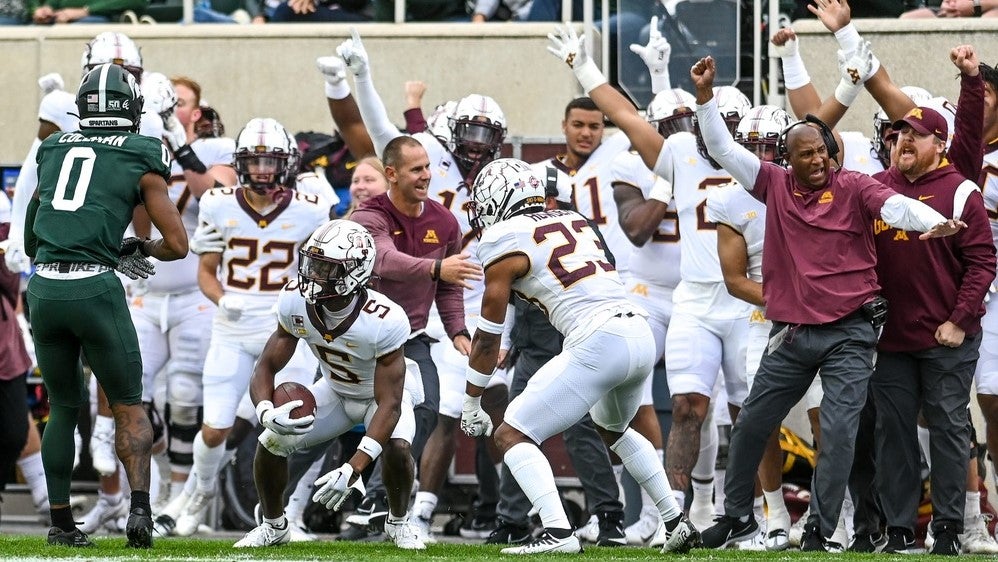 Five takeaways as Minnesota Football slays #21 Michigan State, 34-7
Published
September 25, 2022
Minnesota Gopher Football finishes a September to remember in East Lansing on Saturday, where the Gophers defeated the No. 21 Michigan State Spartans in dominating fashion, 34-7. With today's win, Minnesota head coach PJ Fleck being his Big Ten conference record to .500 (22-22). That marks the first time a Gopher football head coach has held a career conference record of .500 or better since week 5 of 1992 after Jim Wacker won the first Big Ten of his tenure. Joe Rossi's defense continues to suffocate their opponents. Tanner Morgan looks fantastic without Chris Autman-Bell, and it's okay to let yourself potentially get hurt as you hop aboard the Minnesota bandwagon.
Here are my five takeaways as Minnesota leaves no doubt about if they should be ranked or not, as they crush the Spartans.
Gopher quarterback Tanner Morgan continues to play incredibly well, as on the road today against a Big Ten opponent, the fifth-year starter completes 88% of his 26 passes for 268 yards and three touchdowns. I'd also mention that he ran three times, and all three were for first-down conversions on third down. 
Gophers are heatin' up. ??@25DanielJackson x @GopherFootball pic.twitter.com/7qEC5wNzKA
You can't throw a ball much prettier than this one. It's on the back shoulder and in a place where his receiver can easily make a play compared to the corner. But it went that way for all of September for Morgan, who now finishes the month completing 77% of his passes for 11.6 yards per completion with seven touchdowns to go with just one interception.
You can't deny that Tanner Morgan looks like a completely different player from what we saw the last two years with Mike Sanford, now that he's back with Gophers offensive coordinator Kirk Ciarrocca. He's more poised in the pocket, more confident in his decision-making, and has made as many tight window passes in the first four games of the season as we saw most of the last two.
I'm well aware that Minnesota hasn't played a great passing defense yet, as Michigan State appears to be one that isn't going to be in the top half in that statistic. But you've still got to go out and do it. And Morgan hadn't done that consistently since that 2019 season with Ciarrocca. But I believe the tandem on Ciarrocca and Morgan deserves credit. Ciarrocca is tailoring his game plan to what Morgan does well, and Morgan is executing said plan at a high level right now. It's a symbiotic relationship between the OC/play-caller/QB coach and the starting quarterback, and it's humming with harmony through the first third of the season.
Minnesota's starting defense hasn't allowed a touchdown through the first four games of 2022. That's just silly, but the truth cannot be controversial. That's about 12-13 quarters of play that defensive coordinator Joe Rossi's defense continues to suffocate their opponents. Opposing offenses that came into today's game had only converted FOUR third downs against this Minnesota defense in three games. Michigan State converted only two third-downs today, so Minnesota's now allowed six third-downs in four games.
Seriously, think about how absurd that is, regardless of the opponent.
Talk about pressure! ???@GopherFootball x @_twrush_ x @JustinWalley_ pic.twitter.com/2ic7s7LmCq
Michigan State came out the second half moving the ball down the field slowly and surely, but that's the beauty of a Rossi defense. When you don't give up big plays like Minnesota hasn't under Rossi's scheme, they believe they'll eventually get a stop or force a turnover as they did above. On the 12th play on that Michigan State drive, they get the turnover as Thomas Rush doesn't stop in his pursuit and clubs down on the ball, which bounces right into Justin Walley's arms.
Through the first three quarters against a Michigan State offense that has an array of weapons in the passing game, Minnesota allowed QB Payton Throne to amass just 105 yards on 20 passing attempts with two interceptions. He was never comfortable back there, and Minnesota's secondary lived up to the hype.
You also saw big plays from folks like Ryan Stapp. Jalen Logan-Redding gets the internal pressure, and corner Ryan Stapp gets home on the slot blitz as Thorne moves away from the pressure in his face. Huge stop on third down. Justin Walley comes down with his first interception of the season on fourth down as the Gopher defense drops eight into coverage. Thorne tries to fit one above Walley alongside the sideline, and the Mississippi native comes down with it.
Hell, we even saw Orono's Danny Striggow come down with a lineman interception! He read the screen and used that state championship wrestler's athleticism to come away with the ball.
Michigan State's tailbacks had been averaging 5.6 yards per carry coming into the game, and this run defense continues to bow up as the two backs managed only 36 yards on 10 carries.
I can't say enough about this defense. They continue to stay fresh as well, as the starters had 33 snaps through three quarters. But Joe Rossi and his staff have game plans that their players execute at a high level. Senior linebacker Mariano Sori-Marin continues to shine with a team-leading nine tackles, and safety Tyler Nubin was next best with seven.
And this is a pass-catching core for Michigan State that may be the best that the Gophers face all year. Jayden Reed was back, plus Keon Coleman, Tre Mosley, and Daniel Barker are really talented. They're deep, and Reed is a top-end Big Ten talent. They were erased. Minnesota will face the top receiver (statistically) in the Big Ten next week when Charlie Jones and Purdue come to town but enjoy the night.
Joe Rossi's Broyles Award campaign is in full force.
I had questions. You had questions. We all have questions about Minnesota's pass-catchers without WR1 Chris Autman-Bell. Six different receivers for the Gophers had multiple catches, but what a day for Daniel Jackson. 
31-0What will the @GopherFootball critics say this week? ?? pic.twitter.com/wQDh3zdu1e
That route can't be run any better. It's a fade-stop, as Jackson sells the fade off the line and then drives that right foot into the ground and comes back toward the pylon. A ton of separation, and Morgan finds him for Jackson's second score of the day. It was Jackson who filled in outside where Autman-Bell was playing, but you also saw the Gophers use Michael Brown-Stephens out of the slot quite a bit, as he led the team in receptions (six) and receiving yards (73).
We saw both of Minnesota's tight ends step up today as well. Spann-Ford had three catches on the day, and his first one was a big one on the opening drive on a 3rd-and-8. Wayzata's Nick Kallerup also scored his first career touchdown today, and for the former walk-on, you love to see it.
Dylan Wright had three catches for 54 yards, and all three catches resulted in first downs. That's progress for the A&M transfer.
But PJ Fleck and OC Kirk Ciarrocca talked about all week how it couldn't be just one guy that needed to step up in Autman-Bell's absence, but the whole room. Well, I'd say that when ten different receivers catch passes, and nine of those completions go for 15+ yards. That's a significant first step.
Say what you will about Michigan State's pass defense, but this was a good Big Ten run defense coming into the day. They had allowed 2.97 yards per carry on 100 attempts. And Minnesota's top two tailbacks of Mohamed Ibrahim and Treyson Potts combine for 175 yards on 34 carries, which comes out to 5.14 yards per carry. 
Most rushing TDs in program history ??@_MoIbrahim x @GopherFootball pic.twitter.com/HLwHuJ2zEM
It's still death, taxes and Mo Ibrahim rushing for 100 yards, as he does so for the 13th consecutive game. He'll always be Minnesota's yards after contact king, and he stays on track for the #Mo4Heisman campaign. 
But Brian Callahan's offensive line deserves a lot of credit as well. Michigan State's defensive line is legit, and features two-time Big Ten defensive player of the week in Jacoby Windmon, who you saw punch the ball out from Mo. But other than that, Tanner Morgan was not sacked on any of his 29 drop backs and had room around the pocket to navigate and extend plays. 
For a group that's still coming together as a unit, that's a heck of a job. Hat tip to the Minnesota Moving Company once again. 
Minnesota Sports fans, I'm talking to you.
I know you've been the Charlie Brown too often as Lucy pulls the ball out at the last moment. I'm not naive as I've grown up in this sports market just like you have. But you cannot deny that this 2022 team feels much different than what we've seen from a Gopher Football team. When they won 11 games in 2019, it was a struggle in September with close wins over South Dakota State, Georgia Southern, and Fresno State.
In 2022, Minnesota also ends September undefeated, but they have out-scored their opponents by 159 points. 183-24.
Their starting defense hasn't allowed a touchdown in four games, and has allowed just six third-down conversions. That's a 14.3% conversion rate against the defense, while Minnesota's offense has a 78% third-down conversion rate, which is also top in the Big Ten. They've converted 41 (!!) third downs in four games.
They've got a fifth-year starting quarterback in Tanner Morgan, that's playing confident. A running back in Mohamed Ibrahim who is 1/3 of the way to stating his case to be a Heisman contender. A defense that has fully bought into Joe Rossi's scheme and is executing at a high level.
And then take a gander across the rest of the Big Ten. Iowa and Wisconsin don't appear to be that threatening, especially offensively. Illinois is looking promising under Bret Bielema in year two, but the Gophers will get them off a bye week, and the Illini have Wisconsin and Iowa before taking on Minnesota. Purdue has firepower on offense, but can't find a way to win a close game. Nebraska has already fired their head coach and Northwestern just lost to an 0-2 FCS team.
The window is WIDE OPEN for Minnesota to finally get the monkey off their back and get to Indianapolis. I'm well aware that PJ Fleck hasn't beaten Iowa yet, and that Wisconsin in Camp Randall is a tough task. But how about we all just enjoy the ride.
Welcome to this 2022 Gopher Football team. Hop on board.
Homecoming game at 11 A.M. next week when Charlie Jones and Jeff Brohm come to town. Starting quarterback Aidan O'Connell is not playing tonight for the Boilermakers with an injury, and that's something to monitor this week. 
But let me also remind you, it's projected to be 70 degrees and sunny for this game. It's a beautiful fall day, and if you go, WEAR THE CORRECT COLOR!
This feels like a good time to remind you there is a specific dress code for Homecoming. ??: https://t.co/Sz54wWL8Ca pic.twitter.com/l53373rHoB