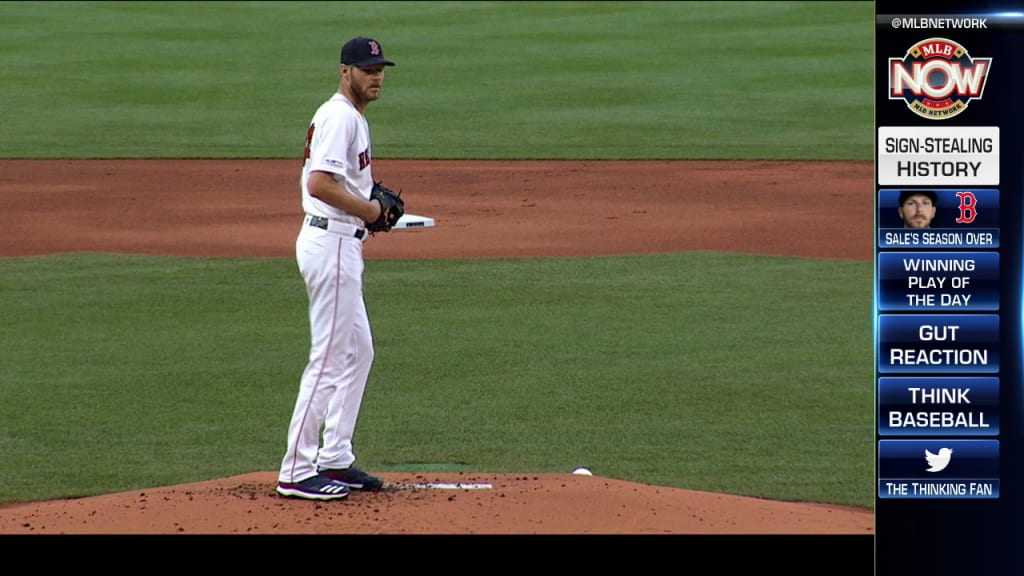 Sale fractures wrist in bike accident, out for 2022 season
Published
August 10, 2022
Ian Browne
BOSTON — Chris Sale's unfortunate 2022 season — marred by a series of freak injuries that limited him to just two starts — was dealt one last blow when the Red Sox revealed on Tuesday that the lanky lefty fractured his right wrist in a bicycle accident on Saturday.
On Monday morning, Sale underwent an open reduction and internal fixation of a right distal radius (wrist) fracture. The procedure was performed by Dr. Matthew Leibman at the Newton-Wellesley Outpatient Surgery Center in Wellesley, Mass.
The Red Sox declared Sale out for the remainder of this season, but they added he is expected to be ready for the start of Spring Training in 2023.
"You couldn't make this up, right?" chief baseball officer Chaim Bloom said. "We need to dispatch some people to go find whoever has the Chris Sale voodoo doll and recover it."
In befitting fashion of Sale's one-step forward, two-steps back summer, he had finished a successful throwing session at Boston College just prior to the bike accident.
It was the first time Sale had played catch since fracturing his left pinkie finger at Yankee Stadium on July 17, and the Red Sox had cautious optimism he would pitch again this season. But that's out the window now.
"Chris had actually just finished up his throwing at [Boston College]," said Bloom. "He took his bike out to go grab some lunch near his house and hit something going down a hill, flew off the bike and I learned about it later that afternoon. He reached out to [trainer] Brad [Pearson], Brad got over there and tended to him."
The season started ominously for Sale before Spring Training had even started. In a live batting practice at his alma mater of Gulf Coast University during the lockout, he suffered a stress fracture in his right rib cage.
Sale spent weeks rehabbing from that injury and was also slowed by a undisclosed non-baseball medical situation that halted him from throwing for a week.
At last, there was good news when Sale started what wound up a four-start Minor League rehab assignment on June 25 and made his season debut for Boston on July 12.
Topping out at 96.7-mph, Sale fired five scoreless innings against the Rays in a game the Red Sox lost, 3-2.
"I'm not broken anymore," Sale said. "It's different this year. It's definitely different this year. That's all I've really got to say."
Perhaps Sale should have found a piece of wood to knock on when he made that statement.
Something very bad happened five days later at Yankee Stadium, when a 106.7-mph liner by Yankees outfielder Aaron Hicks smashed Sale's left pinkie in the first inning.
Sale looked in disbelief at the crooked finger, showed it to manager Alex Cora and headed straight for the dugout, where the inevitable diagnosis of a fracture came not long after.
In recent days, the Red Sox had just started to gain hope that Sale would pitch again this season.
Sale didn't suffer any significant damage from the bike accident other than the break of his non-throwing wrist.
"So he's pretty beat up, and we did a full workup to make sure everything else was OK and all those bumps and bruises are going to heal, but the wrist was broken badly enough that it needed surgery," said Bloom.
Since undergoing Tommy John surgery prior to the 2020 season, Sale has made just 11 starts during the regular season and three more during the '21 postseason.
With two years left on Sale's contract after this season, plus an option for 2025, the Red Sox remain determined to help him get right again.
"As with everything that's happened, you look forward, and he should be fine," said Bloom. "I know we keep saying that and things keep happening. This is just an incredibly bizarre run of events. He should be full-go next spring. We obviously need to think through what that means as far as planning out a full season with him not having carried very much of a workload the last few years.
"But other than that, there's no reason not to expect him to be back and be the Chris Sale that we know. You guys saw it; those five innings in St. Pete, he looked really good. In that outing, he looked better than he had at any point last year, maybe except for Game 5 of the ALCS. So we're really encouraged in that regard. Obviously, this is a tough blow."
And also an all-too-familiar one.