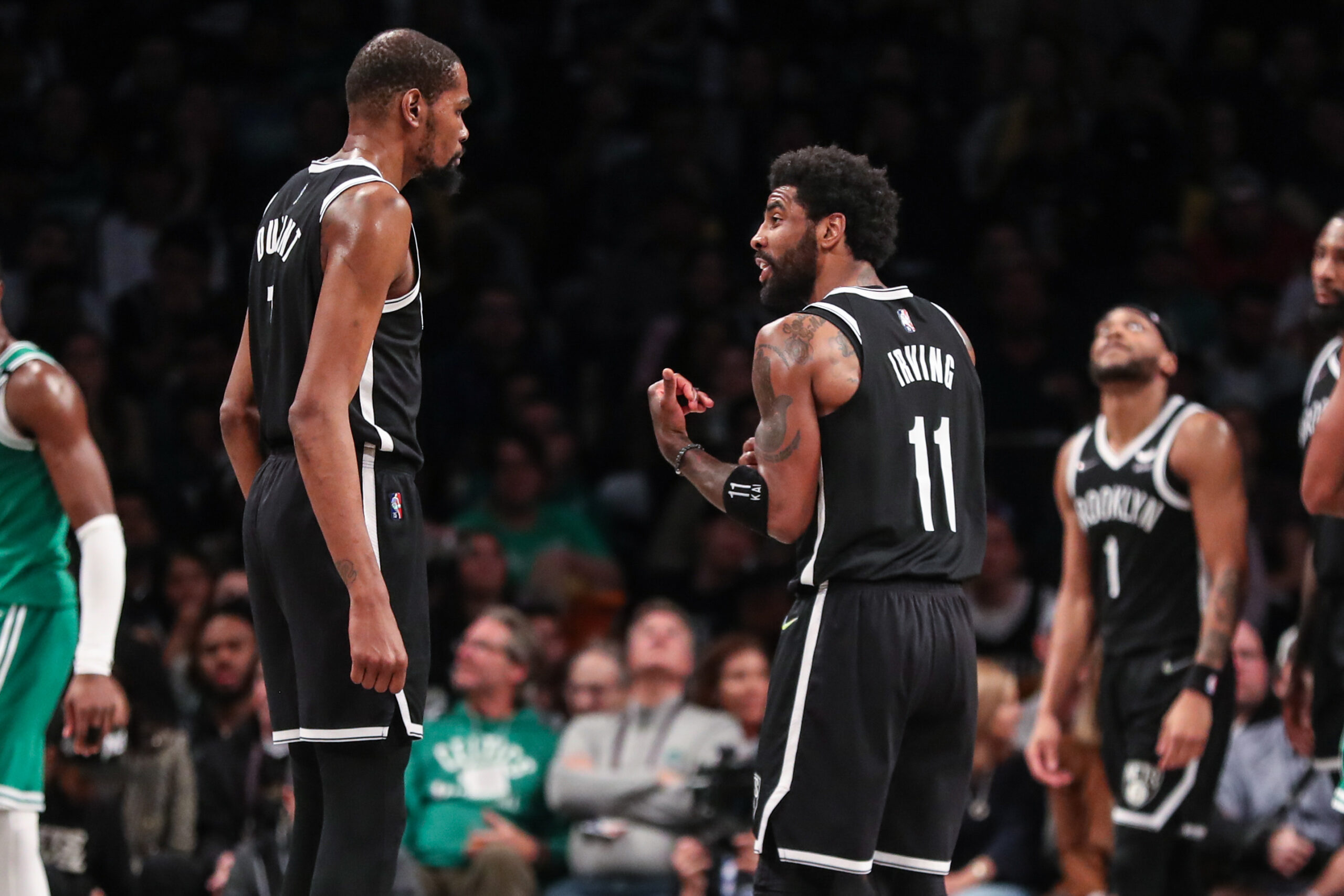 Kevin Durant and Kyrie Irving trades could still shift West landscape
It appears that Kevin Durant is steadfast in his desire to leave the Brooklyn Nets, which he reiterated to the team in a meeting last week.
According to Shams Charania of The Athletic, the meeting that took place between Kevin Durant and Brooklyn Nets owner Joe Tsai was professional but definitive. Durant does not want to remain a member of the team unless both head coach Steve Nash and general manager Sean Marks are let go.
Sources: Kevin Durant informed Joe Tsai that he does not have faith in the Nets' direction. The meeting was described as transparent and professional, with a clear message: Keep me — or the GM and coach. https://t.co/W1voNf9MDC https://t.co/0lbBay2OxF
— Shams Charania (@ShamsCharania) August 8, 2022
Durant and Kyrie Irving signed with the Nets in 2019 to form what was initially thought to be a new super team in Brooklyn. Though Durant sat out the entirety of the 2019-20 season recovering from a torn achilles, his return in 2020-21 validated the change in scenery with Durant playing like the best player in the world very often. The acquisition and messy departure of James Harden, along with drama from Irving regarding his vaccination status, put a swift stop to that momentum. The Nets were swept by the Boston Celtics during the first round of the 2022 playoffs, leaving Brooklyn with some soul searching.
Durant appears to have searched long enough and would prefer to leave unless sweeping changes are made.
In response to the leaked interview details and Durant's demands, Tsai tweeted the following message early Monday evening.
Our front office and coaching staff have my support. We will make decisions in the best interest of the Brooklyn Nets.
— Joe Tsai (@joetsai1999) August 8, 2022
As of now, Tsai appears steadfast in his support of Nash and Marks, meaning Durant is likely still out of the door before the start of the 2022-23 season. Training camp begins in late September, which would appear to be the unofficial deadline for a Durant (and Irving) trade. This instability has an impact on the entire NBA. While the Nets themselves are unlikely to get better after these trade demands are fulfilled, the team that acquires Durant will be getting at least a top 7 player in the NBA. Durant is under contract for the next four years, and while the last four years show why it's difficult to count on him to be around the entire time, he's still Kevin freaking Durant.
The teams most likely to acquire Durant appear to be the Toronto Raptors, Boston Celtics, and Miami Heat, according to Shams. All of those teams are in the Eastern Conference, and Denver Nuggets fans should hope for Durant to stay in the East. Any team that acquires Durant out West will be an automatic contender. While the Nuggets are confident in what they have, it would be better for them if they didn't have another contender to worry about.
If Durant were to join a West team that was already seen as a contender, things could get really messy for Denver's title chances. Durant made it known early in the process that the Phoenix Suns were a preferred destination of is, and they won 64 games last year. Adding Durant to a team that already includes Chris Paul and Devin Booker would make for an incredible concentration of talent. The Nuggets could still beat that team in a playoff series, but the odds of success would certainly go down. The same can be said for the Memphis Grizzlies, New Orleans Pelicans, and Dallas Mavericks. Though none of the three are seen as likely destinations, there's an outside chance, and that should be enough to give Nuggets fans at least some small anxiety.
As for Irving, his trade destinations appear to be more cut and dry. Very few teams are willing to take a chance on Irving due to his volatility, not to mention the expiring contract. He's a talented player and would help a contender, but very few contenders are willing to upend what they currently have for what is seen around the league as plenty of baggage. Irving has either requested a trade or bolted in free agency away from all three of his former and current teams. The team that trades for him will have to assume that risk as well.
It appears that the Los Angeles Lakers are at the front of the line in the Irving sweepstakes, mostly because the Lakers are starving. The Russell Westbrook experience has failed spectacularly, and if the Lakers can magically replace Westbrook with Irving, they'd probably have the best chance they can get to build a contender around LeBron James and Anthony Davis again. The Nets aren't exactly thrilled about what the Lakers can offer in a trade, but it will be better than nothing if their plan is to do a short rebuild.
Beyond the Lakers, teams out West that make at least a modicum of sense for Irving are the Mavericks, Minnesota Timberwolves, and possibly the Los Angeles Clippers. The Mavericks lost Jalen Brunson to free agency and have done next to nothing to replace him. The Timberwolves acquired Rudy Gobert, and it would make sense to upgrade beyond D'Angelo Russell to Irving from a talent perspective. The T'Wolves have very few assets to offer though. The Clippers have been named as a possible Irving destination several times, but each time there appears to be some pushback from the Clippers and their fans. The team appears content with Reggie Jackson, John Wall, and Terance Mann as their primary ball handlers around Kawhi Leonard and Paul George. They may not need Irving to contend.
Wherever Durant and Irving end up though, Nuggets fans should be wary. The NBA has a funny way of making things really difficult for Denver, and a surprise entrant into the Durant or Irving sweepstakes could be one such event. All Denver can really do is worry about being healthy and ready to go. Introducing another wrinkle into the equation at this stage would be unfortunate to say the least.