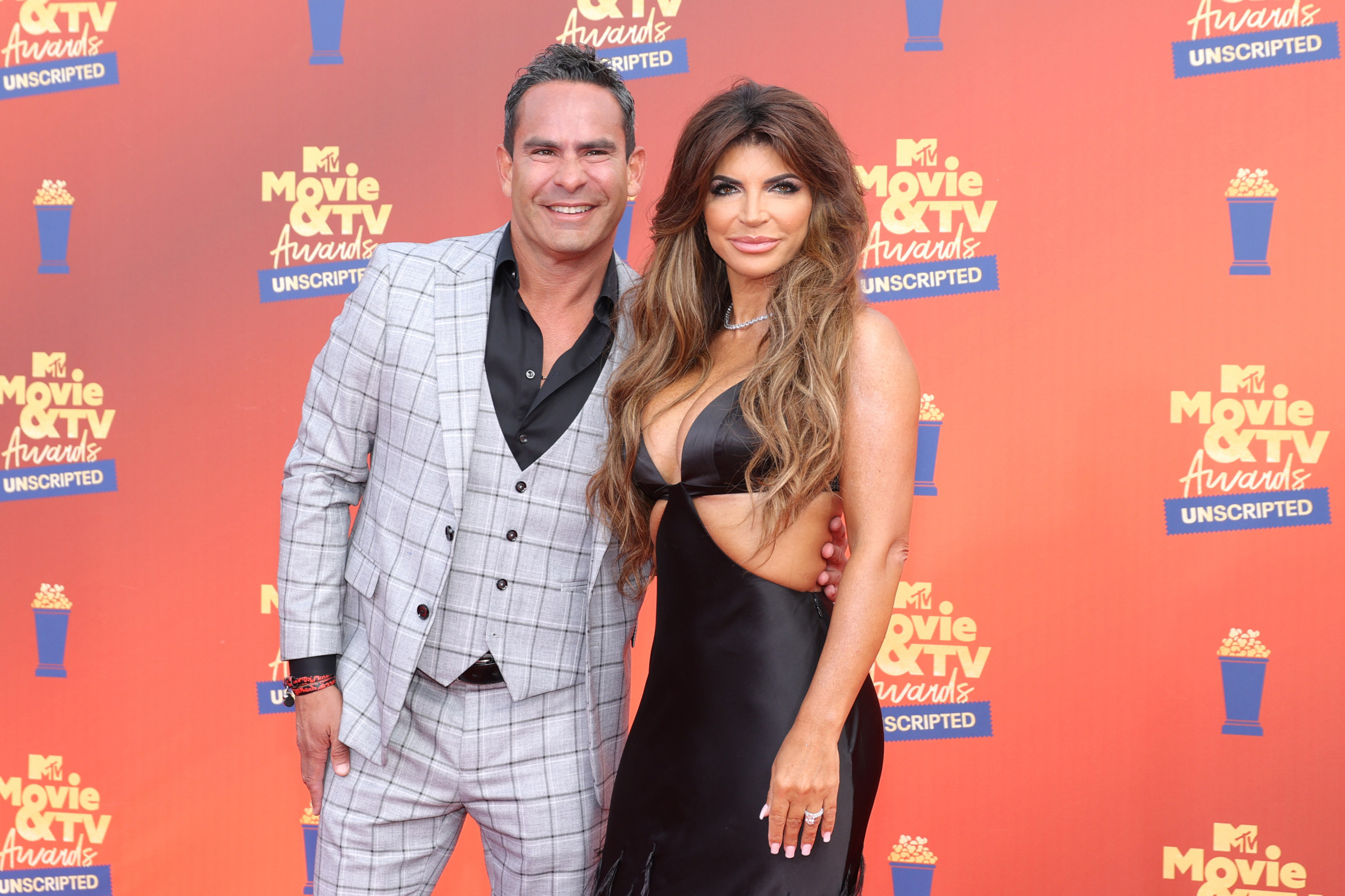 Teresa Giudice's Oversized Wedding Hair Mocked by Fans: 'Bad Rapunzel'
Teresa Giudice's wedding hair was mocked by fans who flooded social media with comments about her over-the-top tresses.
The Real Housewives of New Jersey star, 50, married entrepreneur Luis "Louie" Ruelas on Saturday, August 6, in East Brunswick, New Jersey, but her long locks stole the show.
Photos obtained by People showed half of Giudice's hair was piled on top of her head while the rest flowed down her back in soft curls. She accessorized her look with a tiara.
"What kind of bad Rapunzel, chef hat hair f***ery is this?" one person asked via Twitter.
"Teresa Giudice hair looked like Marge Simpson at her wedding," another added, referring to the animated sitcom The Simpsons.
A third, meanwhile, suggested she was inspired by a character on Game of Thrones. "I knowww I cannot be the only g*y on this forsaken website to point out the impact of Margaery Tyrell on Teresa Giudice's wedding hair," they said.
"I sincerely hope Bravo hid a GoPro in Teresa Giudice's hair to film the wedding," editor Elizabeth Di Filippo wrote via her verified account.
"Somewhere out there Teresa Giudice's wedding hair is still growing in size," a separate user teased, while someone else joked: "Who knew… the pile up on the Garden State Parkway was @Teresa_Giudice hair, not weekend shore traffic."
Others, however, defended the mom of four—who shares daughters Gia, Gabriella, Milania and Audriana with ex-husband Joe Giudice.
"For those of you hating on @Teresa_Giudice hair for her wedding, I just have one thing to say: The higher the hair, the closer to God," said one user.
A second stood up for the reality star, too, writing: "I really liked @Teresa_Giudice hair for her wedding, f*** what y'all say."
Newsweek reached out to Giudice's representative for comment.
Giudice and Ruelas got engaged in October 2021 during a romantic getaway to Greece. At the time, she announced their news with a sweet post via Instagram.
"My Fiancé you are such a beautiful person inside and out. I love everything about you, especially your heart and the way you treat me and my daughters. You are amazing in so many ways one thing I admire about you is what a great Dad you are," she captioned a slew of photos and videos. "I am so lucky to have found you thank you for coming into my life. I know my parents sent you to me from that day I prayed to them on Bay Blvd. I adore you endlessly. You are the love of my life, my soulmate and my everything. I Love you."
The cookbook author previously discussed marriage in an interview with Andy Cohen on Watch What Happens Live. Seven months before the couple got engaged, Giudice revealed whether she could see herself walking down the aisle with her then-boyfriend.
"I mean, you know, I feel it, so we'll see what happens," she said in March, which prompted Cohen to encourage her to "sign a prenup."
The Celebrity Apprentice alum noted that they hadn't "talked about that" but gushed, "I really feel like he's my soulmate, just saying."
Joe Giudice has not commented on his ex's nuptials, though he did post a photo of their daughters from the wedding via Instagram and captioned it using four red heart emojis.
The former reality star didn't appear to attend the event, as he is currently splitting time between his native Italy and the Bahamas. In 2019, he was deported from the United States after serving 41 months behind bars for mail, wire and bankruptcy fraud.
Teresa Giudice was released from prison in December 2015 after serving 11 and a half months of a 15-month sentence for pleading guilty to multiple fraud charges. According to her attorney, she was released on good behavior.