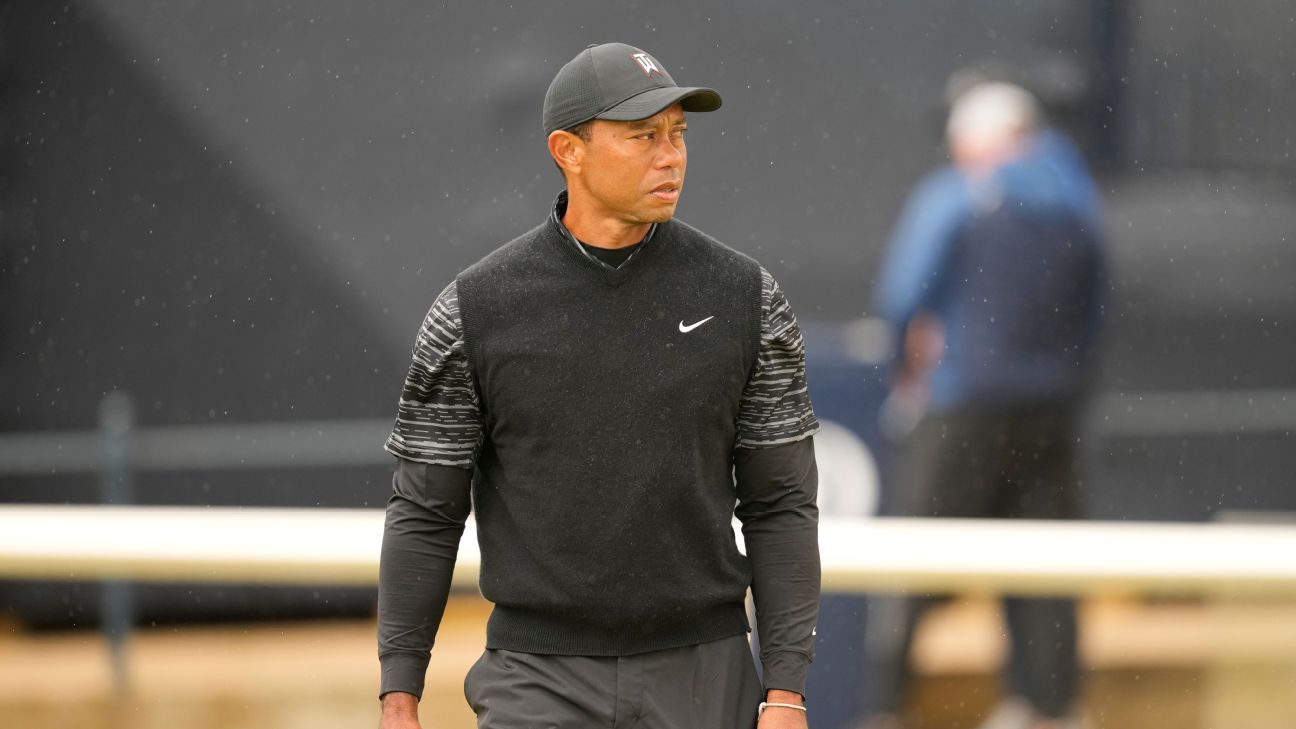 Tiger Woods is at St. Andrews, and here is how Round 1 is going at The Open
Tom Hamilton explains why Tiger Woods should not be overlooked at The Open. (1:46)
For months, even before he returned to competitive golf after his serious car accident in February 2021, Tiger Woods said he would be playing The Open at St. Andrews.
"Quite often," Justin Thomas said earlier this week when asked whether Woods had talked to him about being here for the 150th Open.
Woods, to make sure he was ready, even skipped the U.S. Open, allowing his leg, and his body that has endured multiple surgeries over a career in which he has won 15 major championships, to heal.
"It is my favorite [course]," he said.
So, here he is, ready to make perhaps his last real run during an Open held at the home of golf. We follow along:
This is what the Old Course is going to throw at Woods on Thursday.
👇 Pin positions for Round 1 of #The150thOpen 📝 pic.twitter.com/ZbF0t1b0Ev
Access 4,300-plus hours of live coverage from 35 PGA Tour tournaments each year, including four days of coverage at 28 events with four feeds each day. Plus, access replays, originals and more. Stream on ESPN+
Woods entered this Open full of hope. Then his opening tee shot, a trademark stinger, landed in a divot in the middle of the miles-wide fairway at the first hole. He then chunked his second shot from the tough lie into the burn in front of the green. After a drop, Woods hit a delicate little chip over the water to leave himself a 3-footer for bogey – which he missed. Bad got worse really fast.
Score: Double bogey
Total for the day: 2 over
This tee shot avoided any problems, finding a nice, flat lie in the center of the fairway. But Woods had a club too much and flew the flag by 50-60 feet. After a shaky start with the putter at the first hole, Woods navigated his way without any drama at the second.
Score: Par
Total for the day: 2 over
There is no way around it: Woods hit an atrocious second shot into the third hole. He had just 109 yards in and missed the green short and right. On the hard ground, it spun back and settled 24 yards from the hole. A so-so pitch left 15 feet for par. He didn't just miss that one but ran it 5 feet past the hole to leave a tester just to save bogey. He made that one, but nothing has come easy through three holes.
Score: Bogey
Total for the day: 3 over
A fairway and green for Woods at the fourth. Good, right, considering how the first three holes had gone? Not really. His approach shot settled forever from the hole. His first putt came from 53 feet. He left that one 11 feet short. He missed that, too. The dreadful start just got worse.
Score: Bogey
Total for the day: 4 over
Finally, there seemed to be a break from the ugliness that enveloped the first four holes. Woods was in front of the green in two, a good chance at birdie likely coming. Instead, he hammered his bump-and-run well past the hole. Instead of a legitimate chance at getting a shot back, Woods had to play defense and safely navigated a two-putt par.
Score: Par
Total for the day: 4 over
As soon as Woods made contact with his second shot, he dropped his head and muttered to himself. He has done that a lot to start The Open. Another poor iron shot was followed by another poor lag putt. But, at last, Woods made one. He rolled in a 13-footer to avoid another bogey. He put a second consecutive par on the scorecard, but it didn't come easy.
Score: Par
Total for the day: 4 over
Woods has long been known for the twirl, spinning the club in his hands after a good shot. The one-handed follow-through, that has always signified a bad shot. And he had the one-handed follow-through at the seventh. His tee shot went miles left and found a bunker on an adjacent hole. He had no shot, forcing nothing more than a chip out. He compounded that with another awful iron shot and missed the green. By the time this mess was done, it was the second double of the day — and it's only been seven holes.
Score: Double bogey
Total for the day: 6 over
Yet another missed green for Woods, which has remained a theme over this rough opening stretch. But an imaginative little pitch got him close enough to secure a needed par.
Score: Par
Total for the day: 6 over
Woods could not help but laugh as he walked off the ninth green. He had just shot 41 on the front side at St. Andrews, but at least it came with a birdie. He has a ton – a ton – of work to do on the back nine to get himself in a position to have even a small hope of making the cut come Friday. But, for now, he just wanted to smile at the lone bright spot in an otherwise bleak start to The Open.
Score: Birdie
Total for the day: 5 over
A birdie at No. 9 puts him at 5-over for the day. pic.twitter.com/TXx1XKHMtK
Sometimes one good swing and things just click. Perhaps that happened for Woods at the ninth. A good approach led to a birdie. He followed that up with a perfect hole at the 10th. A well-placed tee shot. A precise, controlled approach. A dead-center 5-foot putt.
Score: Birdie
Total for the day: 4 over
The tee shot confirmed Woods has more control of his swing and ball flight. His first putt, a 35-footer for birdie, proved his struggles with speed on the greens are ongoing. Instead of what should have been a simple par, he left his first putt 8 feet short then missed the second.
Score: Bogey
Total for the day: 5 over
Woods narrowly missed finding a gorse bush off the tee. Had the ball settled in there, he would have likely walked away with bogey – or worse. Instead, his ball safe and entirely hittable, he cozied up a pitch shot to leave an 8-foot birdie putt. But his issues on the green continued. His putt never had a chance. He knew he missed it when he hit and started to walk after it as he went by on the low side.
Score: Par
Total for the day: 5 over
The stinger made another appearance.
Tiger stinger x St Andrews = 👌#The150thOpen pic.twitter.com/KrzEZ4xfd8
Things went sideways after that. Another iron approach that left a long, long, long first putt, in the 100-foot range. Woods couldn't find the speed again and left his first putt 20 feet short. He missed the next one left.
Score: Bogey
Total for the day: 6 over