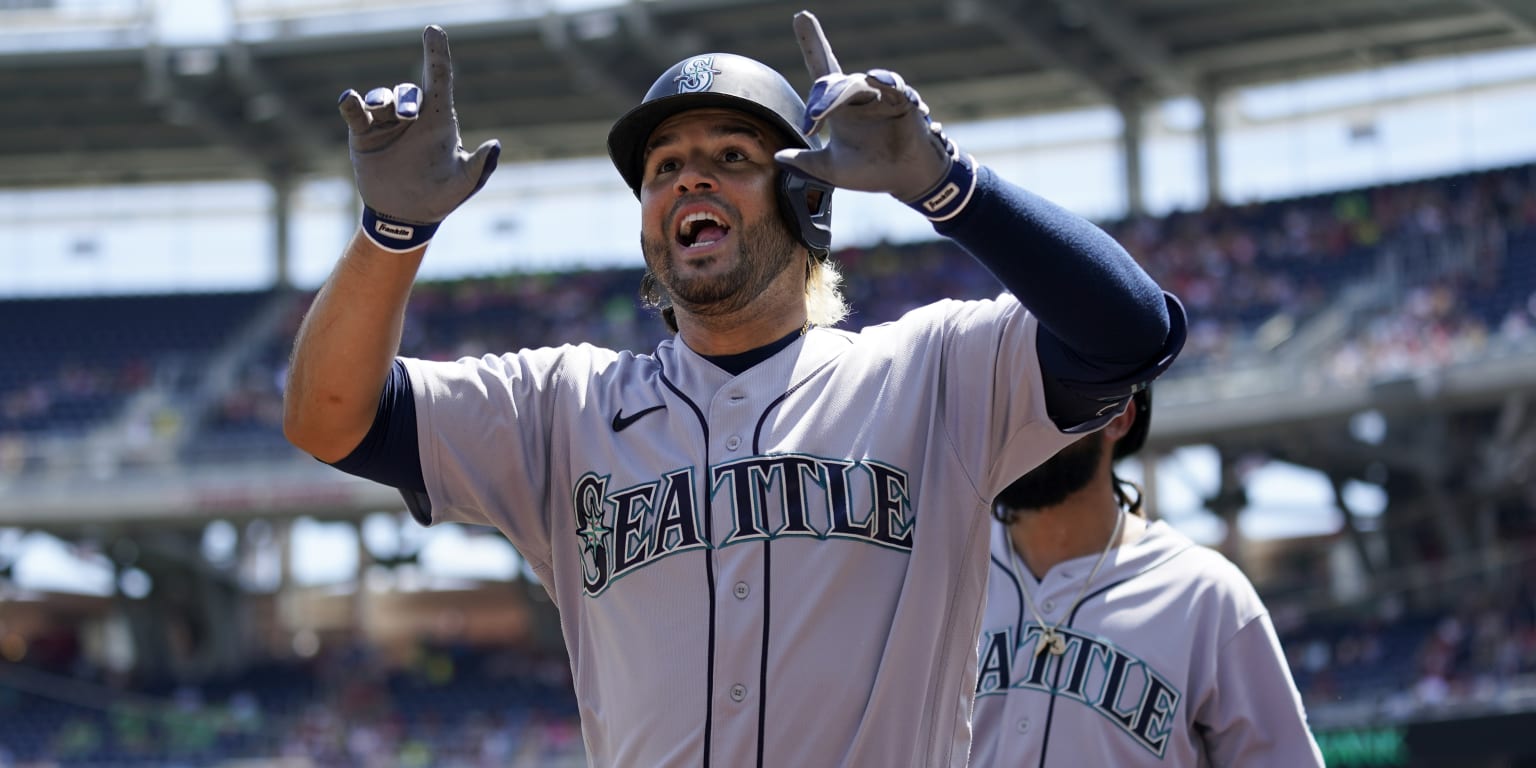 Make it 9! Mariners have longest streak since 2003
Joe Trezza
WASHINGTON — It's been almost two decades since Seattle was this hot.
The scorching Mariners kept surging on Wednesday in the nation's capital, extending their winning streak to nine games with a clinical 6-4 victory in Game 1 of their doubleheader against the Nationals. The nine-game win streak is the club's longest since 2003, and it gets a chance to extend it again in Wednesday's nightcap. Another win would put these Mariners in vaunted company; they've only had three streaks of 10+ wins in franchise history, the last occurring in 2002.
"This group finally feels like it's coming together as a team," manager Scott Servais said. "Everybody understands what their job is and that they don't need to do more than that. Just do your job. That's what we're doing right now."
The win nudged the Mariners (46-42) into a tie with the Blue Jays in the race for the sixth and final American League playoff spot. Seattle has won five of seven meetings this season with Toronto, which dismissed manager Charlie Montoyo on Wednesday.
After securing their prior two wins by one run and having Tuesday's series opener postponed by rain, the Mariners' bats broke out early and often in Wednesday's muggy opener at Nationals Park. All of Seattle's runs came via the long ball, with home runs from Eugenio Suárez, Jesse Winker, Adam Frazier and Cal Raleigh backing Chris Flexen's six innings of efficient one-run ball.
The Mariners hit four homers today: (#26) Adam Frazier(#27) Jesse Winker(#28) Eugenio Suárez and(#29) Cal Raleigh. It's the first time in franchise history they've hit 4+ HR from consecutive uniform numbers, per the club.
The win was Flexen's fourth consecutive, dating back to June 24. The right-hander has allowed only one homer in 23 2/3 innings over that stretch, and three runs or fewer in 15 of 17 starts this season.
"When you get an early lead like that, it forces you to want to step on the gas even more," Flexen said. "We're rolling, playing really good baseball." 
Said Winker: "We have depth. It doesn't matter who is playing. We can really play baseball here."
Winker's fourth-inning solo shot came in his first game since July 3, after serving his six-game suspension stemming from the Mariners' June 26 brawl with the Angels. All-Star rookie Julio Rodríguez was absent from Wednesday's opener, serving the club's last outstanding ban from that incident. Rodríguez appealed and had his two-game suspension sliced in half; he is expected to return for Wednesday's nightcap. The Mariners are 12-2 since the brawl and went 10-1 during the resulting player suspensions.
• Rookie sensation J-Rod enters Derby fray
"I was hoping we'd keep our head above water and we did more than that, obviously," Servais said. "We had a lot of guys step up offensively when we were losing big pieces. … That's what it takes."
All told, Seattle is 17-3 in its last 20 games. That is the best record in baseball over that stretch, and the club's best 20-game stretch within a single season since it achieved the same record from April 2-23, 2002. Wednesday's Game 1 win improved the Mariners to 46-42 overall — their same record through 88 games in 2021, when they finished 90-72 but two games short of the American League's final Wild Card spot. 
"What we've asked of this group — it's taken us a little while to get that feel where we truly understand what we're about," Servais said. "We're starting to create a bit of an identity."