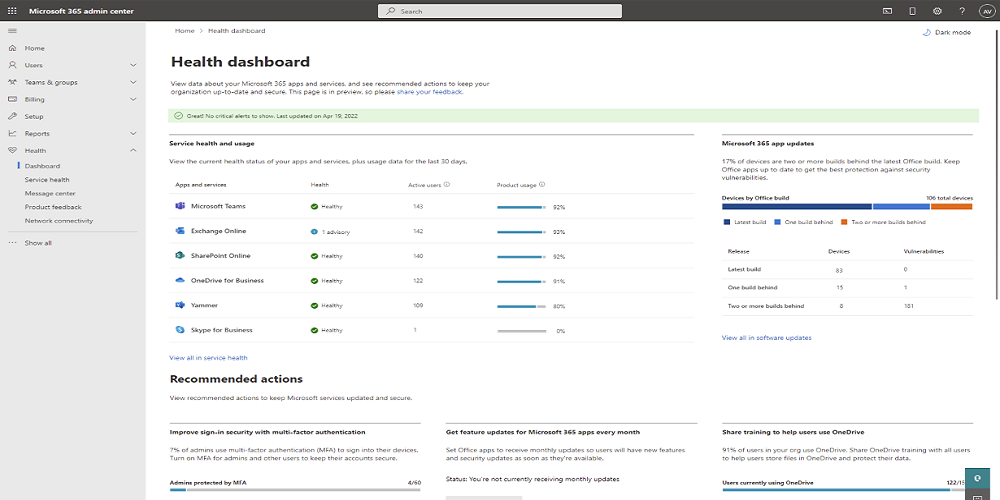 Microsoft 365 Admins Can Now View the Health of Cloud Apps, Services
July 11, 2022 Zachary Comeau Leave a Comment
Microsoft has released the public preview of a new dashboard designed to help IT admins view key health information of their organization's Microsoft 365 environment.
Available in the Microsoft 365 admin center, the Microsoft 365 Health dashboard is designed to not only show the health status of cloud services, but also give admins a picture of the health of their environment, including software update status, security best practices and return on investment.
In addition to critical alerts about any issues that need attention—including general service incidents and billing issues that could be causing problems—the dashboard will show an abbreviated list of the current service health of Microsoft 365 apps and services. A more complete list is also available on the full-service health page.
The section also shows the average daily usage for each product, as well as a view of license utilization to help admins get a better sense of how Microsoft 365 apps and services are being used in their organization.
The dashboard also provides IT the ability to see which Microsoft 365 desktop apps are up to date, how many devices need updates and how many vulnerabilities there are. This capability is powered by Microsoft's recently released Software Updates page.
The dashboard also includes recommended actions to resolve issues in Microsoft 365. For example, the dashboard will show how many admin accounts are enabled for multi-factor authentication (MFA), and a button will take admins to an MFA setup wizard.
Admins can also enable monthly updates for Office, and they can send users a link to OneDrive training to get better recovery against ransomware or device failure.
Microsoft will soon be updating the Health section of the Microsoft 365 admin center navigation menu to show a link to the new dashboard page, but admins with Global Admin or Global Reader roles that want to access it now can log into the admin center here.
Tagged With: Microsoft
Effective trainings are the glue that can make the difference following a new technology implementation that your team has spent so much time, effort and money into creating.
Your email address will not be published. Required fields are marked *
Comment *
Name *
Email *
Website
Save my name, email, and website in this browser for the next time I comment.
Δdocument.getElementById( "ak_js_1" ).setAttribute( "value", ( new Date() ).getTime() );