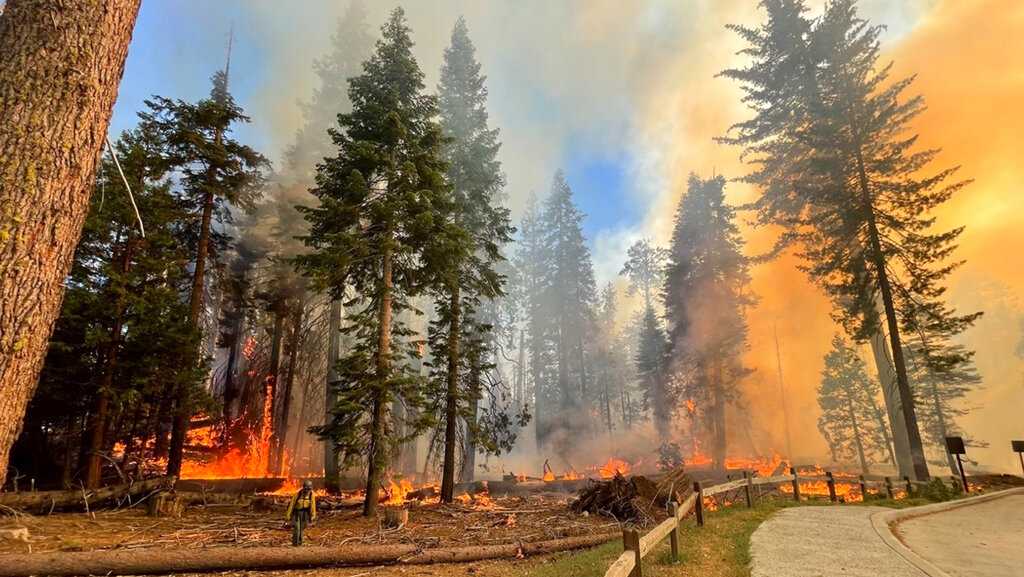 Campground evacuated as fire threatens Yosemite's Mariposa Grove, home to more than 500 giant sequoia trees
The latest breaking updates, delivered straight to your email inbox.
A campground and community in California's Yosemite National Park have been evacuated as a wildfire threatens a famed giant sequoia tree grove, officials said Friday.
The Washburn Fire is estimated to be 703 acres and burning near the lower portion of Mariposa Grove, Yosemite park officials said. Firefighters are working from the ground and air to suppress the blaze, and park officials have said the grove is closed until further notice.
The fire is 0% contained. The word containment refers to a barrier, whether it be natural or manmade, that prevents a wildfire from spreading.
An evacuation order has been issued for Wawone and Wawona Campground. When an evacuation order is issued, that means there is an immediate threat to livelihood. Evacuation is mandatory in this case.
Authorities are telling people to use Wawona Road (Highway 41) northbound toward Yosemite Valley to leave. Southbound traffic is closed at Wawona Golf Course.
| MORE | Find evacuation orders here
See all evacuation orders and warnings below.
An evacuation shelter has been opened at the New Life Christian Fellowship for evacuees.
#WashburnFire: The @RedCross is opening an evacuation shelter at New Life Christian Fellowship (5089 Cole Rd, Mariposa, CA 95338) for evacuees affected by the Washburn Fire in #Yosemite. Volunteers are on-site to provide safe shelter, food, water and additional resources. pic.twitter.com/z9bKCJAc6x
Mariposa Grove is home to more than 500 giant sequoia trees, which can grow to over 250 feet tall. And while the grove was founded in 1857, they existed long before that, with some believed to be more than 2,000 years old.
The western US has been ravaged by wildfires in recent years, exacerbated by drought conditions tied to climate change. In California alone, more than 2.5 million acres were destroyed in nearly 9,000 fires last year, according to CAL FIRE.
Last month, officials in Southern California said they were bracing for another challenging summer and fall amid a shortage of firefighting crews and increased workloads.
The threat is not limited to California. Robert Garcia, the US Forest Service's fire chief for the Angeles National Forest, said the summer months are off to a "concerning start." Firefighting resources have been mobilizing since March to Arizona and New Mexico, where the Black Fire just became the state's second-largest blaze in history.
"Southern California typically has a fire season of historically late June and then into the fall," Chief Garcia told CNN last month. "But we're seeing activity now year round."
Yosemite is one of the most visited national parks in the US, drawing more than 3.3 million people in 2021. It encompasses nearly 1,200 square miles in the Sierra Nevada mountain range in eastern California.
Officials warned tourists who are visiting Yosemite this weekend to be prepared for long delays at entrance stations that may last up to two hours long. They also warn about smoky conditions and poor air quality.
-KCRA 3's Greta Serrin contributed to this report.