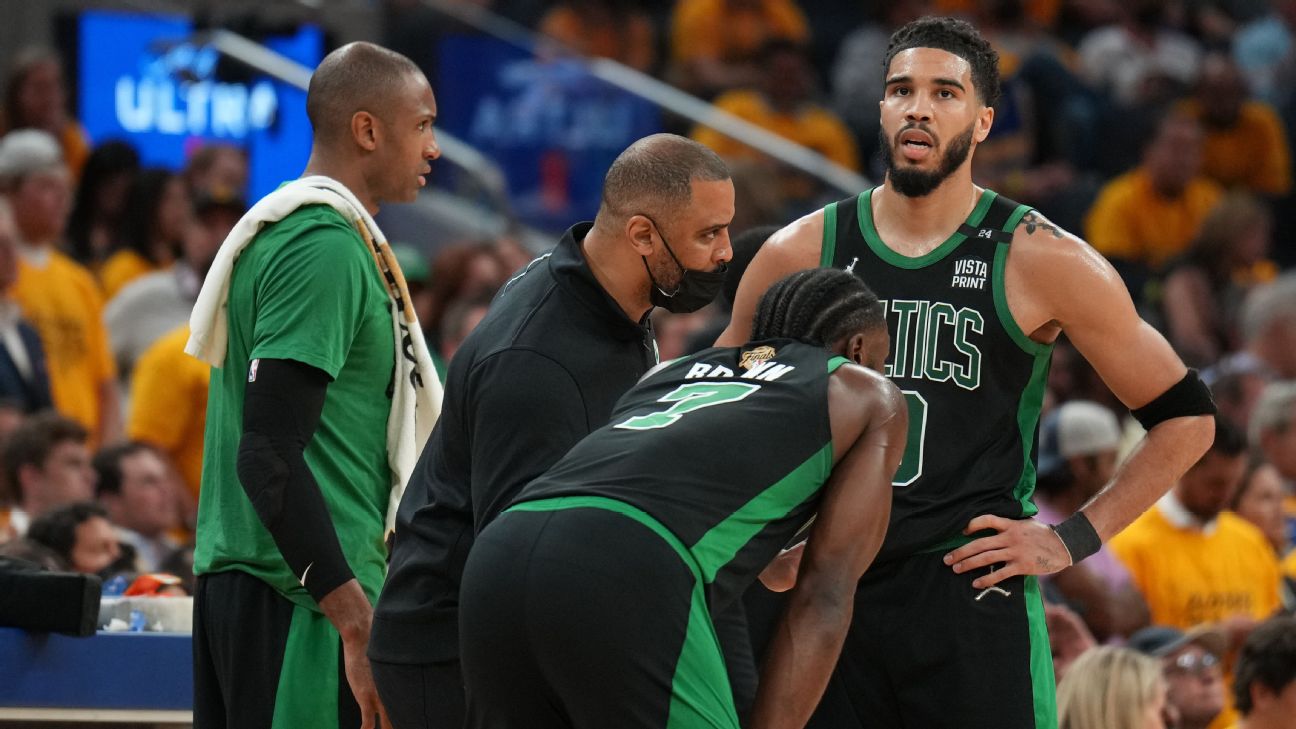 Boston Celtics again pushed to brink after unraveling in fourth quarter of Game 5 vs. Golden State Warriors
SAN FRANCISCO — So many things went in the Boston Celtics' favor in Game 5 of the NBA Finals.
Golden State Warriors superstar Stephen Curry didn't make a 3 for the first time in a postseason game. After struggling with his shot all series long, Jayson Tatum had a good shooting night.
And, for a change, the Celtics not only didn't get demolished by the Warriors in the third quarter — but outplayed Golden State during the frame.
But, after all of that, the feeling emanating from the Celtics was one of regret, as Boston scored five points over the first eight minutes of the fourth quarter and watched Golden State pull away for a 104-94 victory, giving the Warriors a chance to close out the series Thursday night at TD Garden.
"Obviously we're a little discouraged after having such a good third to come out in the fourth and not execute like we needed to," Al Horford said. "We felt like we had opportunities, kind of started playing like we were playing earlier in the game. That's definitely, you know, tough.
"Our backs are against the wall. This is the time that we look at each other in the eyes and we got to figure it out. We have an opportunity now. Got to figure it out. There's no tomorrow for us."
It appeared there might be a tomorrow, somehow, for Boston after Game 5 — despite how terribly the Celtics began the game. While the Warriors came out of the gates like a house of fire, sending the Chase Center into one round of rapturous applause after another with their frenetic play, the Celtics spent the opening minutes moving around the court like it was a regular-season game in February, rather than Game 5 of the Finals.
Turnovers — the telltale stat of Boston's postseason — reared their ugly head once again. The Celtics committed 18 in Game 5, continuing a trend through these playoffs of going 14-2 when they commit 15 or fewer turnovers, and now going 0-7 when they have 16 or more.
And while many of them came in trademark Celtics fashion, with Boston carelessly tossing the ball around, they also were a product of Golden State speeding the Celtics up and out of the rhythm that Boston is so successful at maintaining when at its best.
"Credit to them," Jaylen Brown said. "They're a really good defensive team. Disciplined and sound. They've forced us to do what obviously we don't do best. We just got to continue to recognize the game, see the game and make in-game adjustments. Take care of the ball when it comes down to it.
"Another game with too many turnovers. It cost us."
It was also another game in which both Brown and Tatum got outplayed by a Warrior. Brown was misfiring all night, finishing with 18 points, nine rebounds and four assists but going 5-for-18 from the field and 0-for-5 from 3-point range. Tatum, meanwhile, finally shot the ball well, going 10-for-20 from the field and 5-for-9 from 3-point range, but had four turnovers and went 1-for-5 in the fourth quarter, when it looked like he might have been fatigued in a game he played over 44 minutes.
"We rode them a little longer," Celtics coach Ime Udoka said when asked about Boston's fourth-quarter fade after climbing back into the game. "Fatigue could've played a part in that, whether it's physical or some of the decision-making, turnovers there. Kind of went with the hot hands that got us back in the game."
After that disastrous first half — one that saw Boston trailing by only 12, rather than the twice that amount the Celtics likely deserved to be down by — the Celtics flipped their expected script on its head for the latest time in these playoffs by scoring the first 10 points of the second half and completely outplaying Golden State in the third quarter after being outscored by 49 points in that period over the first four games.
But Golden State scored eight points in the final 80 seconds of the third quarter to retake the lead heading into the fourth, and then outscored Boston 18-5 over the first eight minutes of the fourth quarter to put the game away — and push the Celtics to the brink.
And, while Golden State again deserves credit for how the Celtics fell apart, it also was the latest reminder — even within a game — of how wildly this Boston team swings back and forth. After missing their first 12 3-pointers of the game, the Celtics ripped off eight straight makes in a row, generating one clean look after another. And, as they tore the Warriors apart in the third quarter, they repeatedly, and crisply, executed their game plan.
Then the fourth quarter started, and it all fell apart.
"Yeah, they've ramped up the physicality," Udoka said. "They're switching quite a bit more. As you saw in the third quarter, anytime we don't get stagnant, go one against the crowd, it can look pretty easy, get the shots we want.
"Like I said, just have to have carryover from game to game. Not only that, but quarter to quarter. A 35-point third quarter when we're moving the ball, getting into the lane, penetrating, kick, getting the wide-open shots we want, we have to have that carry over into the fourth. To basically only have 14 or so until the young guys came in late obviously was a night and day quarter from the third and the fourth."
Still, even after all of that, Boston remains confident it can dig itself out of this hole. Why? Well, in part, because Boston has been in this position on multiple occasions in this postseason.
"I've said it before: You better be confident, right?" Tatum asked. "We ain't got to win two in one day. We just got to win one game on Thursday.
"We've been in this situation before. So it's not over. Got to win on Thursday. That's all we got to worry about right now."
The Celtics were down 3-2 against the defending champion Milwaukee Bucks in the Eastern Conference semifinals, before going on the road and winning Game 6 in Milwaukee — in which Tatum scored 46 points — and then coming back home and winning Game 7.
Boston then went on the road and won Game 7 in the Eastern Conference finals against the Miami Heat, though the Celtics had to survive a near historic collapse in the final minutes of the fourth quarter to win that game.
Now, the Celtics have to dig out of yet another hole to hang Banner 18 in the TD Garden rafters.
"I ain't got no choice," Brown said, when asked why he is more confident than he has ever been in his team's chances of winning an NBA title after Monday's loss. "We don't have no choice. It's win or go home at this point. We worked incredibly hard all season to put ourselves in this position. I still feel like we have so much better basketball to play that we haven't played in the last two games.
"I'm hoping that the next two games we play Celtic basketball and put our best foot forward like I know we can. I know the city is going to be behind us. It's going to be a big Game 6. Looking forward to it."