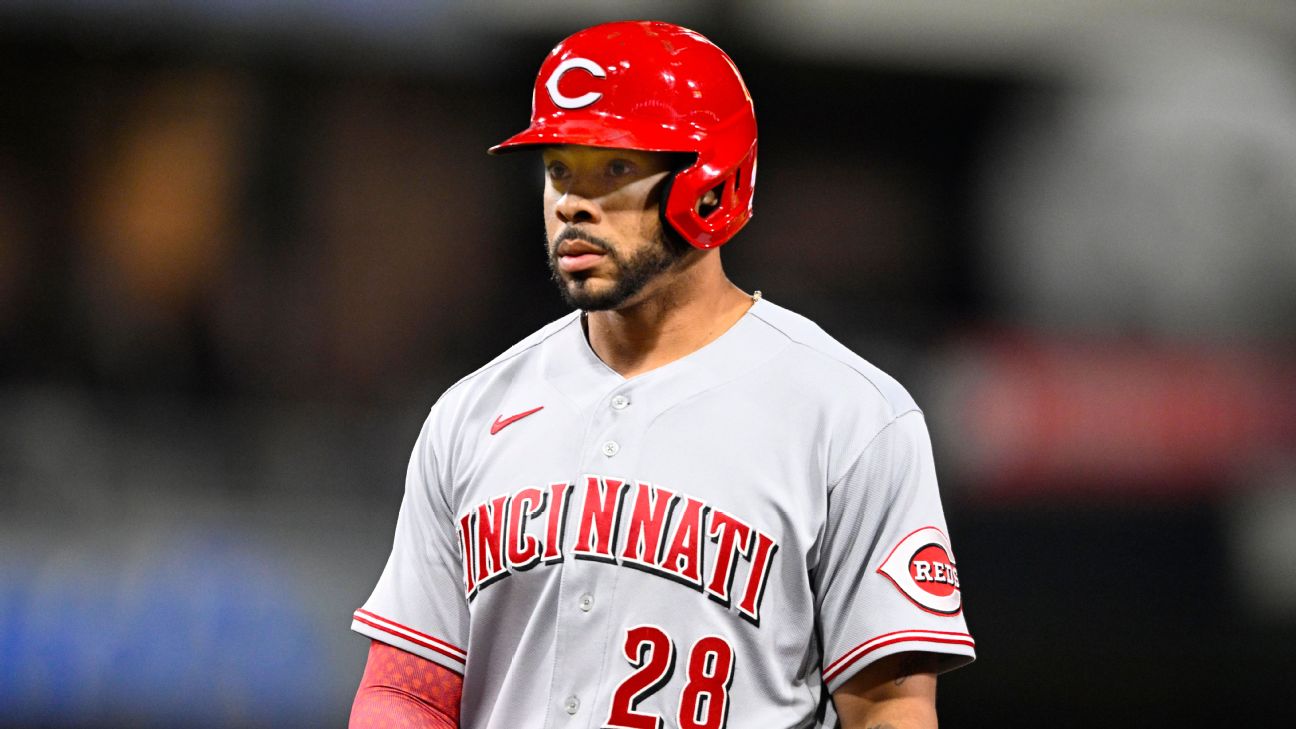 Pham suspended 3 games for altercation with Joc
Maria Guardado
Mark Sheldon
Will Aldrich 
CINCINNATI — Reds outfielder Tommy Pham has received a three-game suspension and an undisclosed fine for his inappropriate conduct prior to Friday's game against the San Francisco Giants. Michael Hill, Major League Baseball's Senior Vice President for On-Field Operations, made the announcement.
The suspension of Pham is retroactive to Friday night's contest, and the remaining two games will be served Saturday and Sunday as the Reds continue their series against the Giants at Great American Ball Park in Cincinnati. He will not appeal.
Pham was scratched from Cincinnati's lineup shortly before first pitch on Friday, with a Reds spokesperson saying he agreed to sit out while MLB conducted its investigation.
Reds players were taking batting practice at Great American Ball Park when Pham and Pederson met out in left field. Pederson said Pham confronted him and slapped him on the face. Both parties said the incident involved a player-led fantasy football league. Several players intervened in the situation, and both clubs' dugouts and bullpens emptied.
"Unfortunate situation," Pederson said following the Reds' 5-1 win. "Kind of stemmed from a fantasy football league we both were in last year. I put a player on the injured reserve when they were listed as out and then added another player. And then there was a text message in the group [chat] saying that I was cheating because I was stashing players on my bench.
"Then I looked up the rules and sent a screenshot of the rules, how it says that when a player is ruled out, you're allowed to put them on the IR. That's all I was doing. It just so happened that he had a player, Jeff Wilson, who was out. He had him on the IR. I said, 'You literally have the same thing on your team, on your bench.' … So it feels very similar to what I did. And that was basically all of it. There's not much more to it."
Joc shares details of what happened in his fantasy football league that started his altercation with Tommy Pham today pic.twitter.com/d9NBTwPVoG
Pham, speaking for the first time since the incident, described what happened during media availability on Saturday afternoon.
"I said, 'I didn't forget about that [stuff]', walked up to him and slapped him," he recalled.
Pham claimed that Pederson left out key details from when he spoke to the media the day prior.
"What [Pederson] forgot to tell you guys too, he said some disrespectful [stuff] in a text message, and I called him out on it."
Pham claimed the comments were sent in a text to him about his former team, the San Diego Padres.
When asked for context of the comments, Pham said they were not racist, but "it was just some [stuff] you don't say."
Reds manager David Bell said on Saturday that he wishes to keep all other details of the investigation private.
Giants manager Gabe Kapler said on Saturday, "Obviously, I heard the news. I understand that the video of the incident is out there. Yesterday, we were mostly concerned about Joc and making sure he was all right mentally through all this. Joc said a lot last night, and Tommy spoke today. I don't know that I have anything to add beyond that. I just want to make sure we get ready to play a good baseball game today."
When asked how Joc has handled everything, Kapler said, "Very well. We always talk about being even and non-reactionary. I don't think that anybody exemplified that better than Joc did yesterday across the board. He was able to manage everything that happened on the field with Tommy and then come into the clubhouse and have to deal with a lot of conversations after that and then get ready to compete in the batter's box.
"One of the things that I think is really interesting is the work always feels like it's at game time. But a lot of the work that happens in baseball happens at 11 o'clock and 12 o'clock and 2 o'clock and 3 o'clock. By the time the game starts, a lot of work has been done and investments have been made. And then you still have to have energy to go out there and perform. Joc was able to manage all of that.
"All of that work that happened until 2 o'clock in the afternoon up until game time and then go out there and put it out of his mind and compete and compete well. And then come back in the clubhouse after the game and do more work on it. It's a lot. I thought he handled it all well."
When asked if the intensity of the physical contact made it more bothersome for him, Kapler said, "I think anytime one individual strikes another individual, it's serious. And it's just something that we all know can't happen in a workplace."
Pederson said Friday marked the first time he'd interacted with Pham directly in person. He said he does not anticipate participating in another fantasy football league with Pham again.
"It's over, as far as I'm concerned," Pederson said. "I don't think I'll speak to him. I don't think he wants to speak to me, I would assume. I don't know. That was, I think, the first time we ever spoke in person. It was a weird interaction and unfortunate. You show up here, and it was hard to lock back in. It was a tough day.
Sign up to receive our daily Morning Lineup to stay in the know about the latest trending topics around Major League Baseball.
"We haven't been playing great as a team and then we lose a game. We're scuffling a little bit, so that just makes things worse. This is an added distraction. You want to eliminate those as much as possible, because this game is so hard. Like I said, we lost and it feels like what happened was unfortunate, but it was still a big distraction to other guys around here. We didn't play a good game tonight, so if I had something to do with that for being a distraction, then that makes me feel really bad, because I'm here to help this team win, not to be a distraction."