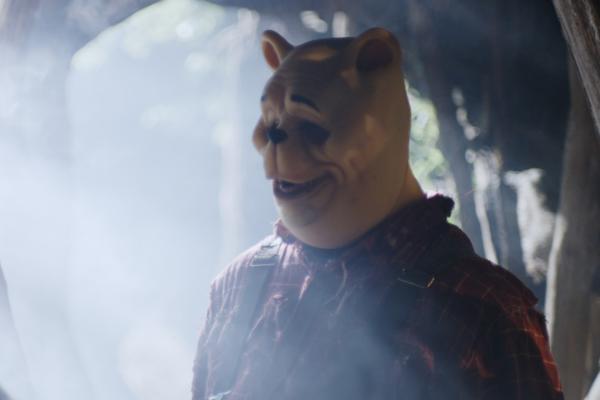 What We Know About the Winnie the Pooh Horror Movie 'Blood and Honey'
Winnie the Pooh: Blood and Honey is the latest horror movie whose very title alone has got film fans on the internet excited.
Pooh, Piglet and most of the Hundred Acre Wood gang created by AA Milne fell into the public domain in January 2022, explaining why this very un-Disney movie was able to get made.
Blood and Honey remains fairly mysterious, with only a few images and details publicly revealed. Here's what we know so far about the Winnie the Pooh horror movie.
All we have to go on for that is a dozen-or-so images posted by the film's production company onto IMDB.
However, these images seem to reveal that the movie has the classic horror set-up of a group of young people in a house being attacked by a group of killers. One image, for example, sees a character called Zoe (played by Danielle Ronald) heading down a staircase to a window. That window has "get out" written on it with blood.
What sets Blood and Honey apart from other home invasion horrors, however, is the presence of a group of killers that are versions of Winnie the Pooh characters. The images show a character based on Pooh, as well as a tusked version of Piglet.
Per the IMDB credits, these are the only two Milne characters in the movie. Piglet is played by Chris Cordell, while Craig David Dowsett is Winnie. There has been some confusion in reporting about the film about whether they are playing killers in masks or whether this Winnie is supposed to be what Bloody Disgusting calls a "​​a man-bear hybrid." However, images that show the costumes in detail seem to suggest the latter.
The film's tagline is listed as: "A horror retelling of the famous legend of Winnie the Poo." [sic] That misspelling is a pretty good indication of how reverent this story will be to the beloved children's stories.
Absolutely not. The film comes from Jagged Edge Productions, a British company that creates straight-to-VOD horrors with names like Dinosaur Hotel, The Legend of Jack and Jill and The Curse of Humpty Dumpty.
As those latter two titles suggest, they have a number of titles based on public domain characters, which might explain where the idea for the film came from. The original Winnie the Pooh book (and its EH Shepard illustrations) turn 96 this year, putting them out of copyright and into the public domain.
The Disney version of the character, however, remains in copyright. As cartoonist ​​Lukey McGarry pointed out in a comic strip that went viral on Twitter, "Disney still own their version of me [Pooh]…But as long as I don't put a little red shirt on, I can do as I like."
I did a comic about Winnie the Pooh being in the public domain. If any publishers want me to do a full book about a vaguely threatening Pooh, please get in touch. pic.twitter.com/KZD0cAjbPe
Hoping for a Blood and Honey sequel starring a man-tiger abomination based on Tigger? You may be waiting a while – as he first appeared in the 1928 sequel book The House at Pooh Corner, he will not be in the public domain until 2024.
The film has no release date so far, though Bloody Disgusting reports it will be out later this year.
On the film's IMDB page, the film was listed as filming on April 11, and then in post-production on April 16.