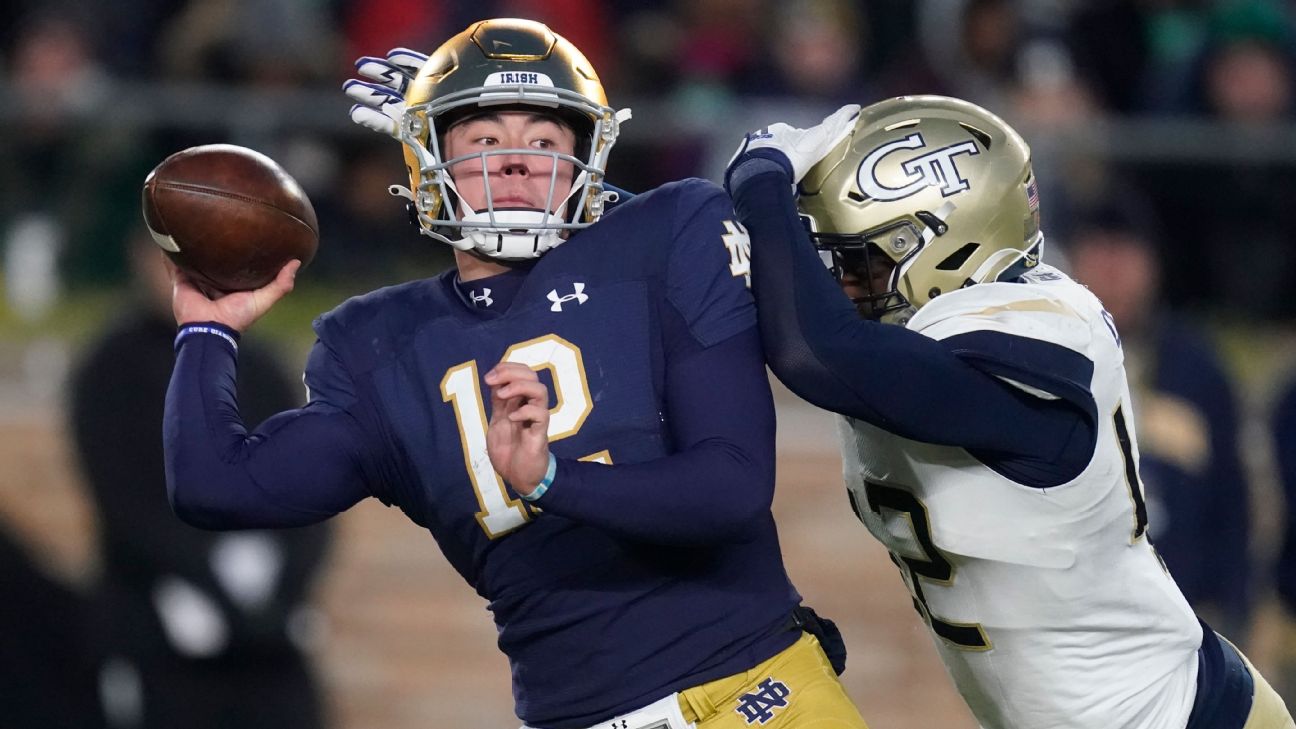 Breaking down college football's top remaining quarterback battles
SOUTH BEND, Ind. — Every Tuesday this spring, Notre Dame football coach Marcus Freeman met with the team's quarterbacks. Tuesdays with Marcus provided Freeman, a career defensive assistant, the chance to connect with those competing for the most important job on the field.
"We just talk ball, we watch practice, I want them to know the head coach has their back," Freeman told ESPN. "I've learned it's not always about execution. It starts with the decision. As a defensive coach, it's all about, 'OK, did he complete the pass? Is it incomplete? Was it an interception?' It was about the execution. But I'm learning as a head coach, it starts with making the right decision."
After a stretch of stability at quarterback, Notre Dame is among the prominent college teams figuring out its next leading man on offense. From mid-2018 through 2020, Ian Book led the Fighting Irish at quarterback, setting several records before turning things over to Jack Coan, a graduate transfer with 18 career starts at Wisconsin. Coan delivered both steadiness and production, completing 65.5% of his passes for 3,150 yards and 25 touchdowns last season.
Sophomores Tyler Buchner and Drew Pyne, neither of whom has started a game, are now vying to become QB1.
Like many quarterback competitions, Notre Dame's features both angst and excitement, as the Irish ultimately need an upgrade at the position to take the championship step Freeman thinks is possible in the coming years.
Freeman and offensive coordinator Tommy Rees have a notable decision ahead, as the Buchner-Pyne competition will continue into at least the first part of preseason camp. Coaches at Clemson, LSU, Texas, Texas A&M, Oregon and other programs face similar quarterback choices in the coming months.
Jump to: Clemson | Iowa | LSU Michigan | North Carolina | Ole Miss | Oregon Texas | Texas A&M | Washington
While Baylor (Blake Shapen) and a few other teams settled on quarterbacks this spring, many others will let the competition continue. Here's a closer look at Notre Dame's QB situation and 10 others around college football coming out of spring practice. I also offer predictions on who will take the first snap for each team during the 2022 season.
For Freeman, the spring provided an opportunity to not only learn more about the quarterbacks, but to learn how their position works. A former Ohio State linebacker who has never coached offense, he previously viewed mistakes like many outsiders do: It's probably the quarterback's fault.
But things are often not so clear-cut.
"He probably has a greater appreciation for what those guys are asked to do, how things are really tied together," said Rees, who went 23-8 as Notre Dame's starting quarterback between 2010 and 2013. "Sometimes it can be a protection issue that didn't allow us to get our back out, which would have been the flat control, and now we lost part of the route. Look, the quarterback's always going to be the one who says, 'Hey, it's on me, I've got to mitigate the risk and keep us in a good play.' But there are other parts of the offense that need to run well."
Both Rees and Freeman stressed that Notre Dame's competition will hinge on which quarterback consistently makes better decisions in practice. Both players were ESPN 300 recruits — Buchner rated as ESPN's No. 41 overall prospect in the 2021 class — with different yet capable skills and limited game experience.
Rees has tried to flip around the decision-making process for Buchner and Pyne.
"We have all the answers," Buchner said. "We know versus what coverage where the ball goes, but it's about finding the question the defense is giving. My ability to recognize what the question is, recognize what the defense is in, has sped up dramatically."
When Buchner committed to Notre Dame in March 2019, he immediately was labeled as the quarterback who could nudge the program closer to a national title. Despite a torn ACL as a high school sophomore, he brought dual-threat ability, which he showed last season, averaging 7.3 yards per carry with three touchdowns in limited action.
Pyne, in his third season at Notre Dame, has played behind both Book and Coan. He provided a spark off the bench in Notre Dame's come-from-behind win over Wisconsin in Chicago, completing 6 of 8 passes for 81 yards and a touchdown.
"One's a little bit more extroverted, one's a little bit more introverted," Rees said. "Drew is probably one of the most popular guys in the locker room. He's got a great energy to him. He just has that voice. Tyler's a little bit more of that quiet killer, a little bit unassuming, but when a competitive situation turns on, there's a different gear. Part of his growth is to be the guy who can lead, but his style is a little bit different. Tyler's confidence is through the roof, [but] you don't get that unless you really spend some time with him."
Freeman observed Buchner's reserved approach in meetings but also saw the sophomore display leadership qualities. Buchner displayed decisiveness in answering questions and a mix of reasoning and competitiveness that can serve the offense well.
He also felt more comfortable speaking up this spring, even making small corrections to wide receivers on route running.
"Last spring, I never would have said something — I was a freshman," Buchner said. "Now that I know the playbook, my role in this team has developed and I have more confidence to hold someone accountable."
On the field, Buchner's next step is evolving into a more traditional quarterback who can help maximize Notre Dame's receiving corps, a group that must make strides for the team to return to the College Football Playoff. The Irish lose top receiver Kevin Austin, and while All-America tight end Michael Mayer returns, no returning wideout had more than 400 receiving yards last season.
"You look at what Tyler did last year, as a defensive coach, I was like, 'Oh, he's just a zone-read guy who, every once in a while, will throw it,'" Freeman said. "But he can truly, truly command an offense. When you have to respect what he does in the passing game, it opens up a lot more in the running game."
Pyne's vocal leadership shined through to Freeman this spring, as did his knack for embracing competitive opportunities. Notre Dame saw it in the Wisconsin game when Pyne relieved Coan, who had been struggling before suffering an ankle injury. Pyne showed no signs of rust or trepidation.
"He could throw an interception one play, the next play, he doesn't care, 'Give me the ball, let's throw it again,'" Freeman said. "He has a confidence about him, and you have to be confident at that position. If you're afraid to make mistakes, you're never going to be productive. You're just going to be a cautious quarterback, and cautious guys finish last, I always say."
Pyne attributes his approach to a recruitment process that brought a surge of early scholarship offers, including Florida State in eighth grade and Alabama in ninth. As his offer total reached double figures, Pyne, to no fault of his own, became somewhat of a pariah. "Not seen as a very liked person, even if you never talked to me," he recalled.
He also had to overcome the stigma of playing high school football in Connecticut, not a national hotbed for prospects. ESPN rated Pyne as the state's No. 3 recruit in the 2020 class (Miami starting quarterback Tyler Van Dyke was No. 1).
"I came in doubted," Pyne said. "You're playing in Connecticut, 'Oh, he's not good, he could never play anywhere.' I've always had a chip on my shoulder. And then I get to Notre Dame, which is my dream school, it's almost impossible to not play with fire every time I go in the game. I watched 'Rudy' growing up, I wear 10 on my back because of [former Notre Dame quarterback] Brady Quinn. This place is unbelievable.
"Every time I step foot in any stadium with these colors on, I'm ready to go."
Pyne's mentality could serve him well. He enters the summer as a clear underdog to Buchner, even though he has been at Notre Dame a year longer.
There are so many new elements to the Irish offense. Rees, the 29-year-old playcaller, is the main holdover, but he also could be entering a new phase of his career.
"Coach Rees has free reign to do what he wants with this offense," Pyne said. "[Former coach Brian] Kelly had a say on the offense and everything else, and now, coach Rees is the head coach of the offense now. He has full belief in all of us players. Coach Rees having that freedom is something that will help us."
Freeman doesn't mind that the quarterback position is unsettled. If Buchner or Pyne separates himself in August, the first-year coach said he will be willing to name a starter. But Freeman liked what unfolded in the spring, and looks forward to the next phase.
"It's a great battle — it really is," Freeman said. "You need that healthy competition. They raise the play for each other."
Week 1 starter prediction: Buchner. His overall skills and Notre Dame's need for a do-it-all quarterback in a more assertive offense gives the California product the nod. After an ankle injury held him out of Notre Dame's spring game, Buchner should pull ahead in camp and take the first snap Sept. 3 at Ohio State. The only caveat here is Buchner's injury history, as he needs to stay healthy to win the job.
Here's a look at 10 other quarterback competitions coming out of the spring.
Returning starter: D.J. Uiagalelei
Candidates: Uiagalelei, Cade Klubnik
Before the 2021 season, few thought Uiagalelei would be here, fighting off an incoming freshman to keep a job that was set up to be his after Trevor Lawrence's NFL departure. But little about last fall went as planned for Clemson's offense or Uiagalelei, who completed 55.6% of his attempts with more interceptions (10) than touchdown passes (9). He looked lost at times while leading an offense that plummeted to 82nd nationally in scoring. Longtime playcaller Tony Elliott has gone to Virginia, although Clemson maintained continuity by promoting quarterbacks coach Brandon Streeter to offensive coordinator.
Uiagalelei competed this spring with Klubnik, an Austin, Texas, product rated as ESPN's top dual-threat quarterback and No. 29 overall recruit in the 2022 class. Klubnik looked capable during practices and threw a touchdown pass in Clemson's spring game. "I wouldn't say it's a battle yet, but he's pushing him," Streeter said of Klubnik and Uiagalelei, before adding, "There's no automatic starter." A slimmed-down Uiagalelei also had good moments during spring ball but struggled with his accuracy in the spring game (17-of-36 pass attempts with an interception). Still, coach Dabo Swinney said Uiagalelei is "definitely our starter" and didn't do anything during the spring session to lose the job.
Week 1 starter prediction: Uiagalelei. Swinney is all about continuity, as he showed in promoting Streeter and Wes Goodwin to replace longtime coordinators Elliott and Brent Venables. He seems unlikely to abandon Uiagalelei despite last season's struggles. Unless Klubnik shows in August that he's undeniably better, Uiagalelei should get the first opportunity during a manageable opening stretch (Georgia Tech, Furman, Louisiana Tech).
Returning starter: Spencer Petras
Candidates: Petras, Alex Padilla, Joey Labas
There are higher-profile quarterback races and more talented rooms than Iowa's. But you'd have a hard time finding a QB situation that produces more angst among a fan base. Petras, despite a 13-6 record as Iowa's starter and some memorable throws, often becomes a piñata for those clamoring for a new, more dynamic approach at the quarterback position. The senior certainly needs to be more consistent after a turbulent 2021 season in which Iowa often seemed to win in spite of him. Petras' return and coach Kirk Ferentz's decision to put offensive coordinator Brian Ferentz in charge of the quarterbacks hasn't been well received.
Padilla started three games last season but couldn't ultimately leapfrog Petras, as he also struggled with accuracy (49.1% completions). Labas, a three-star recruit from Ohio, is an intriguing prospect but likely will struggle to climb the depth chart.
Iowa didn't gain much clarity this spring, although Petras maintained his spot on the depth chart. Injuries on both sides of the ball limited what Iowa could do in practices and essentially tabled much of the key evaluation to preseason camp. Padilla realistically could beat out Petras, but it will be tougher for Labas, who Ferentz said "has a ways to go for us to have confidence that he can go out and play."
Week 1 starter prediction: Petras. Iowa's pattern for much of Ferentz's tenure is to go with the experienced quarterback, even one with limitations. Iowa could get a slightly better version of Petras, who might still be superior to both Padilla and Labas. There's a fairly convincing argument, though, that the Hawkeyes should try someone new at quarterback. But the conservative lean of this coaching staff suggests the status quo for the opener against South Dakota State.
Returning starter: None
Candidates: Myles Brennan, Jayden Daniels, Garrett Nussmeier
Brian Kelly's first quarterback competition as LSU coach is among the most fascinating in the country. He inherits a room with a 23-year-old former starter who needs to get healthy in Brennan, as well as a transfer with multiple years of starting experience in Daniels. But Nussmeier generated most of the buzz this spring, impressing the new coaches with his skills and ability to execute a different scheme. Despite being a top-65 national recruit in 2021, Nussmeier has been overlooked at times, especially when Daniels transferred in from Arizona State and Brennan opted to return for a sixth and final season. LSU also added Walker Howard, ESPN's No. 42 overall recruit in the 2022 class, who likely won't factor into this year's QB race.
Daniels, who started 29 games for Arizona State, didn't transfer to LSU to sit out. He must absorb the new offense and make some mechanical tweaks to try and recapture the form he displayed in 2019, when he passed for nearly 3,000 yards with 17 touchdowns and only two interceptions, immediately entering the NFL draft radar. Brennan, who had a solid start in 2020 before injuries derailed that season and the next, could be the safest option for Kelly. Nussmeier's excellent spring could change the equation, though, especially if he builds on his performance early in camp.
Week 1 starter prediction: Daniels. He must hold off Nussmeier, which could be difficult, but with the right adjustments in footwork and throwing motion, the ASU transfer should get the first shot for LSU. Kelly and his staff likely will want to see what they can get from Daniels before changing course at QB.
Returning starter: Cade McNamara
Candidates: McNamara, J.J. McCarthy
The Wolverines have a solid, stable option in McNamara, who operated a run-centric offense well last fall, passing for 17 touchdowns and six interceptions as Michigan won the Big Ten and reached the CFP. Rated as ESPN's No. 253 overall recruit in 2019, McNamara brings 15 career starts into his fourth season with the Wolverines. The question is whether he can reach another level. Although McNamara wasn't the only Michigan player to struggle against Georgia's historically elite defense in a CFP semifinal loss, the team ultimately will need more from its quarterback to defeat similar opponents in the future. McCarthy brings next-level skills to Michigan's offense as the most decorated quarterback recruit (ESPN's No. 25 player in 2021 class) of coach Jim Harbaugh's tenure.
The tricky thing here is McCarthy didn't throw passes during spring practice because of a shoulder injury. McNamara performed throughout the spring for coordinators Sherrone Moore and Matt Weiss, and he will enter camp as the team's top quarterback. Will McCarthy have time to catch him? Harbaugh said this spring that every position is rented, not owned, but McCarthy, who attempted only 59 passes as a true freshman, will need a strong push in August to overtake McNamara before the Sept. 3 opener against Colorado State.
Week 1 starter prediction: McNamara. McCarthy's inability to truly push McNamara in the spring makes a preseason depth-chart switch less likely. McNamara hasn't done anything to lose the job. One factor is Michigan eases into the season with Colorado State, Hawai'i and UConn. McCarthy will play during that stretch, but McNamara should take the field first.
Returning starter: None
Candidates: Jacolby Criswell, Drake Maye
Sam Howell went from a projected top-10 NFL draft pick after the 2020 season to a Day 3 selection last month, but he still leaves a significant void for North Carolina. Several ACC coaches didn't attribute UNC's backslide on offense last season to Howell. As one noted, "They lost a ton on offense." The Tar Heels try to rebound with Criswell and Maye, who each played in four games last season with one touchdown pass apiece. Maye was an ESPN top-50 prospect in the 2021 recruiting class, while Criswell made it into the ESPN 300 for the 2020 class. Criswell has an extra year in coordinator Phil Longo's offense, playing behind Howell, although Maye has some edge in measurables, namely size at 6-foot-5 and 216 pounds.
UNC coach Mack Brown said Criswell and Maye were comparable throughout the spring, as both displayed strong accuracy and threw a touchdown pass in the spring game. The competition could stretch well into preseason camp, and it's possible both players see action early in September. "We will not separate them until fall, and then we may need both of them," Brown said after UNC's spring game. The Tar Heels don't play a Power 5 opponent until their fourth game, following an open week, so they have some time to experiment early with the QBs.
Week 1 starter prediction: Maye. UNC's race is extremely close and likely will continue that way through most or all of camp. Unless Criswell pulls away, Brown and Longo might want to start the clock on Maye, pegged as the team's quarterback of the future following Howell's departure. The opening schedule should help Maye adjust before things crank up with Notre Dame, Virginia Tech and Miami.
Returning starter: None
Candidates: Luke Altmyer, Jaxson Dart
Lane Kiffin is no stranger to quarterback competitions, and the coach's track record suggests whoever emerges for the Rebels will become an effective leader of the offense. Matt Corral leaves a significant void, as he delivered 6,686 pass yards with 49 touchdowns his last two seasons at Ole Miss. Altmyer, ESPN's No. 121 overall recruit in the 2021 class, has spent a year in Kiffin's system and attempted 37 passes in five games last season, playing behind Corral. Dart, the USC transfer, ranked as ESPN's No. 2 pocket passer and the No. 19 overall player in the 2021 class. He flashed as a true freshman last season for the Trojans, averaging 225.5 pass yards in six games with nine touchdowns and six interceptions.
Both quarterbacks struggled with their accuracy in the spring game but showed some big-play passing ability and good mobility. Kiffin noted during spring practice that Altmyer played consistently, while Dart had more of a risk-reward element to his game. Injuries at wide receiver made it tougher to thoroughly evaluate both players. This race will extend into camp. The question is, for how long?
Week 1 starter prediction: Dart. Although his experience edge over Altmyer didn't come in an Ole Miss uniform, he showed real promise with USC. He also has a really high ceiling with explosive plays, which have always defined Kiffin's offenses. Ole Miss will look for a spark at quarterback after losing so much on defense. A soft opening schedule — Troy, Central Arkansas, Georgia Tech, Tulsa — should help Dart get comfortable.
Returning starter: None
Candidates: Bo Nix, Ty Thompson, Jay Butterfield
Nix was a confounding player throughout his Auburn tenure, but also an undeniably talented one. ESPN's No. 23 overall recruit in the 2019 class can make impact plays with his arm and feet, and he has familiarity with new Oregon offensive coordinator Kenny Dillingham from their time together at Auburn in 2019. The fresh start and coaching change favors Nix over Thompson, ESPN's No. 67 player in the 2021 class, who appeared in only three games with 15 pass attempts last season despite Oregon's average quarterback play. Butterfield, an ESPN 300 recruit in 2020, played even less than Thompson.
The initial transition has gone well for Nix, who shined during Oregon's spring game, tossing three touchdown passes and opening with a 70-yard completion to Seven McGee. Thompson and Butterfield also showed some promise in Dillingham's offense during spring ball. Dillingham and coach Dan Lanning want to emphasize downfield passing but also limit turnovers, which Nix cut down significantly last season at Auburn (three interceptions, 323 pass attempts). Thompson's size and arm strength jump out, and he certainly projects as Oregon's quarterback of the future if he remains in Eugene. But he and Butterfield will need a strong preseason push to overtake Nix.
Week 1 starter prediction: Nix. Even though he's a newcomer to Oregon, the Auburn transfer brings a combination of experience and ability that will be hard for Lanning and Dillingham to resist. Dillingham's previous connection to Nix helps, especially now that he will have true autonomy over the offense (unlike at Auburn under Gus Malzahn). Nix's familiarity with the SEC and Oregon's opening opponent, Georgia, also increases his chances of starting right away.
Returning starter: None
Candidates: Hudson Card, Quinn Ewers
Ewers is one of the bigger names in college football despite not taking a meaningful game snap at this level. An unquestionably elite recruit — he ranked No. 1 in ESPN's list of 2022 prospects — Ewers initially committed to Texas, switched to Ohio State and then reclassified so he could start his name, image and likeness clock early last fall. The Southlake, Texas, product returns to his home state, where the attention isn't going away. He competed this spring with Card, who won last year's quarterback competition with Casey Thompson, ultimately lost the top job but then played significant snaps in late-season losses to Iowa State and West Virginia. Card had 590 pass yards with five touchdowns and one interception, but he also took 10 sacks.
The third-year sophomore has a clear experience edge over Ewers but didn't pull away this spring and will need a solid camp to win the starting job. Both quarterbacks showed in practice they can attack downfield. Ewers delighted the spring game crowd with a 62-yard touchdown pass to wide receiver Isaiah Neyor. "Quinn had a really good spring," coach Steve Sarkisian said. "We saw the playmaking ability that he has. He can make just about every throw. Now it's going through some of those growing pains that any young quarterback would have that come into our system. How far he can take it, we'll see."
Week 1 starter prediction: Ewers. I'm not ready to anoint Ewers as a Heisman Trophy contender or the next Trevor Lawrence-like college quarterback. Card brings more experience to the field and absolutely could win the job again in camp. The on-field buzz about Ewers this spring was mixed. But Ewers has a higher ceiling than Card, and Sarkisian has a chance to start his clock with a schedule that opens against Louisiana-Monroe before Alabama visits Austin on Sept. 10. I wouldn't be surprised to see both quarterbacks play early.
Returning starter: None
Candidates: Haynes King, Max Johnson, Conner Weigman
Texas A&M has the personnel in place to make a push for its first CFP appearance in the next few years. But what happens at quarterback this offseason likely will go a long way toward determining when the Aggies finally break through under coach Jimbo Fisher. King won the job last summer and seemed set to be Texas A&M's long-term answer. But a Week 2 foot injury ended his season, and the quarterback room has become crowded. Johnson started 14 games at LSU, including throughout the 2021 season, when he had 2,815 pass yards with 27 touchdowns and six interceptions, while adding two rushing touchdowns. Weigman arrived earlier this year as ESPN's top-rated pocket passer and No. 27 overall recruit in the 2022 class.
King and Johnson received most of the reps this spring, although Weigman also saw some time in the spring game, in which blustery conditions contributed to some wayward passing numbers for all. When healthy, King gives the Aggies an explosive running threat, although Fisher said Johnson is also more mobile than many think. Weigman has the biggest gap to close by fall camp, but Fisher praised the freshman's maturity level this spring, saying Weigman "doesn't get overwhelmed by the moment."
Week 1 starter prediction: Johnson. There's no substitute for starting experience, especially in the SEC West, and Johnson held up nicely as a young quarterback at LSU. He wasn't the reason for the Tigers' tumble, and he brings a good repertoire to Fisher's offense. King or Weigman ultimately might have a higher ceiling, but Johnson is the sensible choice for the Aggies, whose season could hinge on a strong start to SEC play (Arkansas, Mississippi State, Alabama).
Returning starter: Dylan Morris
Candidates: Morris, Michael Penix Jr., Sam Huard
Washington's quarterback race likely will fly under the national radar, but it's truly one of the most interesting collections of candidates. Morris essentially has started the past two seasons for the Huskies, earning honorable-mention All-Pac-12 honors during the abridged 2020 season, and then recording mixed results for a unit that had schematic issues last fall. He's a former ESPN 300 recruit in the 2019 class, and he fits the mold of the Chris Petersen-recruited quarterbacks who thrived at Boise State and Washington. Morris competed this spring with Penix, a multiyear starter at Indiana who played under new Washington coach Kalen DeBoer in 2019, when DeBoer served as Indiana's offensive coordinator. Penix showed snippets of brilliance at IU, but he also struggled with injuries and with his play last season. Huard, whose father (Damon) and uncle (Brock) were record-setting quarterbacks for Washington, rated as ESPN's top quarterback recruit and No. 15 overall player in the 2021 class.
DeBoer's management of the quarterback room will be fascinating, as an upcoming decision could have implications for multiple seasons. Morris and Penix took most of the first-team snaps during spring practice, while the new coaches are seemingly bringing Huard along slowly. Although Morris displayed the most consistency during the spring session, Penix and Huard performed more efficiently in the spring game.
Week 1 starter prediction: Penix. DeBoer knows how dynamic Penix can be when healthy. He's capable of sparking a dull passing attack with the deep ball. He also showed by far his most accuracy at Indiana during his lone season under DeBoer (68.8% completions in 2019). Morris might be the safer option and still could win the job in camp, while Huard continues to develop. As a first-year coach, DeBoer can be bold with a risk-reward quarterback such as Penix, especially since the first four games are at home.