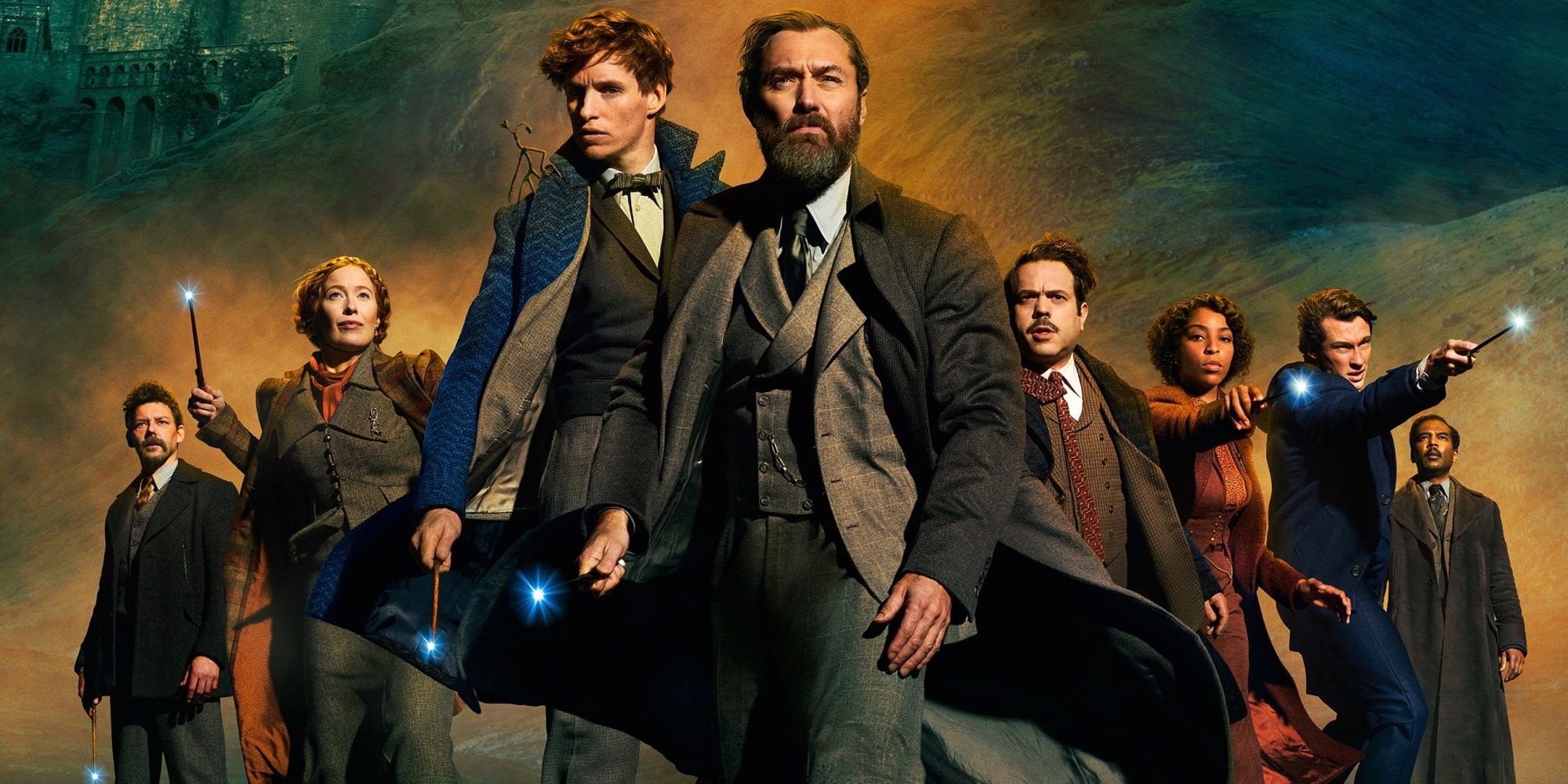 Fantastic Beasts: The Secrets of Dumbledore Arrives on HBO Max Next Week
After its 45-day exclusive theatrical window, Fantastic Beasts: The Secrets of Dumbledore will begin streaming on HBO Max next week.
Fantastic Beasts: The Secrets of Dumbledore will be available to stream on HBO Max very soon.
The streaming service announced that the newest installment in the Fantastic Beasts series will arrive on the platform May 30. The film was released in select markets on April 8 before opening wide on April 15. Warner Bros agreed to a 45-day theatrical window for all its films slated to release in 2022, which continues with Fantastic Beasts 3's streaming date.
Related: Fantastic Beasts 3 Botched Credence's Character – and It's Too Late to Fix
The Secrets of Dumbledore explores the backstory of Professor Albus Dumbledore (Jude Law), who endeavors to stop the dark wizard Gellert Grindelwald (Mads Mikkelsen) from taking control of the wizarding world and using his magical powers against the muggles. Knowing he cannot move against Grindelwald, Dumbledore enlists the help of magizoologist Newt Scamander (Eddie Redmayne) to assemble a team of witches and wizards to ruin the dark wizard's evil plans. As Newt and his team embark on successive dangerous missions, Dumbledore must find a way to face his once-beloved companion by himself.
Alongside Law, Mikkelson, and Redmayne in the lead roles, the film features an ensemble cast, including Ezra Miller, Dan Fogler, Alison Sudol, William Nadylam, Callum Turner, Jessica Williams, Victoria Yeates, Poppy Corby-Tuech, Fiona Glascott, Katherine Waterston, Maria Fernanda Cândido, Richard Coyle, Oliver Masucci, Valerie Pachner, and Aleksandr Kuznetsov.
Related: Who Was Headmaster of Hogwarts During Fantastic Beasts 3?
Unlike the previous films in the Wizarding World franchise, Fantastic Beasts 3 debuted with the lowest box office opening in North American theaters, grossing $42.15 million. The film also recorded the worst international opening weekend in the series, grossing $58 million from 22 markets. Its current global figures stand at $388.51 million against a production budget of $200 million.
Originally intended as a five-film saga, Fantastic Beasts 4 and 5 have yet to be announced, as Warner Bros. insisted on reviewing the box-office performance of the Fantastic Beasts threequel before announcing the future films.
Related: Fantastic Beasts 3 Proves That [SPOILER] 's Bond Is Still the Franchise's Strongest
Fantastic Beasts: The Secrets of Dumbledore is directed by David Yates from a screenplay by J.K. Rowling and Steve Kloves. The film is playing in theaters and will stream on HBO Max beginning May 30.
Source: HBO Max
Mayank Nailwal has been in love with movies since 2002. Chris Columbus' second Harry Potter directorial bewitched him with big-screen wonder, and since he has experienced over 400 films theatrically. He is a Potterhead and a fan of X-Men, Transformers, Star Wars, and Mission Impossible. He also reveres Christopher Nolan and considers himself blessed to meet him. Like his favorite film director, he is a long-time advocate for the IMAX experience and finds the technology unparalleled. Connect with him on social media to learn more.