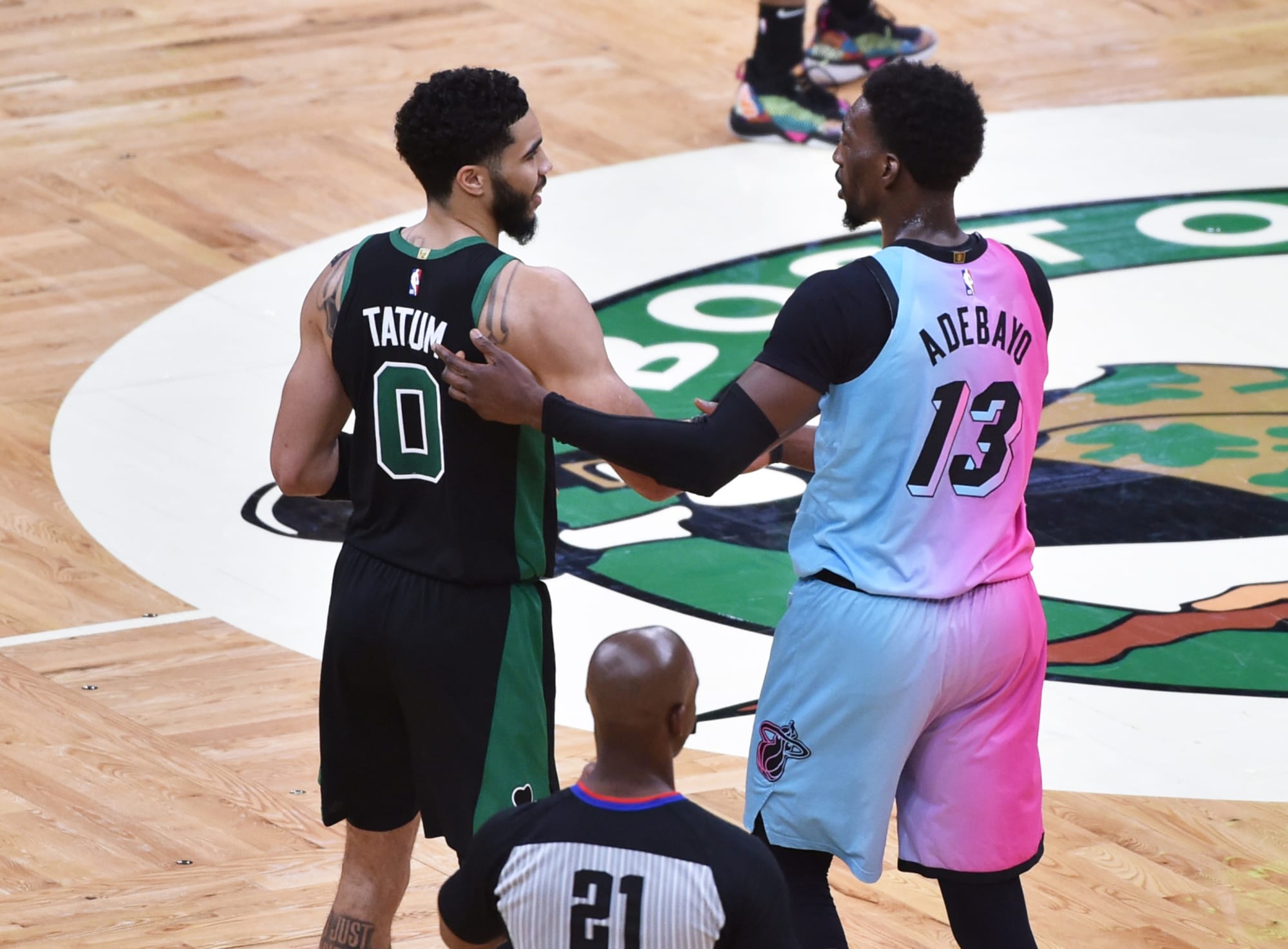 Boston Celtics pound injured Miami Heat; set up pivotal Game 5 in Miami
Bam Adebayo and Jayson Tatum (Bob DeChiara-USA TODAY Sports)
The Boston Celtics bounced back in a huge way as they pounded the Miami Heat in Game 4 to set up a pivotal Game 5 (in Miami) in the Eastern Conference Finals.
It was evident minutes into Game 4 just what kind of night it was going to be for the Miami Heat. The Heat didn't score a field goal until more than past the midway point of the first quarter and the Boston Celtics got off to the fast start in which they needed to (especially after their performance in Game 3).
And Boston never let their foot off the gas. The Celtics cruised to a 20-point victory to tie the Eastern Conference Finals at 2-2. It will now be a best-of-three series for a trip to the NBA Finals on the line for the Heat and Celtics.
Heading into a pivotal Game 5, there is plenty on the line for both teams. For the Heat, falling short of the NBA Finals would put this team in a bind heading into the offseason. This is a relatively old team and this year was all about getting back to the Finals.
Falling short could force the team to make some difficult decisions. PJ Tucker, Kyle Lowry, and Jimmy Butler are all key cogs to this core that aren't getting any younger. In fact, an argument could be made that this is the best version of the Heat (with this specific core) that they're going to have over the life of Lowry's and Jimmy's contract.
Unless, of course, a big move is made this offseason. Should the Heat lose to the Celtics in the conference finals, that would absolutely be on the table.
For the Celtics, some of that same narrative could follow should they lose to the Heat. This Boston core has gotten close time and time again. This is the fourth time the Celtics have made the conference finals in the last six years. Falling short again would have this front office thinking hard about how they will proceed forward.
So as the series shifts back to Miami, there is very much plenty on the line for both teams over the next 2-3 games. And it's much more than just an NBA Finals appearance.