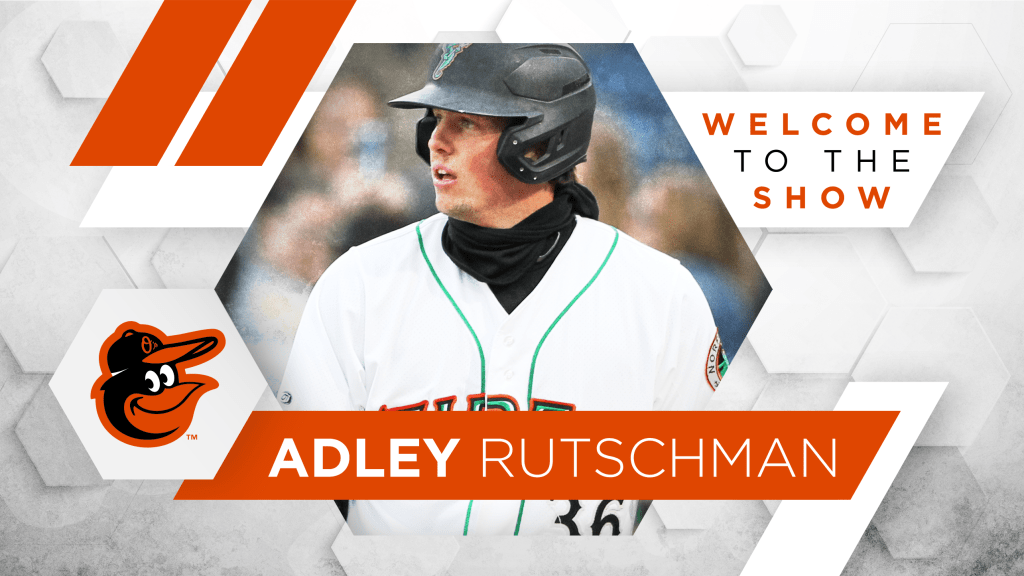 What to expect from Adley Rutschman
Jonathan Mayo
Ever since the Orioles took Adley Rutschman No. 1 overall in the 2019 Draft, the clock started on when he would become the face of the franchise. That time is now, as the No. 1 prospect in baseball will make his big league debut on Saturday night in Baltimore against the Rays.
The anticipation and excitement in Orioles land is palpable. Let the posters be hung, the jerseys sold, the ad campaigns started. Heck, might as well print up postseason tickets now, right?
No pressure, Adley.
We've had some huge debuts of top prospects over the years, including No. 1 prospects like Wander Franco and Vladimir Guerrero Jr. At the start of this season, top prospect Bobby Witt Jr. led a group of four prospects in the top 10 making Opening Day rosters, a group Rutschman likely would have been a part of had he not injured his right triceps in Spring Training.
But as huge as those debuts were, I'm not sure any of them mean more to the future of an organization than this one.
The Orioles were coming off of a 115-loss season in 2018 when they hired Mike Elias from the Houston Astros to be their general manager. The following June, Elias was able to make his first truly big stamp on the team's future and its rebuilding plan by having the No. 1 overall pick. And as good as Witt was, and will be, it was a year where it was pretty clear-cut who the top pick should be. In his three years at Oregon State, not only did Rutschman hit .353/.473/.559, win a national title as a sophomore and the Golden Spikes Award as a junior, he carried himself like a generational prospect who could help a team turn things around while effortlessly shouldering the burden of being "the man."
The pandemic might have slowed things down a bit, as did his minor injury this spring, but now we're here. Rather than wax poetic about what to expect in terms of all his plus tools, let's start with what not to expect.
Adley Rutschman will not be a threat on the basepaths. He has just a 30 grade on the 20-to-80 scouting scale for his speed.
And that's it, in terms of "weaknesses."
Everything else he does is at least plus on both sides of the ball. He's a 60 hitter with 65 power, from both sides of the plate. His advanced approach at the plate will help him get to hitters' counts, avoid slumps and get to that power. It's not often you get a hitter who has this kind of pop and walked more than he stuck out in college. In the Minors, his walk rate (14.1 percent) doesn't trail his strikeout rate (15.9) by much. The guy is going to hit and with power.
If that was all, he'd still be really, really good. As my colleague Jim Callis has often said, if somehow Rutschman couldn't catch, he still could have a Mark Teixeira-like career. For those of you who don't remember, Teixeira hit over 400 homers and drove in close to 1,300 runs.
But here's the thing. Rutschman isn't just a catcher. He's a Gold Glove-caliber one, with a hose for an arm. He's thrown out 31 percent of potential basestealers, he blocks and receives very well and pitchers can't say enough about how much they love working with him. He leads behind the plate and that rapport will be important as the young arms in the system come up. (We're looking at you, Grayson Rodriguez and DL Hall.)
We've all seen top prospects struggle when they first get to the big leagues. That's been the case with the aforementioned Top 10 guys and it should be noted that Rutschman had more official plate appearances in college (821) than he has in the O's system (778). I'm not trying to dampen excitement here. I'm merely reminding folks that baseball is really hard and there could be a learning curve.
Because Rutschman is such a well-rounded player, though, he's going to contribute to wins with his work behind the plate even if he's not competing for a Triple Crown right out of the gate. But beyond his obvious gifts on the field, the one thing that stands out is what Orioles player development folks have told me: As good as he is, this is a player who never rests on his laurels. He'd get an 80 on that scouting scale for his desire to continually work to get better.
Settle in, O's fans. You're in for an exciting, and hopefully long, ride.