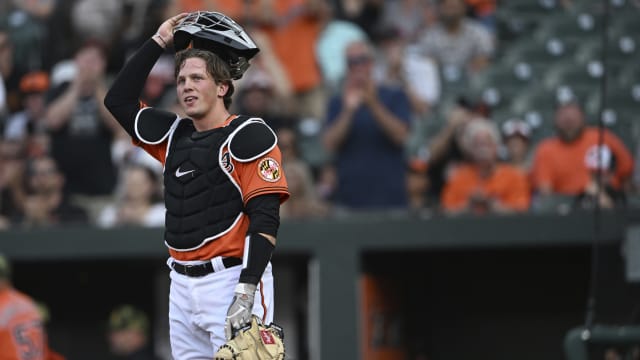 'Emotional overload': Rutschman thrills in debut
Zachary Silver
BALTIMORE — Adley Rutschman, the Orioles' next big hope, has arrived — and in style. Called up before Saturday's 6-1 loss to the Rays at Camden Yards almost three years after he was drafted, Rutschman — baseball's No. 1 prospect per MLB Pipeline — invited standing applause for nearly every facet: His announcement in the starting lineup, his first time announced as a batter (and each of the ensuing three times on the night), his first putout behind the plate and even, yes, his first strikeout.
But none was larger than on his first hit, a triple in the seventh inning.
"I'm still running on nerves right now," Rutschman said afterward. "Just from the second that I walked out onto the field to warm up the pitcher, 'til the time I walked into the tunnel, an emotional overload. I can't really explain the feeling, because it's just unlike anything else I've ever experienced."
Rutschman's arrival signals that the sea change that has been simmering in Baltimore is now kicked into high gear. He is just one member of this rebuild, but he is the O's most important. A few have already debuted; none has invited nearly as much buildup or buzz as Rutschman.
"You want to believe that we're turning the corner and that we're starting to play competitive AL East baseball," Orioles manager Brandon Hyde said pregame, "and [that] we have the type of players that are going to be able to compete and win a division."
That's simply Rutschman's hope as well. He realizes the position he's in, but his focus is on what got him to Baltimore in the first place, initially as the first overall Draft pick in 2019 and now as its long-awaited callup on Saturday, fresh off a road trip up from Charlotte, N.C., where his promotion was made official in a now-viral moment.
"Just being on a team again, trying to win," Rutschman said, "trying to win together."
Rutschman did his part to accomplish that on Saturday, hitting the Orioles' first of only two extra-base hits in the game when he lifted a changeup, the 11th he faced on the night, from Ralph Garza Jr. to the right-field corner. He became the first catcher to triple for his first hit since Brad Davis of the Marlins in July 2010. In Orioles history, he joined Manny Machado and Matt Wieters as highly-touted prospects to do the same.
A lot of breaths could be exhaled with one swing of the bat.
• Who is Adley Rutschman?
"There's so much pressure put on him and there's so much anticipation," Hyde said, "that I just want him to relax and play the game like he did in high school. I understand that that's not realistic. But I just don't want him to put too much pressure on himself."
Any of that pressure will come from outside. In recent years, the clamoring for Rutschman has grown, reaching deafening levels in the past few weeks. He has been lauded for his ability to tune it out, to focus solely on his preparations. But nobody is perfect.
"It's definitely hard not to listen to some of that stuff," Rutschman said.
Sign up to receive our daily Morning Lineup to stay in the know about the latest trending topics around Major League Baseball.
Now is the time merely for that excitement to shed its latency.
Rutschman recognized the enhanced hubbub. When he took the field for the first time, readying to catch Orioles' No. 10 prospect Kyle Bradish, parts of the 17,573 rose to greet him. Before he flung on his catcher's mask, he twirled to soak it in and share the euphoric excitement with Baltimore. A natural learner, it was something he was instructed to do.
"It was just kind of something that a couple guys had told me, who when they made their debut and they caught, they just said, 'Make sure to appreciate every moment. If you can, take a second and really just soak it all in, because that's something you're going to remember forever,'" Rutschman recalled. "Kind of took that to heart."
Rutschman batted sixth in his debut, a spot he's expected to simply elevate out of as he gains comfort in the Majors. He hit behind Ryan Mountcastle, Cedric Mullins and Austin Hays, and ahead of Tyler Nevin — young players the O's expect to be on their next winning club. To that end, Saturday was as much an encapsulation of this rebuild as it was a singular moment in Baltimore sporting history.
"It was fun to write the lineup out today," Hyde said.
As far as hype is concerned, Trey Mancini said that Camden Yards on Saturday had a leg up on the Preakness, happening just over 5 miles away in northeast Baltimore. He's not sure there has been a bigger sports moment in the city since the Orioles' postseason run in 2014.
"Exciting day for the franchise," said Mancini, part of the last O's playoff team in 2016, "and most importantly, for Adley and for our fans, too. I know they've been waiting for this for a while."
The Orioles want a lot from Rutschman. That's why they drafted him when they did, inked him to the record $8.1 million like they did and exerted as much caution as they did, both in his overall career arc and from the right triceps strain that derailed his start to the 2022 season.
But in order to see that, they know it requires Adley to just be Adley.
"When you're going through the process of the Minor Leagues and in college and in high school and whatever it is — kind of the person you are, the player you've been, the player that's gotten you to the point you're at right now — I think it's just one of those things," Rutschman said. "You just want to continue to do that, be that same person, not change who you are."