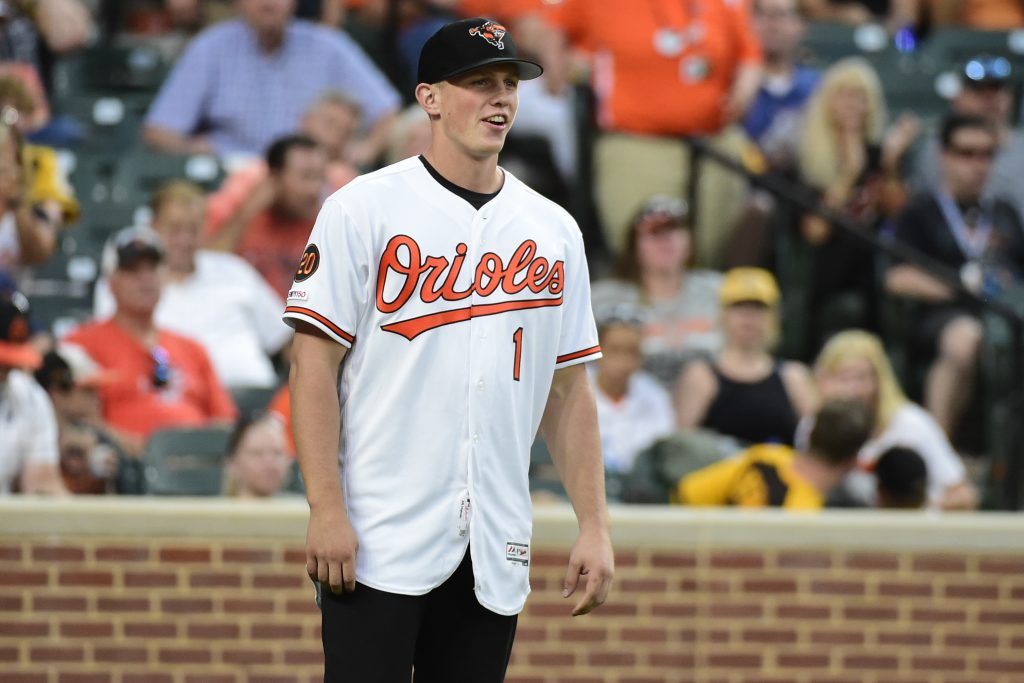 Orioles To Promote Adley Rutschman
By Darragh McDonald | May 21, 2022 at 8:25am CDT
The Orioles announced that they have selected the contract of top prospect Adley Rutschman. Anthony Bemboom has been designated for assignment in a corresponding move.
Of course, this is a day that baseball fans in Baltimore and elsewhere have been looking forward to for quite some time. Even before he was a member of the Orioles organization, Rutschman was tantalizing the baseball world with his performance at Oregon State, shooting up draft boards and considered by many to be the top player available in the 2019 draft. Baseball America, for instance, gave him the #1 slot that year, with their report noting that the switch-hitting catcher had essentially every skill necessary to succeed going forward. Hitting for average, hitting for power, taking walks, strong arm, good receiving and blocking, he had all the tools except speed, which is hardly surprising for a catcher. "He is the best catching prospect since Buster Posey in 2008 and Matt Wieters in 2007," their report concluded.
Although there were reports that the O's were considering other players with the first overall selection in the 2019 draft, such as Bobby Witt Jr., Andrew Vaughn and JJ Bleday, it never seemed like there was much chance of anyone usurping Rutschman. When the big day finally rolled around, Rutschman was indeed the first player off the board.
Due to the struggles of the big league club, Rutschman instantly became the light at the end of the tunnel for Baltimore fans. The Orioles finished last in the AL East in both 2017 and 2018, and were in the process of repeating that feat when Rutschman was drafted in 2019. They somehow slipped past the Red Sox and into fourth place in the shortened 2020 season, but were back down in the basement in 2021, and also posted the worst record in baseball again (tied with the Diamondbacks). That means they have the first overall selection in the draft yet again this summer. With nothing inspiring happening at the big league level, all hopes were pinned on the stars in the farm system that would make up the next great Orioles team, with Rutschman being front and center.
Baseball America ranked Rutschman the fifth-best prospect in all of baseball in 2021, then bumping him up to #2 last year and #1 this year. He's also considered the best prospect in baseball by FanGraphs, Kiley McDaniels of ESPN and Keith Law of The Athletic.
It's been an atypical rise through the minors for the 24-year-old. It started out normal enough, with Rutschman getting into 37 games in the lower levels of the Orioles' system in the months after the draft. But the pandemic wiped out the minor leagues in 2020, meaning he wasn't able to play in any official organized games. But that missed season didn't slow him down any, as his 2021 proved the hype was for real. In 123 games between Double-A and Triple-A, he hit 23 home runs and produced an overall batting line of .285/.397/.502, walking at a 14.5% rate and striking out only 16.6% of the time. That all adds up to a wRC+ of 144, or 44% better than league average.
The Orioles did little to block his path to the big leagues this offseason. The catchers who got playing time behind the plate in 2021 were all jettisoned from the roster. Pedro Severino, Austin Wynns and Nick Ciuffo were all outrighted at season's end and Chance Sisco was claimed off waivers by the Mets. There was a time in the offseason that the club actually had no catchers on the 40-man roster, although they eventually signed Robinson Chirinos to be in the mix.
Once the new collective bargaining agreement was agreed to and the lockout ended in March, it seemed there was a chance Rutschman could crack the Opening Day roster. The new CBA featured incentives to try and discourage teams from holding their best prospects down in the minors at the beginning of a season in order to manipulate their service time and gain an extra year of control over their services. Unfortunately, Rutschman suffered a triceps strain in mid-March that put him on the shelf for a few weeks, ending any chance of him being ready for the season opener. After recuperating from that injury, he made his 2022 debut in the minors on April 26 and has spent the past four weeks getting back into game shape. In 19 games this year across three different levels, he's hitting .309/.427/.515, 159 wRC+, walking in 13.4% of his plate appearances while striking out in just 8.5% of them.
There are about 137 days remaining in the season, meaning he will be unable to accrue the 172 days necessary to count as a full year. There is a provision in the new CBA that grants a full year of service time to the top two finishers in Rookie of the Year voting, though it will be difficult for Rutschman to take that path now, given that his competitors in that race have a six-week headstart on him. Jeremy Pena has already produced 1.8 wins above replacement, according to FanGraphs, with various other rookies sitting at 0.8, such as Bobby Witt Jr. and Julio Rodriguez. Assuming Rutschman isn't able to catch up and finishes this season with less than a year of service time, the O's will control his services through the 2028 season, though he does have a very good shot at qualifying for arbitration after the 2024 season as a Super Two player. (The Super Two cutoff moves from year to year but has only been above 2.137 three times since 2009, with the last instance coming back in 2012.) Now that he's reached the big time, the club will be hoping that he and the other prospects that are still to come will help the Orioles start turning the page from rebuilding to competing over those coming years.
With Rutschman injured to start the year, the club selected Bemboom's contract, pairing him with Chirinos as the club's catching duo. In 22 games on the year, he's hit a meager .115/.207/.212. Since he's out of options, the club had little choice but to designate him for assignment in order to make room for their star prospect. Bemboom will likely hit the waiver wire in the coming days and see if there's another club in the league that's interested in his services.
Image courtesy of USA Today Sports.
Baltimore Orioles Newsstand Transactions Adley Rutschman Anthony Bemboom
7 hours ago
At long last…
7 hours ago
Orioles vs Pirates in at least two World Series in next ten years :-0
7 hours ago
Both teams paying for tickets to sit and watch
7 hours ago
Nah… both orgs loaded with young talent and gonna be relevant again by 2023/24.
7 hours ago
It doesn't matter how much talent the pirates acquire bro. Their ownership group is pathetic. They do not want to win. They want to make money.
7 hours ago
EVERY owner wants to make money. Don't ever think otherwise. These guys only got where they are because they wanted to make money.
6 hours ago
These are always the dumbest comments? Doesn't everyone on this site want to make money? Aren't all of your decisions to maximize your personal wealth as well?
6 hours ago
Maybe, but how often have people said that about these franchises in the last 30 years? They're frequently "loaded" with prospects and yet here we are.
6 hours ago
"We Are Family" vs "Thank God I'm A Country Boy": The Long Awaited Sequel
5 hours ago
Prospects are just that,prospects. They do not matter unless they make it in the big leagues. The Pirates will have better players soon and more depth,but their starting pitching will still be no better than average,and will not nearly be deep enough to compete with the money teams for the WS. Small market teams really have no chance for a WS unless a Steve Cohen buys them. This isn't the 1970's anymore.
5 hours ago
Im not talking about it in simple terms. I mean their ownership group is in it for the money only. Huge difference. Jim Crane did not buy the Astros to make money. He wants to win. Sure he doesn't want to lose money. But he's a billionare who isnt afraid to spend.
5 hours ago
Aren't all of your decisions to maximize your personal wealth as well? =================================== I don't mind the complaints if the owners massively under-spend what their attendance suggests they should. But I get the feeling that some of these "fans" haven't bought a ticket in years, but then complain that the owner isn't spending enough of his money.
5 hours ago
Nothing wrong with wanting to make money but it is a problem if you only want to make money and you don't care about a half empty stadium because pocketing revenue sharing gives you a profit anyway.
It always is and was a business but some owners just don't care much about the quality of their product because revenue sharing keeps them afloat.
4 hours ago
@astros agreed, some owners want to try to win by spending money..Same with Fowler/Seidler group in San Diego. They are spending over 200 million on a roster to get fans into the seats. They want to win more than anything for the city.
2 hours ago
If he wants to win so bad what's the reason he didn't resign Carlos Correa? George Springer? Garrett Cole? Popping off like usual.
2 hours ago
So being stupid with your money means that you want to win? I think that being smart with it means more and is more long lasting. Not cheap…smart. There's a fine line between them. How's the Hosmer and Myers contracts working out? Being stupid with your money will handcuff future spending.
7 hours ago
Not, he meant playing
6 hours ago
Yes, they are manipulating the system to make money. AS YOU WOULD. You all talk like owners should lose tens of millions every year to get "you" a championship. If the economics of the market don't support it, you can't do it. Maybe the market just shouldn't have a team? Owners are making smart business moves as the players do as well. Your comments are naive.
4 hours ago
Your assumptions about what other people would do in terms of money make you sound naive, I'm afraid.
7 hours ago
Pirates will never challenge for a World Series unless their ownership actually decides to spend… I don't care how good your pipeline is, you have to be able to supplement it with outside talent.
7 hours ago
They will, but it'll never be a consistent challenge. Best case scenario is that it will be like the Royals in 2014-15. And that is if EVERYTHING works perfectly like it did for KC. Otherwise, neither the Pirates nor the Orioles will ever be much more than fodder for the rest of baseball.
5 hours ago
Hiflew- I think that you are right and wrong. Small market teams can be competitive if run properly.It is just that they will go in cycles.The low years do not have to be pitiful like they have been since the 2019 all star break for the Pirates. But I agree with you otherwise.You have to hit it at the exact right time to win a championship,and you have to be lucky. They cannot afford the superstars that the money teams get on a regular basis. The whole basis of MLB has to change for this to change.Sadly,that will never happen.
5 hours ago
Rays are a good example of a team that is ran effectively without spending a ton. So are the A's. The Royals did it with prospects for a couple of years and are in that cycle.
The Pirates had prospects, didn't let them fully mature and made bad trades as they sent them packing. Cole, Glassnow, Tailon…return? Bad management.
54 mins ago
The Rays signed Morton 4-5yrs ago to $15M AAV. And signed Franco to a huge contract. They have graduated from non-spenders like the Pirates.
And since you seem uninformed, look up the return for Taillon before you throw Cherington under the bus
6 hours ago
It's Pittsburgh!! Curious how much you'd like them to lose for you to have a championship? Maybe 50 million? 100 mill? You can either draft young and hope for your four year run before the next rebuild or you can lose millions and millions to go for it. As a business owner in a market like Pittsburgh what would you do with YOUR money?
4 hours ago
I'd bet a lot of money this doesn't come to pass
4 hours ago
Time for some not-so-random drug testing here at MLB Trade Rumors?
1 hour ago
Terrier1980: Not sure about twice in the next decade, however it's ALREADY HAPPENED twice in a previous decade. They played each other in the 1971 & the 1979 World Series. Both were won by the Pirates.
7 hours ago
Exited for this. And then Hall and Rodriguez. Once the Os start playing in free agency (probably this offseason and then more in 2023-2024 perhaps I can start watching competitive games again
4 hours ago
Where did you leave?
7 hours ago
Let's hope he's more Posey and less Weiters, who still had a nice career just never lived up to his #1 overall prospect ranking. I suppose very few actually do (see Profar, Jurickson). Rutschman and Witt ended up being a hell of a 1-2 in the 2019 draft
5 hours ago
Matt was seeming to finally figure it out in the beginning of 2014. Then needed Tommy John and was never really the same overall.
6 hours ago
As bad as the Orioles are, what's the rush, man?
6 hours ago
He's already 24 and not much more to prove in the minors, got to give the fans a reason to come out to the park.
6 hours ago
I think his pun went over your head
5 hours ago
I'll give you that one, because I picked up "rush man' on exactly the right day. There are not a whole lot of catchers out there.
4 hours ago
Like so many other prospects, he will probably struggle this year. Even Mike Trout struggled when he came up.
4 hours ago
Great pun. The poster of the first response should be ashamed
5 hours ago
His name reminds me more of someone who owns a hedge fund….
5 hours ago
Finally, a reason to watch the O's again. Still need a 3B (what's Manny up to?), a SS, a 2B, 2+ SPs, and the ability to get on base.
Still love my hometown team but its been painful to watch.
4 hours ago
We have a SS despite yeterday's poor performance. Our next SP1 will be here in July. Our next 2B will be here in late June, our next 3B will be here next spring. And there are reinforcements behind them.
2 hours ago
Mateo is a utility guy. Fine enough to play 3 days a week but not the full time answer.
Rodriguez and Hall were 2 of the 3 SPs I believe in so far. Zimmerman is the 3rd. Means is a question mark going forward and Lyles will be dealt in 2 months. I am good with seeing some of the other pitchers work it out in the majors though.
2B? Do you mean Vavra? Hopefully hi injury does not slow his production down. Or is it Hall?
3B? I was thinking Mayo in a few years but are you going with Henderson?
5 hours ago
Ironic that Rutschman's call up comes on the birthday of another former first round catcher by the Orioles: Matt Wieters. I hope this is the start of a great career for the Rutschman, and something the entire Orioles' organization and fan base can get excited about.
4 hours ago
Both 1st round draft picks by the Orioles, both ranked as the game's #1 prospects when called up. Wieters had a decent career, but Orioles fans expected more. They seem to be expecting even more from Rutschman, who arrives in the majors a year older than Wieters was.
Interesting coincidence today is Wieters' birthday.
4 hours ago
Remember Matt Wieters Facts? No one could live up to those expectations.
4 hours ago
Chuck Norris could live up to every Matt Wieters Fact.
59 mins ago
We all do realize that if he's Wieters 2.0 the O's got a heck of a player. And it's MUCH more likely he's SwiHART 2.0.
1 min ago
Orioles fans did not expect more. The O's hype train promised us more. "Switch hitting Jesus." "Mike Piazza, but he's also a great catcher."
I am not expecting anything from "the Flying Rutschman," He's a top pick. He should be good. But the draft and prospects are a shot in the dark and you won't know what he can do until he does it at the major league level.
5 hours ago
Orioles going to have a dynasty for a decade. Look forward to multiple championships in Baltimore.
4 hours ago
Charm city does not have that much charm.
3 hours ago
Here's hoping he isn't just another minor league star who couldn't cut it in the majors. Best of luck, kid!