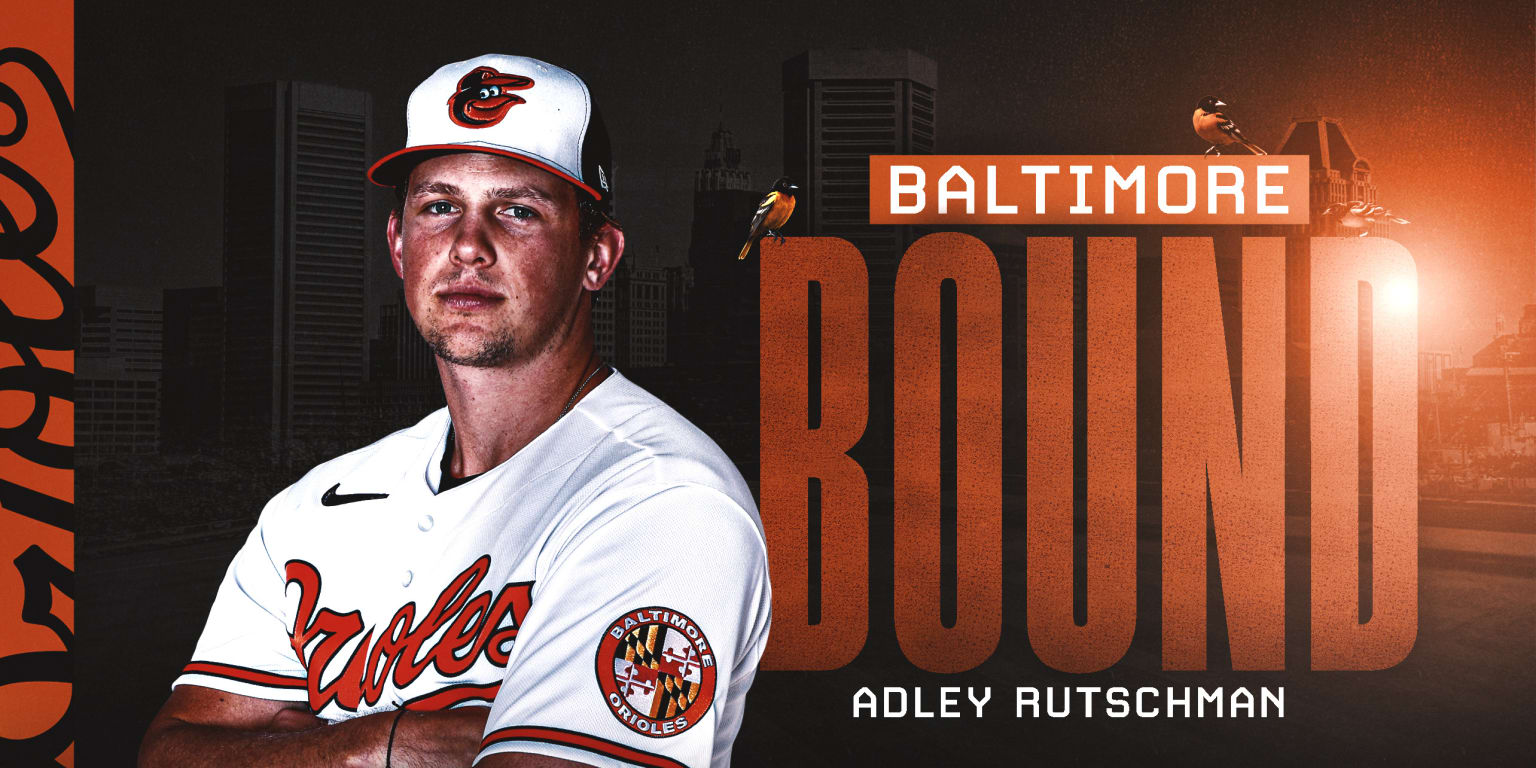 Adley Rutschman, MLB's No. 1 prospect, called up to O's
Joe Trezza
BALTIMORE — After years of anticipation and weeks of speculation, Adley Rutschman has arrived.
The Orioles on Saturday promoted baseball's top overall prospect, setting the stage for one of the most anticipated big league debuts in recent memory and marking a milestone in the franchise's rebuilding efforts. The No. 1 overall pick in the 2019 Draft, he's been ranked one of baseball's top two prospects since the summer of 2020 and is currently No. 1.
Rutschman is in the Orioles starting lineup Saturday against the Rays, batting sixth and catching right-hander Kyle Bradish.
"I'd say about as excited as I can be right now," Rutschman said at Oriole Park on Saturday afternoon. "I mean, this is probably about the coolest thing, the coolest moment that I've had so far. I'm really excited for it."
Signing for a record $8.1 million bonus in 2019, Rutschman was the first and most high-profile pick by Orioles GM Mike Elias in his tenure overseeing the club's long-scale rebuild. He now becomes the project's most decorated prospect to reach the Majors, the star of what's grown into the top-ranked farm system in the sport under Elias. The Orioles hope being that it begins a process of transition for the rebuild that results in more success at the big league level.
He could be one of several big-name Baltimore blue-chippers to reach the Majors this season, with No. 2 right-hander Grayson Rodriguez and No. 5 lefty DL Hall already teased as possible in-season call-ups. The Orioles already welcomed Bradish, their No. 10 prospect per MLB Pipeline, earlier in the year.
• The 10 youngest players in Orioles history
It's time. pic.twitter.com/jtmNRWuEJH
Now 24, Rutschman is three years removed from emerging as college baseball's consensus top player at Oregon State, where he led the Beavers to the 2018 national title with a College World Series record 17 hits in the tournament. Rutschman then dominated as a junior, hitting .411/.575/.751 with 17 homers and twice as many walks as strikeouts.
That production, combined with his profile made Rutschman a generational prospect: a switch-hitting catcher with elite on-base ability and defensive skills so polished, some evaluators believed he could catch in the Majors three years ago. Said one rival scout in 2021: "It's as complete a package of physical tools, accompanying skill to enact those tools and makeup traits that you're going to find, particularly at that position."
The Orioles are hoping it translates into their new face of the franchise for years to come. Saturday marked the first day of that future.
"From the moment you're drafted or from when you're in high school, I think you are always are looking forward to this opportunity, hoping it happens," Rutschman said. "Just the fact that it's here now, it's crazy. I'm just trying to take it in."
Said O's manager Brandon Hyde: "It's Mike [Elias]'s first pick and it's been a process from the day we got here. We've had a lot of ups and downs, and we still are going through a lot of things. But it means a lot to have his first pick get here. You look at the lineup today, there's a lot of young, talented guys in there, and the guy on the mound as well. You want to believe that we're turning the corner and that we're starting to play competitive AL East baseball and we have the type of players that are going to be able to compete and win a division."