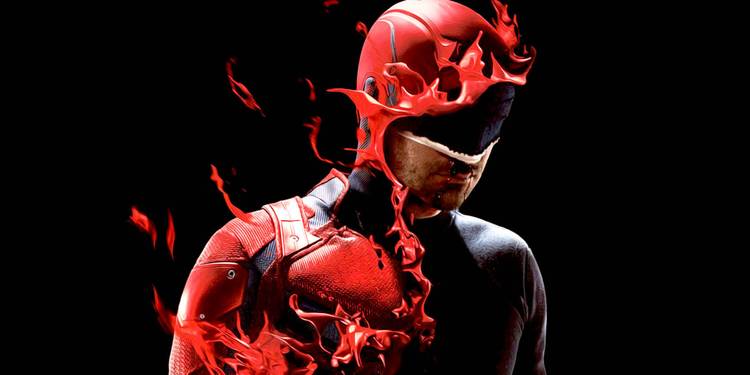 Original Daredevil Showrunners Address Series' Disney+ Revival
Daredevil showrunners Erik Oleson and Steven S. DeKnight share their thoughts on the former Netflix series' recently announced Disney+ revival.
Original Daredevil showrunners Erik Oleson and Steven S. DeKnight addressed reports that the former Netflix series' is getting a Disney+ revival.
Oleson, who oversaw Daredevil Season 3, responded to the news by tweeting "Thrilled to learn that #Daredevil lives on! Best cast and best fan base EVER!" This comment was then retweeted by Season 1 boss DeKnight, who added "Truth!" That leaves Season 2 co-architects Doug Petrie and Marco Ramirez as the series' only showrunners yet to publicly comment on the Man Without Fear's return to the small screen.
Related: Marvel Scrubbed Netflix Credits From Defenders Shows on Disney+… And Fans Noticed
News of Marvel Studios' new Daredevil series first broke in May 2022, with Matt Corman and Chris Ord tapped to write and executive produce the show. It followed months of speculation that the horn-headed vigilante would make a TV come back after Charlie Cox reprised his Matt Murdock role in Spider-Man: No Way Home and Vincent D'Onofrio returned as Wilson Fisk/Kingpin in Hawkeye. These appearances marked both actors' proper introduction to the Marvel Cinematic Universe, as the canonical status of the original Daredevil series remains in doubt.
Marvel Studios President Kevin Feige added further weight to rumors that a new Daredevil series was in the works during a 2021 interview. "If you were to see Daredevil in upcoming things, Charlie Cox, yes, would be the actor playing Daredevil," he said. "Where we see that, how we see that, when we see that, remains to be seen." Despite Feige's phrasing, it's worth noting that both Marvel Studios and Disney+ have yet to officially confirm the series is happening.
Related: Daredevil's Deborah Ann Woll Is Ready to Return for Season 4
Aside from headlining a Daredevil relaunch, Cox is also rumored to appear as The Man Without Fear in the upcoming Hawkeye spinoff Echo. He'll allegedly be joined by D'Onofrio's Kingpin, despite the hulking crime lord's apparent demise during the finale of Hawkeye Episode 6, "So This Is Christmas?" Neither actor is officially attached to the production at this stage.
Online chatter further suggests that Matt Murdock will cameo in She-Hulk: Attorney at Law when it arrives on Disney+ in August 2022. These reports claim that Cox will play a different version of Daredevil's alter-ego than was featured in the Netflix series, although this (much like Cox's involvement in She-Hulk itself) has not yet been verified by official sources.
Seasons 1-3 of Daredevil are currently streaming on Disney+. The relaunched series does not yet have a release date.
Source: Twitter
Leon is an Associate News Writer at CBR. He reports on the latest developments in film and TV, covering everything from popcorn cinema to prestige mini-series. His previous freelance writing credits include articles on film, TV, comics, and video games for Screen Rant, Polygon, The Things, Cultured Vultures, and Taste of Cinema. Originally from Australia, Leon is currently based in the UK.