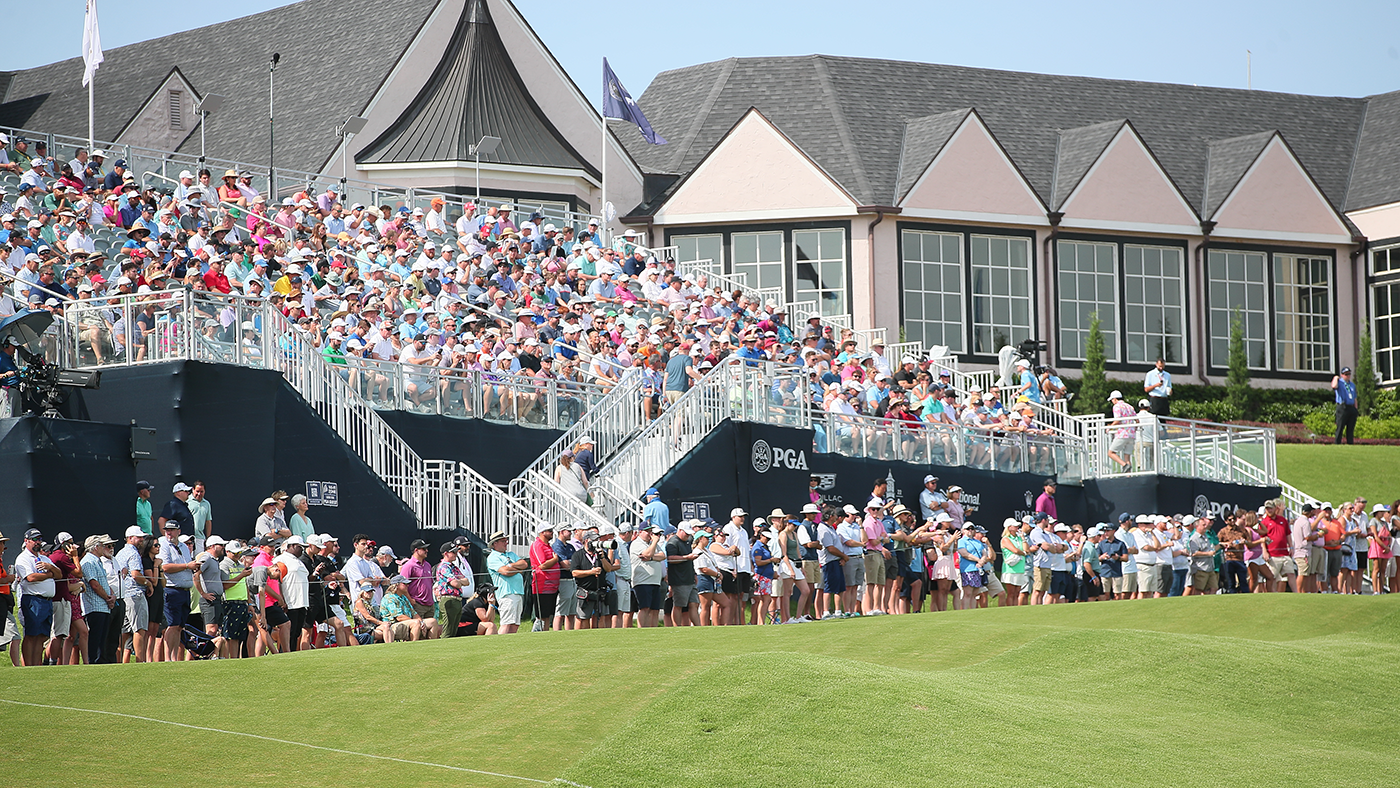 2022 PGA Championship leaderboard: Live coverage, Tiger Woods score, golf scores today in Round 2
Round 2 of the 2022 PGA Championship is officially underway, and the drama — much like the temperature at Southern Hills — is beginning to heat up as some of the sport's brightest and best battle it out at the top of the leaderboard. Justin Thomas was at the front of the movers and shakers Friday in Round 2 as he posted a 3-under 67 — tied for the lowest to par in the morning wave — to grab the clubhouse lead from 18-hole leader Rory McIlroy. Thomas played his final 13 holes bogey-free at 2 under as part of his move that now has him at 6 under and solo leader.
McIlroy's length and precision Thursday may have him primed to reassert himself at the top Friday afternoon, though. Wind is expected to settle down a bit in the area, and though temperatures will be nearly 90 F, the conditions may again favor the two-time former champion who attacked the course relentlessly in Round 1. His approach — and the approach of partners Tiger Woods and Jordan Spieth, both of whom could be in jeopardy to miss the cut if they struggle again Friday — are among the biggest remaining storylines as we look to finish off Round 2.
CBS Sports will update this story with scores and highlights from the PGA Championship below. Check out the live scores at the top of this story, a more detailed leaderboard, Round 2 tee times and our complete PGA Championship TV schedule / coverage guide.
The star-studded group of the afternoon is ready to get going here at Southern Hills. Rory McIlroy will attempt to chase down Justin Thomas as he has relinquished his lead. Only one stroke off Thomas' pace, while McIlroy will hope to reposition himself atop the leaderboard, Jordan Spieth and Tiger Woods will hope to make it to the weekend.
The cut line is settling in at 4 over meaning Woods will need to put together a round of even par or better. Spieth has a bit more leeway as he starts Round 2 at 2 over and performed well from tee to green. Of note, Woods took a rather conservative approach in Round 1, taking iron off the tee on numerous occasions and the driver may need to eat a bit more today to set up his iron play.
What a crafty play from Matthew Borchert, the PGA Professional at Isleworth Golf & Country Club in Windermere, FL. (ESPN) pic.twitter.com/HUc935HbVs
This conversation between Justin Thomas and Bones to decide what approach to take is just awesome.pic.twitter.com/3NpvA9JFiA
Jordan Spieth dropped a shot on No. 1 and is only one stroke inside the cut line at 3 over. As for the overnight leader, Rory McIlroy, he dropped a shot on the second hole and has drifted two strokes off Justin Thomas. Woods is the steady man in the group with two pars.
How big is Tiger? Other *players* are taking video of him off No. 1. pic.twitter.com/FPrzxNqPNV
Matt Fitzpatrick opens up with 68-69, the first time he has ever started a major with back-to-back rounds under par.Fitzpatrick is 12-for-13 scrambling through 2 rounds; was 8-for-9 getting up and down today.
𝗧𝗵𝗮𝘁 𝗶𝘀 𝘀𝗼𝗺𝗲 𝗳𝗶𝗻𝗶𝘀𝗵𝗶𝗻𝗴 𝗵𝗼𝗹𝗲 ⛳️I took a look round 18 this morning 👁📍 @PGAChampionship pic.twitter.com/qUI40gJf1O
Rory McIlroy's most combined strokes gained against the field in consecutive major rounds:2022 Masters Round 4 and PGA First Round: 16.242011 U.S. Open (Rounds 1 & 2): 16.20
Consecutive rounds over par for the first time in 2022 for world number one Scottie Scheffler.No reigning world number one missed the cut at the PGA from 1987-2020, now it might happen for the second year in a row.
Soon. pic.twitter.com/TQfGoG5gux
Tiger, Rory & Spieth about to tee off! Chatting Friday's PGA Championship action now!https://t.co/kAFDWSd5Y0
JT didn't make a 5 today. https://t.co/pv4WqJrC3V
.@JustinThomas34 hit 16 of 18 greens in regulation today, the 7th time he has done that in a major championship round since 2017.Nobody else has more than 4 such rounds in that span.
56-year-old John Daly currently up three on Masters champion Scottie Scheffler golf is the dumbest, greatest sport in the world.
The new solo leader at the PGA Championship. Justin Thomas finishes his second round at -6. pic.twitter.com/A3EaPcSwfW
☠️☠️☠️ pic.twitter.com/xjB2nCJVZo
Justin Thomas posted the best round of the morning wave Friday in Round 2 at Southern Hills, turning in a 3 under 67 and grabbing (for now, at least) the outright clubhouse lead from 18-hole leader Rory McIlroy. Thomas went out with a 1-under 34 and came in with a bogey-free 2-under 33. Finished in style, too, walking in a birdie putt on his final hole. At 6 under he holds a one-stroke lead on McIlroy, who tees off within the hour.
Berger needs a 1 and 8 for one of the great rounds in major championship history. pic.twitter.com/Cvz6TEFO3H
JT painting corners and changing speeds at Southern Hills today. A world class matinee. pic.twitter.com/UogNOXzwan
Scottie Scheffler fighting the cut line currently.Since the inception of the World Ranking in 1986, the world number one has missed the cut at the PGA only twice – 1986 (Ballesteros) and last year (Johnson).
The bunkers are proving to be a challenge so far at the PGA Championship. @RogerSteeleJr takes a deep dive into the texture of the sand and provides some sound advice. pic.twitter.com/zHaCOiAG2C
The world No. 5 never looked comfortable at Southern Hills this week and will be making the trip home early. He is joined by his Ryder Cup teammates Dustin Johnson and Daniel Berger as notables to miss the second half of the PGA Championship. Jordan Spieth will look to avoid the same fate this afternoon as the cut line appears to be settling on 4 over.
Haha, JT cackling about DJ hitting a 9-wood on the par-3 8th. A 9-wood! pic.twitter.com/97L2L6BPPR
Koepka opened with 75 at Shinnecock, same score he had yesterday.That is the only instance since 1987 of a player winning a major with a first round score of 75 or higher. https://t.co/bUfu92pol9
Data Golf cutline probabilities …
+3 — 16%+4 — 68%+5 — 16%
Brooks Koepka surging back today, now 4-under, best round of the morning so far.Since the start of 2017, Koepka has had the low round of the day in a major 6 different times, tied for most of any player in that span (DJ, Matsuyama).
Adam Scott hit a ball onto this woman's picnic blanket, and as he marked the spot with his tee, she whipped the blanket out from under it like she was performing a magic trick. I'm crying! Normal sport. pic.twitter.com/tSkx4xIJHF
Scheffler was even par through nine today but has fell apart in his second nine, flirting dangerously close with the projected cut line. He just knocked in his third bogey of the last five holes to move to 3 over par. Brutal stretch for him that puts him T66. Remember: Only top 70 and ties make the weekend cut. 
Hov currently 5 back. https://t.co/E7Kuuzk8kU
Mark Immelman just dropped a 'from the frying pan into the fire' on the coverage and now PSA by Jay-Z will be in my head all afternoon