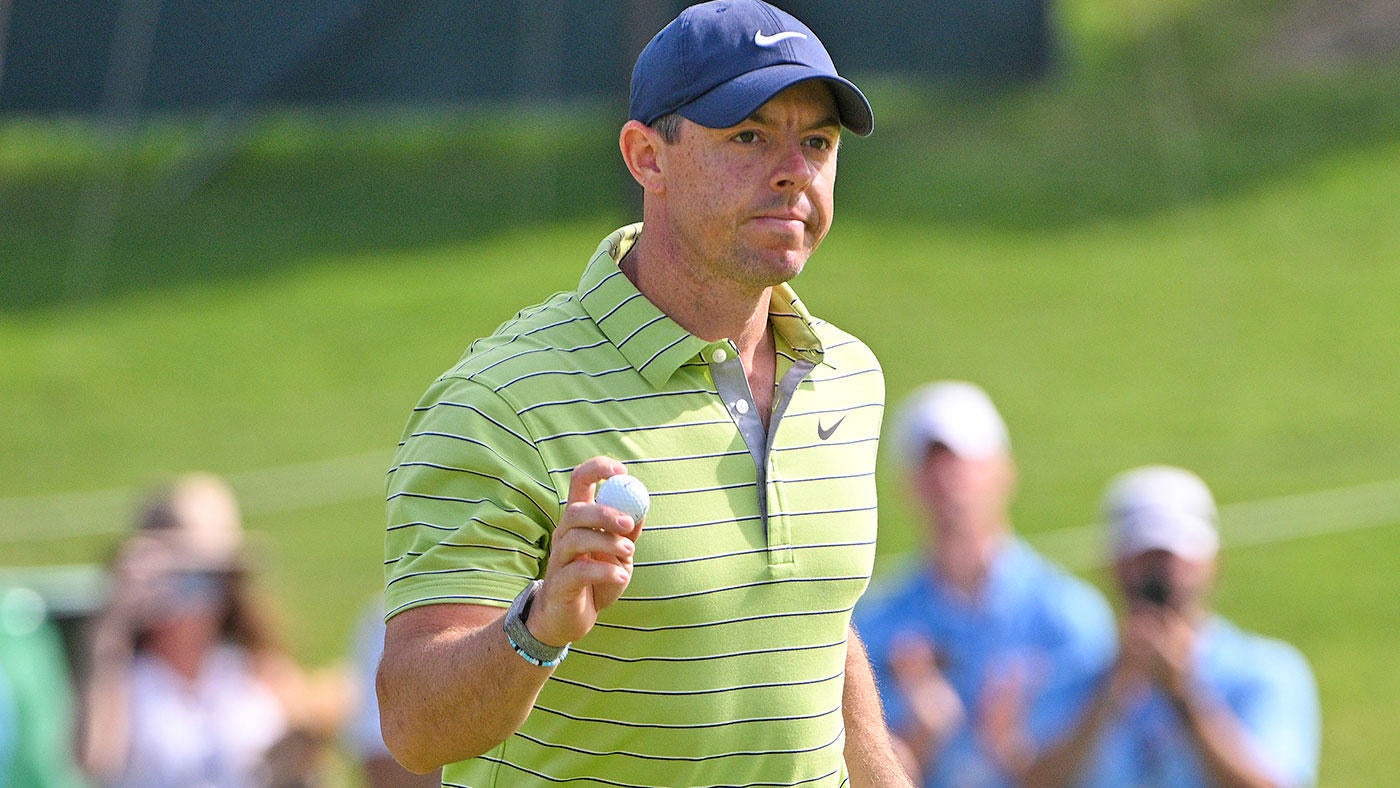 2022 PGA Championship leaderboard breakdown: Stars shine in Round 1 with Rory McIlroy alone on top
TULSA, Okla. — Round 1 at the 2022 PGA Championship delivered fabulous golf, blistering heat and one incredibly star-studded leaderboard at Southern Hills Country Club. At the top through 18 holes is two-time PGA Championship winner Rory McIlroy who stands as the solo leader amid a crowded list of contenders after turning in a pace-setting 5-under 65.
Still, for as good as McIlroy played — and he played really well! — this is far from a wrap after 18 holes as there's a host of big names hot on his trail entering Round 2 on Friday. Will Zalatoris and Tom Hoge are the most immediate threats to unseat McIlroy at the top of the leaderboard after finishing one off McIlroy's lead with matching 4-under 66s. But with 54 holes left to play, the field remains wide open. Justin Thomas, Matt Kuchar and Abraham Ancer are each two off the pace with more than a half-dozen golfers — including Xander Schauffele and Cameron Smith — sitting three back of the lead at 2 under. 
While stars did collect near the top, not every big name had a successful opening round. Tiger Woods struggled, finishing 4 over in his quest to win his second PGA at Southern Hills 15 years removed from his classic 2007 win. Jordan Spieth also sputtered in his start to the week, with his rough outing finishing at 2 over. And both Brooks Koepka and Patrick Cantlay had forgettable rounds as well, turning in 75 and 76, respectively. Even the ever-steady Jon Rahm had some ups and downs before finishing at 3 over. 
There's lots of action to recap from the day that was so let's do exactly that. Below is a rundown of the leaderboard as it stands after Round 1.
1. Rory McIlroy (-5): McIlroy's 5-under 65 was his lowest score in an opening round at a major since the 2011 U.S. Open at Congressional, an event he went on to win. It's just the fourth time he's opened a major with 66 or better, according to Justin Ray. And if history is any lesson, that makes McIlroy a clear favorite to win given he did exactly that the prior three times he scored that low across the first 18 holes. It's been eight years since he last did that, of course, but that was also his last major title (a PGA Championship win at Valhalla). He displayed the classic Rory swagger all afternoon, and that was in no small part because his short game was among the best in the field to open the tournament.
T2. Will Zalatoris and Tom Hoge (-4): Zalatoris is a notoriously below average putter, so of course to open his round he was fabulous with the flat stick making several long ones to keep him afloat and he led the field in strokes gained in putting. Probably not sustainable, but he said post-round that something seemed to click for him Wednesday in the week leading up to his PGA prep, particularly with the putter. If he can marry the putting with the distance he already possesses, suddenly the 66 seems like something he can match heading into the weekend. Meanwhile, Hoge had an up and down start but really turned it on across his final 10 holes, going 33-33. This course demands precise iron play into greens, and he delivered that in a big way. Coming off a career-best major finish at the Masters, his approach game is crisp and fresh enough to at least have him in the mix headed into the weekend. 
T4. Justin Thomas, Matt Kuchar and Abraham Ancer (-3): Thomas is the headliner of this bunch with this being his best opening-round score at the PGA Championship in his seven starts. Kuchar had a bogey-free front nine to spur him to an opening-round 67, during which he gained nearly two strokes on approach, which this week is the name of the game. (Holing out from the bunker at nine helped.) Ancer, whose round was filled with the persistent scream of "Boomer!" by OU fans, played the par 4s at 3 under on the round and had a really nice day putting, even converting several from long distance. 
T7. Xander Schauffele, Cameron Smith and nine others (-2): Schauffele quietly had a strong opening-round 68 with only two bogeys (14, 18) mixed in. Tee to green, he was great, and his approach game was good enough to keep him in the hunt. Speaking of: Smith was even better in that area, leading the field in strokes gained approach. If not for a double at 12, Smith is easily sitting with round-of-the-day stuff in his back pocket.
T66. Jordan Spieth and 22 others (+2): Spieth lost more than a stroke to the field putting in Round 1. He hit more greens than he missed but left himself in some awful spots even when he was hitting the greens. This course is punishing if you do that. It's both a miracle he's at 2 over and simultaneously infuriating as he could've easily been in the red sitting a different spot entering Round 2.
T102. Tiger Woods and 14 others (+4): Thursday at least started well for Tiger — he birdied the 10th, his first, just like he did when he won in 2007 — but it certainly did not end well. He had five bogeys in his last nine holes and seemed to wear down physically as the day went on, too, with a notable gimp becoming even more pronounced after his round ended. How he would hold up this week was always a question after he struggled to finish at the Masters last month, and it seems again a relevant concern as he looks to Friday with a real threat of missing the cut. 
Rick Gehman and Kyle Porter recap Thursday's action from Southern Hills. Follow & listen to The First Cut on Apple Podcasts and Spotify.
CBS Sports updated this story with scores and highlights from the PGA Championship below. Check out a more detailed leaderboard and our complete PGA Championship TV schedule / coverage guide.
Looks like this will be the first time Rory McIlroy has led or co-led following a round in a major since his win at the 2014 PGA. From 2010-14, he did that 17 different times.
Sergio getting acclimated to those LIV Golf galleries a little early. pic.twitter.com/48PCXPkOlZ
No wonder why Rory is locked in pic.twitter.com/j5Fb0LTNrd
pic.twitter.com/S7BVqF3izQ
Justin Thomas was the star of the afternoon with a 3-under 67 but he was one of few under par. Scottie Scheffler, Collin Morikawa and Jon Rahm all signed for over-par rounds. Rahm was the worst of the bunch coming in with a 3-over 73 as the three will hope to make up ground Friday morning.
Rory made Southern Hills his playground on Thursday with a searing 65. A reminder of what was and what could be once again. https://t.co/ue03nxeaDf
2007 PGA at Southern Hills: world number 1 Tiger Woods opens with 712022 PGA at Southern Hills: world number 1 Scottie Scheffler opens with 71Tiger shot 63 in round 2, went on to win.
Season-best round in strokes gained putting today for Justin Thomas. 67 is his lowest career opening round in a PGA Championship.
A birdie on the tough 18th hole. Justin Thomas closes out the opening round at -3. (ESPN) pic.twitter.com/ugPc7t7kcf
The lone man in his group to find his name in red figures, Justin Thomas made birdie on the difficult par-4 18th to sign for a round of 3-under 67. The 2017 PGA Championship winner put together the best round of the afternoon and is well positioned heading into tomorrow.
Nick Pugh – Lucas Herbert's caddy – has an absolutely magnificent beard that can be judged to use the wind this week. pic.twitter.com/zwGnvW66kx
The lone Oklahoma native in the field this week, Talor Gooch, put together a stellar opening round this afternoon. Signing for a 1-under 69, the former Oklahoma State Cowboy finds himself only four strokes behind Rory McIlroy. Earlier this season, the 30-year-old made his Masters debut where he finished in a tie for 14th.
pic.twitter.com/AWpt01kdaA
Brooks is not having a good day. 
Make it back-to-back birdies for Harold Varner III 💪#PGAChamp pic.twitter.com/URz0OBAWku
5th round of Rory's major career not recording a score on any hole worse than 4 https://t.co/VyQCuxb34O
It has been well talked about on the broadcast, but these players are continuing to have difficulties in the greenside bunkers. Collin Morikawa was the latest victim as he failed to get up and down for birdie on the par-5th. In his group, both Scottie Scheffler and Jon Rahm made bogey, so I guess Collin doesn't have it all that bad. 
4th major round in Rory's career not recording a score higher than 4 on any hole https://t.co/VyQCuxb34O
We have already touched on Koepka at 5 over, but Patrick Cantlay has not looked sharp so far in his opening round. 4 over through his first 12 holes, the reigning PGA Tour Player of the Year is in jeopardy of missing the cut in another big event if he doesn't turn things around quickly.
Four American players in the last 40 years have got their first PGA Tour win at a major championship. Three of them (Sluman, Daly, Micheel) did so at the PGA. Will Zalatoris is trying to join them this week.
Brooks Koepka and Lee Westwood currently beating 9 of 20 club pros at the PGA.
Highlighted by an eagle on the par-5 fifth, Scottie Scheffler has made the turn in 1 under at Southern Hills. Playing alongside Jon Rahm at 1 over and Collin Morikawa who carded nine straight pars, Scheffler will look to keep the momentum rolling on the inward half.
Rory made Southern Hills his playground on Thursday with a searing 65. A reminder of what was and what could be once again. https://t.co/ue03nxeaDf
Of the 10 previous significant pro championships held at Southern Hills (7 majors, 1 Sr major and 2 Tour Champs), 8 times the winner led or co-led after the opening round.In all 10 instances, the winner was either 1st or 2nd through 36 holes. Eight times leading, twice in 2nd.
World No. 1 Scottie Scheffler and Charl Schwartzel are currently leading the afternoon wave in scoring at 2 under. A pair of Masters champions, other players in contention to have played consistently well at Augusta National include: Rory McIlroy, Will Zalatoris, Patrick Reed, and many more. Meanwhile, Koepka is not alone on the struggle bus as Patrick Cantlay has turned in 3 over.
Rory didn't make a 5 today. 😳
348 ▶️ 308 ▶️ 10 feet ☠️☠️☠️pic.twitter.com/me9IDE8VrP
Nothing is going right for Brooks Koepka at Southern Hills. Connecting from distance for bogey on the par-3 8th, the two-time PGA Championship winner has now dropped to 4 over. Last seen at Augusta National, rust and potentially a hip injury are currently getting the better of Koepka.
Tiger's 7 of 18 greens in regulation today were his fewest in a PGA Championship round since 2003.
Scottie Scheffler from 308 yards out…goodness. (ESPN) pic.twitter.com/ZSf9IXu8nl
Each of the last 12 major winners have been at/within 4 shots of the lead after round 1. #PGAChampionship