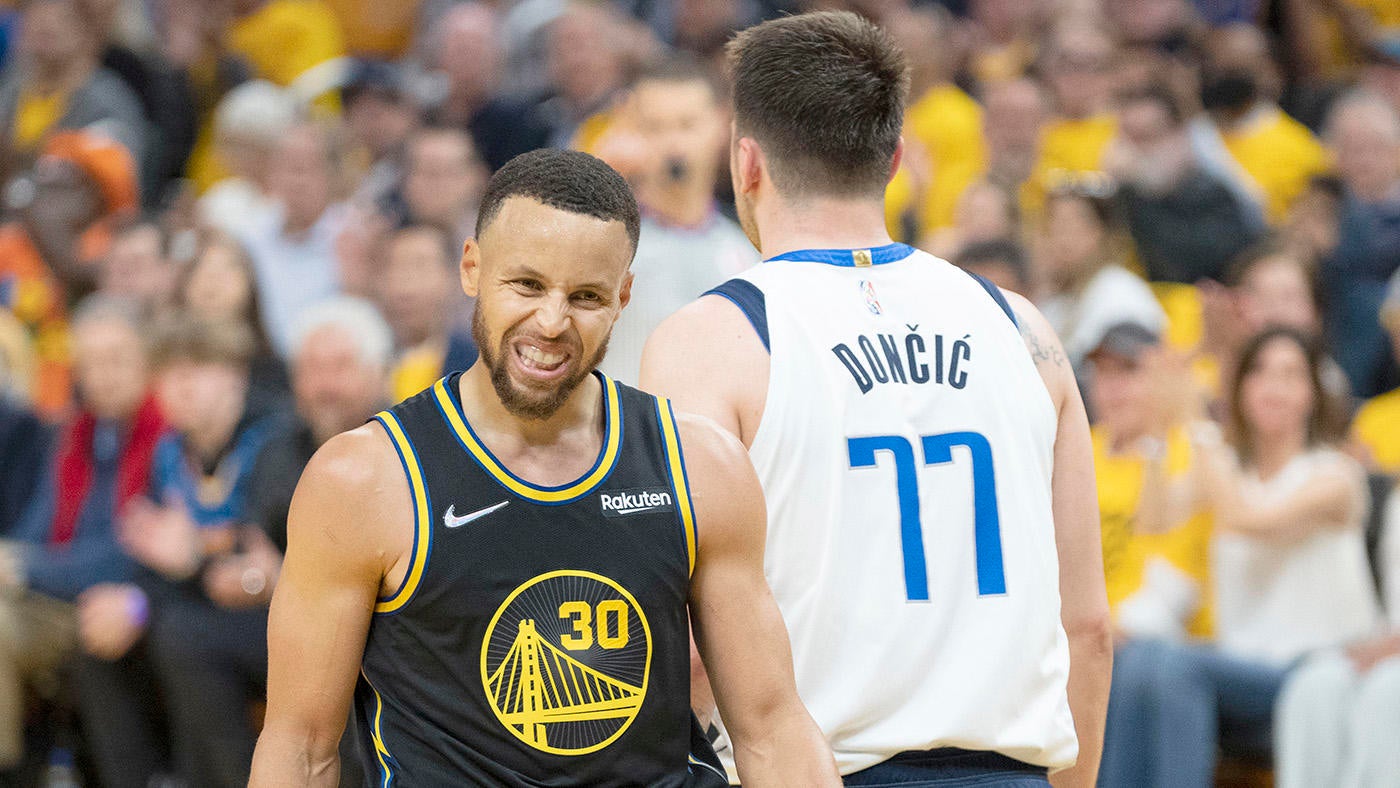 Warriors vs. Mavericks score, takeaways: Golden State contains Luka Doncic, dominates Dallas in Game 1 of WCF
The Golden State Warriors take a 1-0 lead over the Dallas Mavericks in the Western Conference finals with an emphatic 112-87 win in Game 1 on Wednesday night. They are now 7-0 at home in the playoffs, and will look to remain perfect in Game 2, which is set for Friday night.
After a competitive start to the game, the Warriors grabbed the lead in the middle of the first quarter and never trailed again. Coming out of the break, Stephen Curry caught fire and led a 10-0 run to fully break things open. The onslaught continued throughout the second half as the Warriors led by as much as 30. Curry finished with 21 points, 12 rebounds and four assists to lead a balanced Warriors attack that had seven double-figure scorers.
Luka Doncic had 20 points, seven rebounds and four assists to lead the Mavericks in defeat. This was one of the worst offensive performances of the playoffs for the Mavs as they shot 36 percent from the field and a brutal 11 of 48 from 3-point land.  
Here are some key takeaways from the game:
During the heyday of this Warriors championship core, they made a habit of breaking games open in the third quarter. They would make adjustments, turn up the intensity and before their opponents knew what was happening they would turn competitive games into blowouts. 
In Game 1, they showed they still have that magic. While the Warriors led for the majority of the first half, the Mavericks only trailed by nine at the break and were still well within striking distance. By 7:16 remaining in the third quarter, the Warriors were up by 18 and the game was essentially over. 
Steph Curry and Klay Thompson, who both struggled to find their offense in the first half, finally got going in the third, combining for 20 points on 8 of 13 from the field. Early in the frame they powered a 10-0 run in less than two minutes that was the highlight of the night for the Warriors. Once Curry starts dancing, it's a bad sign for the other team. 
Stephen Curry dropped his 18th career playoff double-double to lead the @warriors to the 1-0 series lead! #DubNation@StephenCurry30: 21 PTS, 12 REB, 4 AST💎 Game 2: Friday, 9:00pm/et on TNT 💎 pic.twitter.com/QaW6OJU345
So much has been made about the Mavericks' supporting cast during the playoffs, but on Wednesday night it was the Warriors' role players that swung the game. Seven different Warriors scored in double figures, and six of those players had at least five rebounds as well. 
It was a true team effort, but Andrew Wiggins and Kevon Looney deserve some extra recognition for their efforts. Those two were terrific, especially in the first quarter when the likes of Curry, Thompson and Jordan Poole didn't have much going on offensively. They scored 16 of the Warriors' 28 first-quarter points, and nearly matched the Mavericks by themselves in that frame. Looney shot a perfect 5 of 5 from the field, and all told, they combined for 29 points, 10 rebounds and seven assists.
Wiggins also made a real difference on the defensive end. He was tasked with guarding Luka Doncic, and put in an impressive shift against the phenom. With Wiggins leading the way, the Warriors held Doncic to just 20 points on 6 of 18 from the field, which was his lowest scoring and least efficient game of the playoffs. 
"I thought Wiggs was fantastic," Warriors head coach Steve Kerr said. "He did a fantastic job. Wiggs is just a huge part of our defense and our team."
The Mavericks' offensive approach is rather simple: space the floor with shooters and play drive-and-kick basketball. Their 40.9 3-point attempts per game are more than any other team in the postseason, and to a large extent they live and die by the 3. In Game 1, they died. 
They started off 3 of 19 from downtown in the first quarter, and it didn't get any better from there, as they finished 11 of 48. This was the least efficient 3-point shooting game of the playoffs for the Mavericks, and came on a night when they set a new franchise record for 3-point attempts in the postseason. That is not a good combination. 
While the Mavericks did miss a bunch of open looks, it also felt like they started to settle for 3s as the game went along. While the shot is an important part of their offense, it's not good when it becomes the only part. The Mavericks only had six attempts at the rim all game, and managed just 32 points in the paint. 
Still, as bad as things were in Game 1, the team is confident it can bounce back. 
"Our offense is going to come," Jalen Brunson said. "We'll be fine on offense. We had a lot of good looks tonight, and if we just trust our work ethic and technique, I'm comfortable with the shots we got tonight."
One down. Three to go. pic.twitter.com/Ix6wfJXTjA
Team effort ⚡️
SEVEN players in double figures tonight for the Dubs ⚡️ pic.twitter.com/Jby0zgnggk
one team, one dream@StateFarm || Assist of the Night pic.twitter.com/eZFCKbGhly
Team effort 😤@statefarm || Assist of the Night pic.twitter.com/mIhOMY4Ndg
LIVE: @dallasmavs/@warriors Game 1 Postgame Presser. #NBAPlayoffs presented by Google Pixel. https://t.co/yrSxL9ad4R
MOOD. pic.twitter.com/bChbUnAcRO
YESSIR, 30@googlecloud || Player of the Game pic.twitter.com/j7GfcsJEFl
Final 📊Stephen – 21p/12r/4a/1s/1bAndrew – 19p/5r/3a/1s/1bJordan – 19p/2r/3a/1sKlay – 15p/5r/4a/2bKevon – 10p/5r/4a/2bDraymond – 10p/9r/3a/2s/1bOtto – 10p/6r/1a/1sDamion – 3p/5rMoses – 3pJK – 2p/1rNemanja – 1r/2aJuan – 1s pic.twitter.com/2fohYybzuy
🎉🎉🎉🎉 https://t.co/ZFrGMmJiqi pic.twitter.com/4RgNGkSahJ
Final. Game 2 on Friday. @Chime | #dALLasIN pic.twitter.com/EOMjO5BD1a
WAITED ALL DAY FOR THIS pic.twitter.com/vYw0AZnflZ
DUBS WIN pic.twitter.com/HuuntZqRQ2
the benches have finally emptied with five minutes remaining. the warriors will win game 1
FOOT ON THE GAS pic.twitter.com/wG5ojvEjqB
FINNEY SMITH
whole squad's repping Wiggs pic.twitter.com/IV3MPfdBUo
we're gonna go to another timeout here with the warriors still up by 26
SHAKE & BAKE pic.twitter.com/KdPCF5Qer6
poole weaves his way inside to push the lead to 27 and force a timeout from the mavericks. wonder if dallas is ready to concede and take the starters out here 
☔️☔️☔️ https://t.co/5d5BRxFtc5 pic.twitter.com/pNF8CMisMi
mavericks probably have about four-to-five minutes to make a run or else they should just pack it in and move on to game 2
FINAL FRAME #DUBNATION WYA?! pic.twitter.com/emQRPIMJN2
¯_(ツ)_/ pic.twitter.com/5tqsaLPFoh
third quarter: warriors 88 — mavericks 69
the warriors broke the game open early in the third quarter and are on their way to a blowout win in game 1. steph curry and klay thompson finally got going in the third and now have a combined 33 points. andrew wiggins also having a nice night with 19. mavericks still shooting 35.9 percent and are just 10-37 from 3-point land. 
📸 through 3Q #dALLasIN pic.twitter.com/k6sxjdjBCK
you can foul him, but you can't stop him📺 @NBAonTNT pic.twitter.com/QTf3zvjTk8
steph got off to a slow start but he's been awesome since the first quarter. now 21 points on the night and the warriors are up 22
porter gets loose on the fastbreak and the warriors have pushed the lead to 20. this is in danger of getting out of hand
GET HYPE, #DubNation pic.twitter.com/TiHcR6tXwq