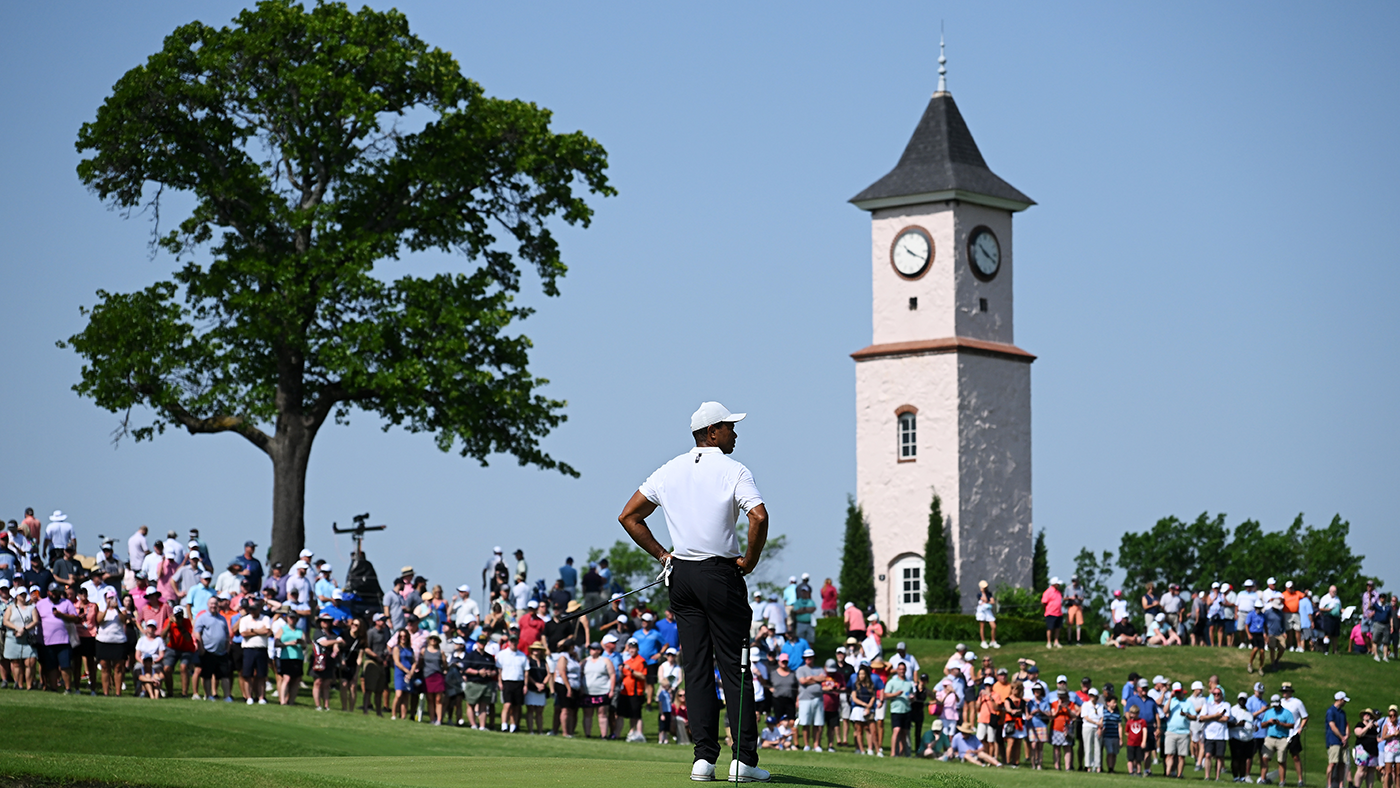 2022 PGA Championship leaderboard: Live coverage, Tiger Woods score, golf scores today in Round 1
TULSA, Okla. — The second of four major championships this golf season is officially underway with the 2022 PGA Championship teeing off Thursday morning at Southern Hills. With a star-studded field led by 2007 PGA Championship winner Tiger Woods and notably missing long-time rival and defending champion Phil Mickelson, the Wanamaker Trophy is set to change hands with no shortage of storylines on tap.
Rory McIlroy on Thursday thrust himself to the fore of that conversation with an opening 5-under 65 to capture the clubhouse lead in the morning wave. The two-time PGA Championship winner put himself on the inside track to win for a third time at the event by grinding out the tough conditions to turn in seven birdies on a course that has thus far has played tough (and likely will continue to do so as conditions firm up). Woods' start to the week decided lacked the same luster of his counterpart, as he struggled with his approach game and carded an opening-round 4-over 74.
McIlroy set the bar for the field early but World Nos. 1, 2 and 3 — Scottie Scheffler, Jon Rahm and Collin Morikawa — have only just begun their first round. The afternoon wave should have a chance to threaten the top of the leaderboard, giving us an exciting finish to Day One at Southern Hills. 
CBS Sports will update this story with scores and highlights from the PGA Championship below. Check out the live scores at the top of this story, a more detailed leaderboard, Round 1 tee times and our complete PGA Championship TV schedule / coverage guide.
Two-time PGA Championship winner Rory McIlroy is on top the leaderboard alone following his finish of Round 1 here Thursday in Tulsa. McIlroy fired a 5-under 65 to jump on top of the field early. Nearly flawless before bogeys on his 15th and 17th holes.
McIlroy's had a whale of a time just staying in the mix at majors early — his Round 1 scores statistically are worse than his average in Rounds 2, 3 and 4 — so while there's still LOTS of golf to be played, it's an incredibly encouraging start. 
Anything under par will be a terrific score in the afternoon wave. As of now, only five players are in red figures early in their rounds. The wind has picked up substantially and the course has dried up after featuring receptive greens most of the morning. Difficult conditions tend to favor the best players in the world so wouldn't be surprised if Scottie Scheffler, Jon Rahm and co. are able to handle the cards they are dealt.
.@AndyTFE pic.twitter.com/mNoxueuhGK
There have already been a number of dropped shots from some of the biggest names in the game. Jon Rahm, Dustin Johnson, Shane Lowry and Brooks Koepka all find themselves at 1 over early in their rounds. As for world No. 1 Scottie Scheffler, he narrowly missed a birdie bid on his first hole and remains at even par.
Rory McIlroy is 2nd in scoring average and cumulative score to par in rounds 2-4 of majors since his last win, the 2014 PGA. Trails only Koepka.
Follow @TheAthletic live blog all week covering the #PGAChampionship https://t.co/cyVeVCQEUt
If Rory goes out in 29 tomorrow …… he's going to win by 10.
Not exactly the start Tiger probably envisioned. He birdied 10 and 14 to open his round with a flurry but bogeyed five of the next eight. On the day he had eight bogeys, five of which came on the final nine (including at 8 and 9.) Short game — especially his approach — was just flat bad. Hit only 7 of 18 greens in regulation. 
Not surprising Woods struggled given how rusty he is (and should be) — this is just his second competitive action since a car crash more than a year ago that left him severely injured in the lower body — but he may have some real pressure Friday. Not outside the realm of possibility that he misses the cut.
What a round of golf for Rory. He rolls in one final birdie to shoot an opening-round 65 to take the lead at the @PGAChampionship. (ESPN) pic.twitter.com/xgBPpoQTFd
Rory McIlroy: 65, his lowest opening round score in a major since the 2011 U.S. Open at Congressional.Last 4 times he's opened a major with 66 or better:2011 U.S. Open (W)2014 Open (W)2014 PGA (W)2022 PGA
Incredible start for #TeamOf20's Jesse Mueller!@SWSectionPGA | #PGAChamp pic.twitter.com/KWEkgykthO
Chatting about the PGA Championship with @TheCoachrules, @therealGFD and @AmateurStatus! https://t.co/WOMoZlk6LE
Will Zalatoris drains it from DEEP. He birdies his final hole of the day to join the leaders at -4. (ESPN) pic.twitter.com/FpjrimYlcn
Will Zalatoris opens with 66, his lowest career round in a major championship.He currently leads the morning wave in strokes gained putting.
Ouch, ouch, ouch. Rory McIlroy leaking oil near the finish. A bogey at 17 drops him to 4 under on the round. He had a bogey-free round going less than an hour ago, that's two in his last three. 
Chatting about the PGA Championship with @TheCoachrules, @therealGFD and @AmateurStatus! https://t.co/WOMoZlk6LE
Always the bridesmaid, never the bride. Both Tony Finau and Xander Schauffele carded under-par rounds on Thursday and find themselves within arm's reach after 18 holes. Signing for rounds of 1-under 69 and 2-under 68 respectively, the two have often been a factor on major Sundays and could be this week after a strong start.
Rory's bogey-free round dies at the sixth, as he falls back to 5 under on the round after a birdie at the fifth. Still has a two shot cushion.
Scoring average for players grouped with Tiger Woods in the majors1997 through 2017: 72.89Since 2018 (entering today): 70.35
"I feel like I'm energized and ready to go today." @coreconn talks with @hallylead before getting his @PGAChampionship started. pic.twitter.com/Cj6lfQi6HB
Rory started strong and hasn't cooled off. He's the leader at -6. pic.twitter.com/cetfyYCUYO
pic.twitter.com/dQgbaXu9FF
The putter has been en fuego today outside of a short birdie miss on the par-4 fourth. After a mammoth drive on the fifth, McIlroy converted his birdie opportunity and has reached 6 under. Leading the field in strokes gained putting, the four-time major champion has opened up a three-stroke lead over a trio of players.
pic.twitter.com/dBwnjGnslZ
TOP OF THE HOUR! Come hang out with us as we chat all things PGA Championship. Tiger Woods, Rory McIlroy and even John Daly in the mix 🔥 https://t.co/WOMoZl33JE
"This is legendary…this is way bigger than me, this is way deeper than this."@WWorthingtonII- a member of the PGA Team of 20 competing this week – reflects on what it means to play at the @PGAChampionship with @RogerSteeleJr. pic.twitter.com/tMjk5UmWJr
Rory's drives today.334354378337326378332338327369💀💀💀
"He can take dead aim at it." Randy Smith, coach to World No. 1 Scottie Scheffler, believes the reigning Masters Champion will head into the @PGAChampionship with plenty of confidence. pic.twitter.com/SvDQDSUEpc
Starting to look grim for Tiger Woods here in Round 1 after a strong start. He's bogeyed four of his last five holes and fallen to outside the top 40 on the leaderboard. Irons have thus far not been crisp at all, putter still not bailing him out, and for some reason he's ceding a potential length advantage by primarily playing irons off the tee. Not good. 
Rory is clinging to his lead still here in Round 1 early today. Missed a birdie bid at 4 but had a tap-in for par to stay at 5 under. He's two clear of the lead still.