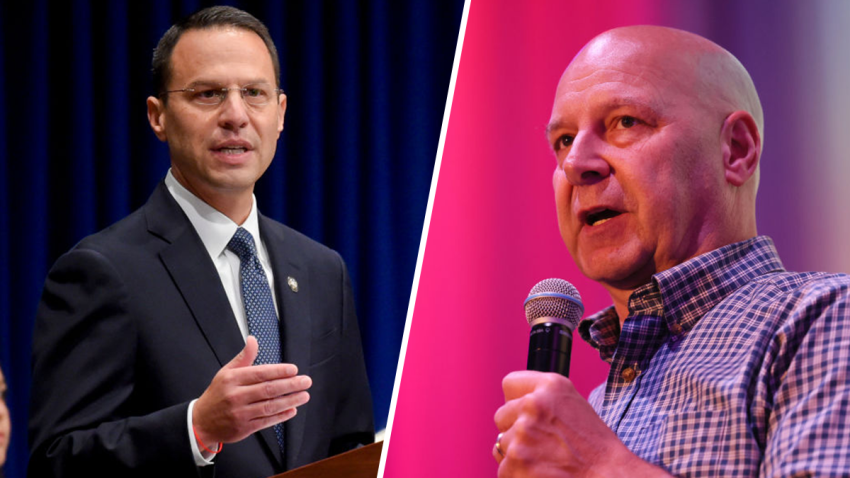 Josh Shapiro to Face Doug Mastriano in Pa. Governor's Race
Doug Mastriano, the ultra-conservative state senator from central Pennsylvania, won the Republican primary for Pennsylvania governor, NBC News projects, setting up a race against Democrat Josh Shapiro in the November general election.
With the victory, Mastriano completed a meteoric rise through the state Republican Party ranks, despite efforts from many of the party's establishment trying to keep him from winning the nomination.
His far-right view on the 2020 presidential election results – he still wants to audit the votes – and his attendance at the "Stop the Steal" protests in Washington D.C. during the Capitol insurrection on Jan. 6, 2021 have caused many in his own Republican party to worry that he could get "clobbered" by Shapiro in the general election later this year.
Shapiro, the state attorney general and a former Montgomery County commissioner who lives in Abington Township, did not have any opponents for the Democratic nomination for governor. He has also raised record-setting amounts of cash for his campaign. He had so much cash, in fact, that in the closing weeks of the primary election cycle, his campaign bought television ads promoting Mastriano.
Republicans tried to stop Mastriano's momentum in the last month by coalescing around Lou Barletta, a former congressman from Northeast Pennsylvania. Other candidates who had been running for governor, Jake Corman and Melissa Hart, actually dropped out of the race just last week and backed Barletta.
But it was too little too late. Mastriano, who was backed by former President Donald Trump this month, garnered 40.5% of the votes cast in the primary, as of 9:42 p.m. Barletta had with 22.7%, followed by Bill McSwain with 15.4%. That was after 39% of votes were counted.
For live updating PA Primary results, including for the U.S. Senate. click here.
Coverage of the 2022 elections
For all the candidates, issues and important dates that voters should know about in Pennsylvania, New Jersey and Delaware, go to NBC10's Decision 2022 page. You'll find tools to help you navigate the midterm elections, including when to vote and who will be on your ballots in the primaries and November general elections.