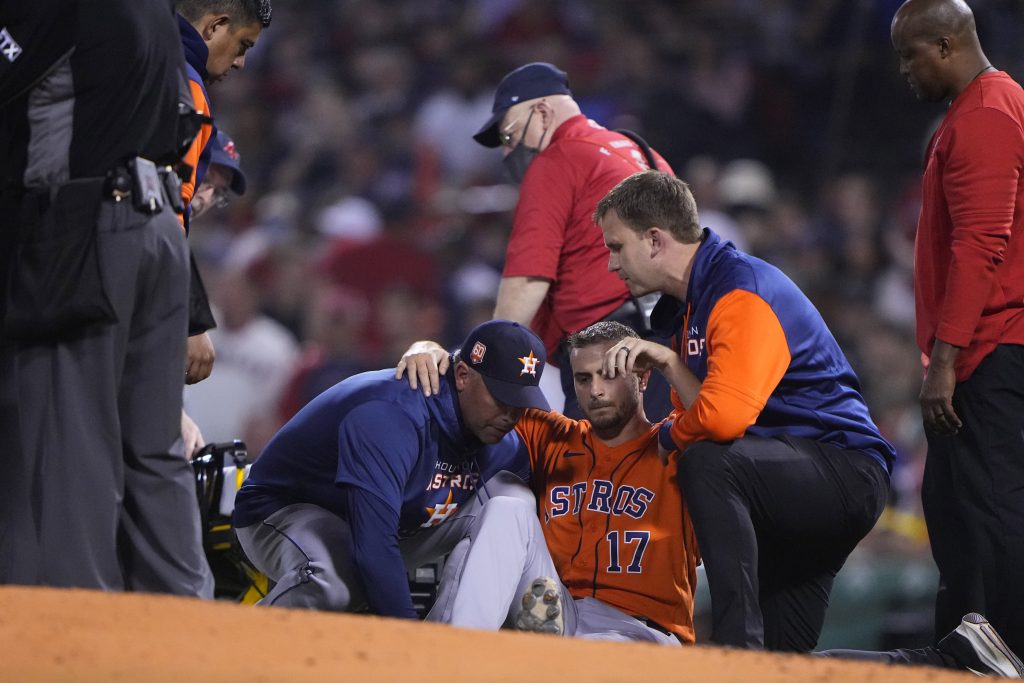 Jake Odorizzi Carted Off With Left Leg Injury
By Anthony Franco | May 17, 2022 at 7:25am CDT
May 17: Odorizzi was on crutches and in a walking boot following the game, manager Dusty Baker told reporters (link via MLB.com's Molly Burkhardt). Odorizzi will undergo an MRI today to determine the extent of the damage, but Baker offered some optimism, saying after the game that Odorizzi was "probably doing better than it looked like on the mound."
May 16: Astros starter Jake Odorizzi was carted off the field during tonight's game against the Red Sox. The right-hander broke to cover first base after Enrique Hernández hit a ground-ball to the right side of the infield. He stumbled off the mound and fell to the ground in pain; he was eventually carted off the field.
The team has yet to provide a substantive update, noting only that he departed the game due to left lower leg discomfort. Club officials figure to provide more detail after the game. Given the nature of the injury, it'd register as a real surprise if the veteran didn't require an injured list stint. Whether he's facing a particularly notable absence will be known after he undergoes further testing.
Odorizzi has made seven starts this season, tossing 31 2/3 innings. He has a solid 3.13 ERA, but that's come with worse than average strikeout, walk and ground-ball marks. Odorizzi has benefitted from opponents' meager .258 batting average on balls in play while allowing just one home run against 128 batters faced.
The Astros have been deploying a six-man rotation, with Justin Verlander, Cristian Javier, José Urquidy, Luis Garcia and Framber Valdez joining Odorizzi in the starting staff. That group has been among the most effective in the game, and pitching coach Josh Miller told reporters before today's contest they planned to stick with the six-man staff (link via Chandler Rome of the Houston Chronicle). An absence from Odorizzi would obviously affect the makeup of that group, leaving the Astros to decide whether to go back to a five-man rotation or to call upon a reinforcement like Brandon Bielak or Peter Solomon from Triple-A Sugar Land.
If Odorizzi is facing a long-term absence, it could prove quite costly for him personally. He signed an incentive-laden deal with the club late in the 2020-21 offseason. Odorizzi is playing this season on a $5MM base salary; he'd trigger a $500K incentive for reaching 100 innings pitched, with additional $1MM+ bonuses for every 10 innings thereafter up through 160 frames. His deal also contains a $6.5MM player option for next season that comes with a $3.25MM buyout; both the option price and the buyout figure would escalate if Odorizzi makes at least 20 starts this year.
Houston Astros Jake Odorizzi
14 hours ago
I hope he can recover quickly. Seems eerily similar to Garrett Richards injury back in 2014
7 hours ago
Richards' knee cap detached and slid up to his groin area…ouch.
2 hours ago
@prov356. I don't know if there's a gif appropriate for that. Right up there with Mitch Haniger's injury on the terror scale.
5 hours ago
Also reminded me how Soroka went down when he tore his Achilles, though it looked like Jake could put more on it than Mike, which makes me doubt it's that.
13 hours ago
I guess we are going to have to seriously look into having a universal designated fielder as well. Maybe a trap door on the mound to lower the pitcher following a pitch with another player coming up to take his spot when the ball is put into play.
13 hours ago
This made me chuckle
13 hours ago
hiflew, Coming here to make this exact point. We can't be having pitchers getting hurt like this and besides, some pitchers aren't good at fielding anyway. Whoever bought a ticket to watch a pitcher field a ground ball?
10 hours ago
Or just have an automatic out of the pitcher makes an effort to field the ball, like puts his glove toward it, or something.
Oh, what happened to the days of Albert Belle mowing down 2B'men in his path……
In all honesty, I hope the dude is okay and it's not serious, although the lack of information seems to indicate otherwise.
9 hours ago
Indian ball…errr Guardian ball!
7 hours ago
hiflew – they won't consider that unless it's projected to shave at least 30 seconds off game time.
5 hours ago
Just have a pitching machine and the pitcher gets paid millions to put the ball in the machine. Have one of those nets up around the machine and if the batter hits it back into the net then it's an automatic out. I'm sending my resume to MLB now.
4 hours ago
Only if he can wear special gloves to protect his hands
2 hours ago
Love it hiflew. Where you been haven't seen you in months?
1 hour ago
I got kind of ticked at a couple of people on HR and just basically abandoned commenting there.
7 mins ago
The "today's players are too soft" crowd will be protesting this from their living room recliners.
12 hours ago
Now these days, if your team doesn't have a six man rotation, you'll likely be out of contention.
12 hours ago
When I saw the film of him falling to the ground, the first thing that came to mind was Mets pitcher Jon Niese falling to the ground in agony after an ill-considered warmup pitch immediately after injuring his hamstring doing a stretch on a play at first base. He tore the tendon from the bone.
But that was an upper-leg injury. So the next thing that came to mind was a torn Achilles tendon. I hope it's not that.
12 hours ago
Jon Niese. Now that brings back memories.
12 hours ago
Maybe there's a Sanberg, Alomar or Grich in their low minors.
12 hours ago
The Astros can survive this industry, but it's a shame because he was really in a groove.
11 hours ago
He and Stella
11 hours ago
I don't see anyone worth taking starts from the starting five in AAA save Hunter Brown. Not very familiar with him but his numbers in the Minors are great. What's the scoop on him?
2 mins ago
He has a high K pitcher with alot of upside. He's had a high K/9 and K/BB ratio everywhere hes pitches. I saw him pitch a few times at my Alma mater Wayne St Univ, I think he has a very bright future ahead of him.
4 hours ago
Hopefully he can be back in weeks and it's not season ending.