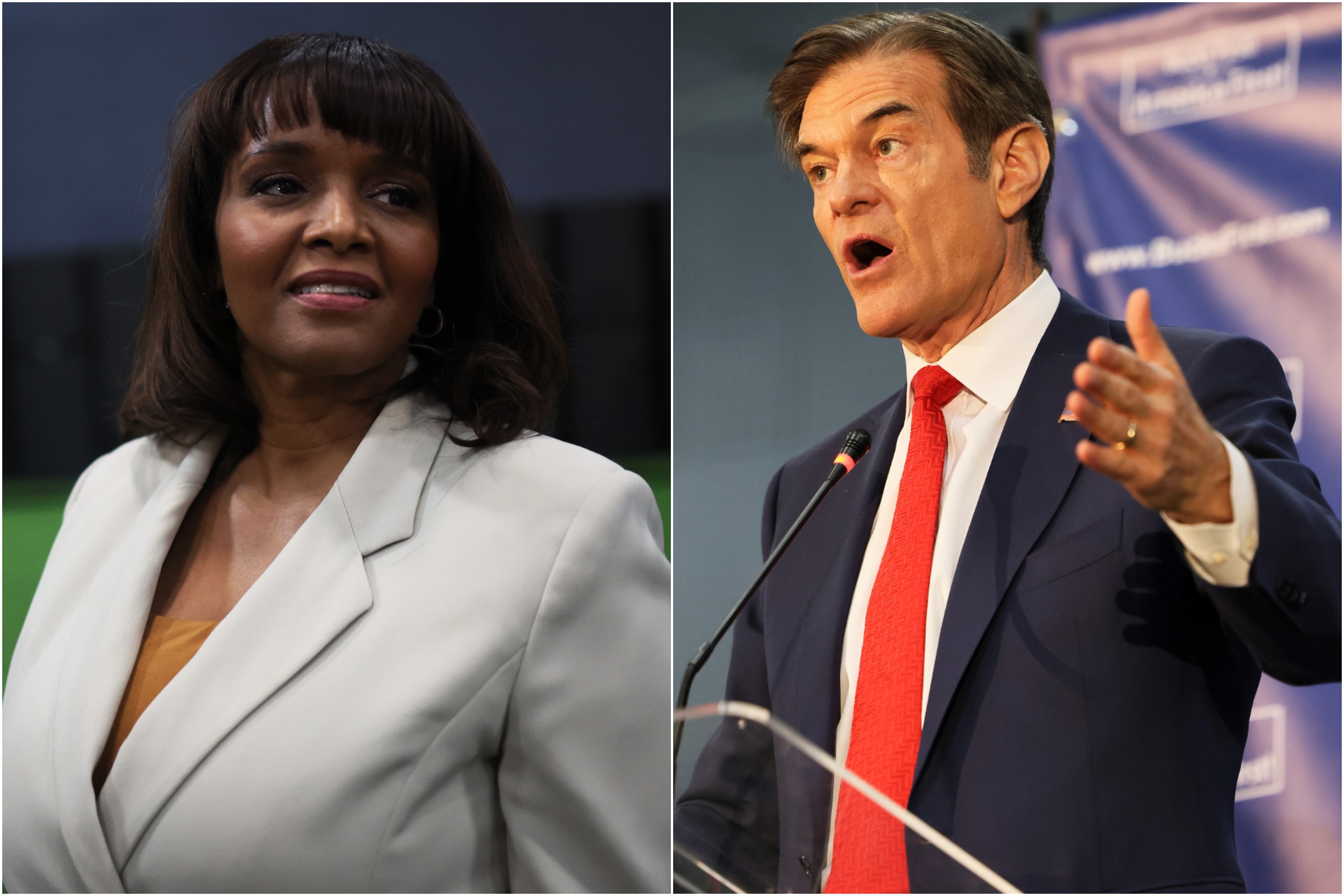 Final Odds as Kathy Barnette Faces Mehmet Oz in Pennsylvania Primary
Celebrity heart surgeon Dr. Mehmet Oz is still the favorite to win the Pennsylvania Senate Republican primary despite a significant surge from rival Kathy Barnette.
Ahead of Tuesday's vote, the Donald Trump-endorsed Oz is the leading candidate in the polls and with bookmakers, with former hedge fund CEO David McCormick falling behind Barnette into third place. Trump had said Monday that he didn't believe that Barnette could win the general election against "Radical Left Democrats."
Oz's chances of winning have improved further compared to the odds provided on Thursday, May 12, according to Betfair. The bookmaker has declared Oz the 2/9 favorite to win the GOP Senate candidacy in Pennsylvania, having been 8/11 the previous week.
Betfair Exchange spokesperson Sam Rosbottom told Newsweek that Oz's chances have "massively improved over the last few days" even with the surge from Barnette. The latest odds now mean that Oz has a near 82 percent implied chance of victory in the primary, up from near 58 percent last week.
In comparison, Barnette remains the closest challenger and given odds of 6/4 to win Tuesday, up slightly from 7/4, with McCormick given a "much lesser chance" at 13/2 having previously been 4/1, Rosbottom said.
Barnette, who has turned from a virtual unknown to a potential Senate candidate making national headlines in just a few weeks, has made significant improvement in the polls despite a string of controversies surrounding her.
Barnette has been found to have made a number of Islamaphobic, homophobic and conspiracy theorist comments online, with questions raised about her past employment and military service.
She has also frequently pushed the false claim that the 2020 presidential election was rigged against Trump, with images and photos recently emerging showing her walking with members of the far-right Proud Boys group during protests prior to the Capitol riot on January 6, 2021.
Barnette admitted to being present at the "Stop the Steal" rallies in Washington, D.C. but denied in a statement that she "participated in or supported the destruction of property" which took place during the riot. There is no evidence Barnette was a part of the mob of Trump supporters who went on to storm the Capitol.
A Susquehanna Polling and Research survey conducted between May 12 and 15 revealed that the battle between Oz and Barnette could be closer still. When asked if the Republican primary for the Pennsylvania Senate election was held "today," 28 percent said they would back Oz, with Barnette close behind in second place on 27 percent.
A Fox News poll published on May 10 placed Barnette in third with 19 percent, behind McCormick at 20 and Oz leading at 22 percent. However, the poll revealed support for Barnette had nearly doubled compared to March, where she was only polling at 9 percent.
According to Oddschecker, which aggregates betting odds from numerous sources, Oz has an implied 62.3 percent chance of victory, with Barnette given an implied 38.5 percent of winning the GOP Senate candidacy in Pennsylvania.
Kyle Newman, a PR Associate at Oddschecker, said that while Oz is the favorite leading up to Tuesday's primary, the major increase of support for Barnette is "no joke" given she was given "little to no shot" of a win back in February.
"It would be foolish to dismiss the crazy momentum that has shown up for Kathy Barnette," Newman said. "It's clear that she's a very real contender in this fight."