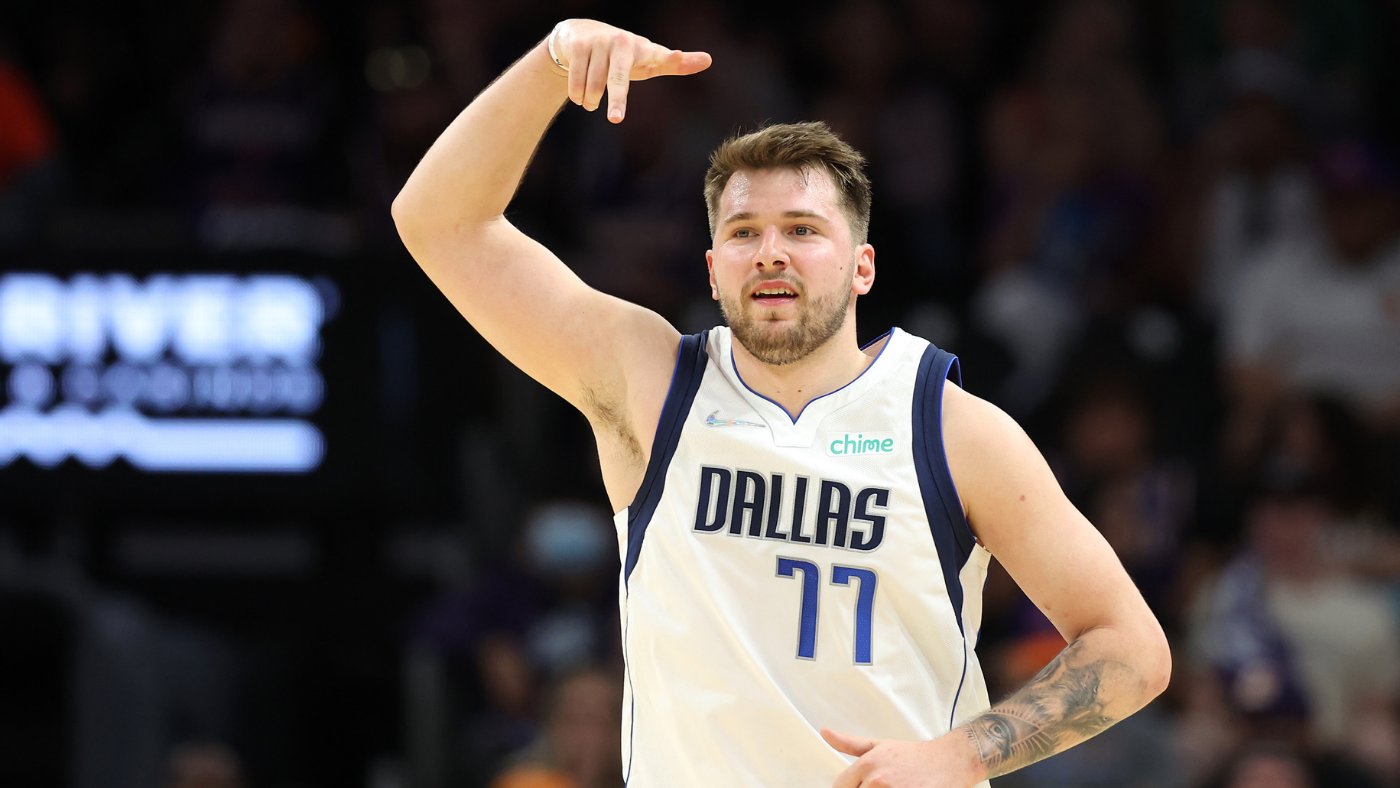 Mavericks vs. Suns score: Luka Doncic leads Dallas to Western finals in dominant Game 7 victory over Phoenix
The Dallas Mavericks are heading to the Western Conference finals and there was little doubt they would get there following their hot start to Game 7. The Mavericks jumped out to a 57-27 lead over the top-seeded Phoenix Suns on Sunday night and never looked back on their way to a 123-90 win. Luka Doncic was spectacular for Dallas in the opening 24 minutes of play as he led all scorers with 27 points. While that nearly topped the Mavericks' point total for the first half on its own, Doncic had plenty of help as Spencer Dinwiddie chipped in 21 points of his own off of the bench. 
In the end, Doncic finished the win with 35 points, 10 rebounds and four assists in just 30 minutes of action. Dinwiddie provided plenty of help off of the bench finishing with 30 points of his own while Jalen Brunson also chipped in 24 points to help Dallas cruise to a lopsided victory on the road. On the other end, Phoenix struggled all night long on the offensive end as Cam Johnson led all Suns scorers with 12 points off of the bench. 
With the win, the Mavericks move on to face the Golden State Warriors to determine which team will represent the Western Conference in the NBA Finals. 
WCF HERE WE COME. @ModeloUSA | #ModeloMilestone pic.twitter.com/urIJOOZkTD
The @dallasmavs win Game 7 and advance to the Western Conference Finals! #MFFL #NBAConferenceFinals presented by Google Pixel pic.twitter.com/Dvq3mKMx8p
MAVS IN 7!@Chime | #dALLasIN pic.twitter.com/ZwIp6jpcOD
To the best fans in the world, thank you for riding with us to the end. pic.twitter.com/T78MfJl8SJ
Luka Dončić (35), Spencer Dinwiddie (30) and Jalen Brunson (24) combined for 89 points in the Mavericks' Game 7 win tonight.Phoenix combined for 90 as a team. pic.twitter.com/fwUTYdGMT6
pic.twitter.com/WcpNywVcvG
Western Conference Finals! Let's Go! @dallasmavs
Luka going crazy sheesh
How good is @luka7doncic 😱
Retweet if you LOVE this team ⬇️
Let's go mavs chants up in here…
There are still rotation players on the floor. Davis Bertans is going to play in the Western Conference Finals.
SHEESH 🤩 pic.twitter.com/Nd1hSvoLtL
DP brought the 🔨 pic.twitter.com/dEZiGuYaBa
Chris Paul made a mid-range jumper!
Guys FRANK NTILIKINA is making 3's now!
Goat luck charm 🤍💙 #dALLasIN pic.twitter.com/uEbkBrFUJn
I MEAN 🔥🔥🔥 pic.twitter.com/rZ6yfSHhwZ
Phoenix's leading scorer has 11 lol.
At this point I'm just fascinated by when these teams are gonna get their starters out of here. Dallas has another series coming up here, but Phoenix also probably doesn't want to risk its core guys getting hurt.
ALL OF THIS >>> pic.twitter.com/ruWLtSSTna
LUKA IS RIDICULOUS 🤧 pic.twitter.com/7yiSfm2kJV
We're seriously nearing the point where Dallas just has to get its starters out of there. They've got the Western Conference Finals coming up.
Should I just start using this space to preview Warriors-Mavs? Otherwise I'm at a loss here.
Luka is REDICULOUS 👌👌 pic.twitter.com/oiPOaw4YPr
75 to 34. I just… what do you even say to that? 
The Dallas lead is up to 40. It's Game 7.
.@PatrickMahomes, dis yo mans?? 🧐 pic.twitter.com/dAq2bO9xhk
Congratulatiosn to the Suns for crossing the 30-point threshold… 27 minutes into the game.
MR. SMOOTH pic.twitter.com/inuimwdiks