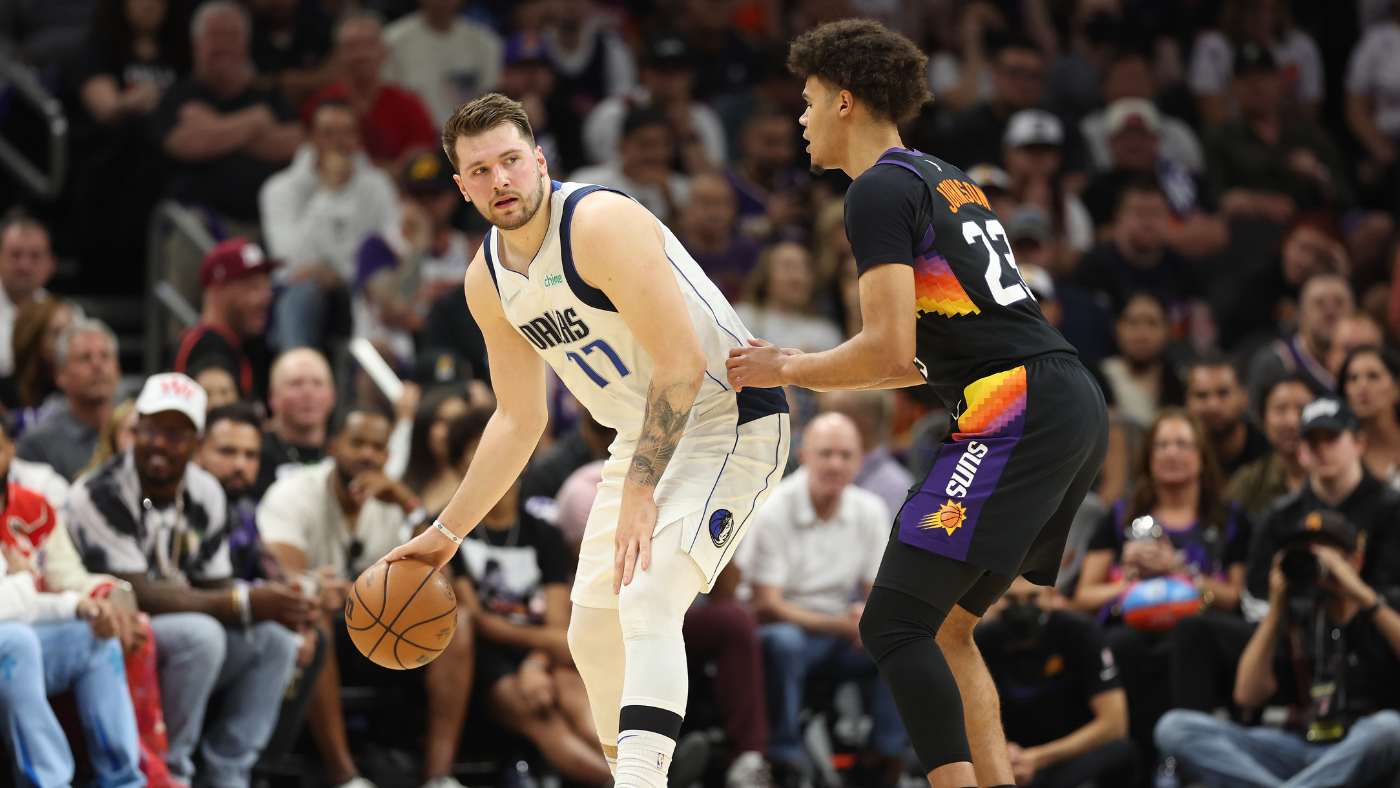 Mavericks vs. Suns score: Live Game 7 updates as Dallas opens up 30-point halftime lead over Phoenix
There is still a half of basketball left to be played but it appears as though the Dallas Mavericks are well on their way to a berth in the Western Conference finals after jumping out to a 57-27 halftime lead over the top-seeded Phoenix Suns in Game 7 on Sunday night. Luka Doncic was spectacular for Dallas in the opening 24 minutes of play as he led all scorers with 27 points. While that nearly topped the Mavericks' point total for the first half on its own, Doncic had plenty of help as Spencer Dinwiddie chipped in 21 points of his own off of the bench. 
This marks the Suns' first Game 7 since defeating the Los Angeles Clippers in the 2006 conference semifinals. They're 6-3 in best-of-7 series when leading 2-0. However, Chris Paul owns the most blown 2-0 series leads (four) by any player in NBA history. Working in  the Suns' favor: Dallas has lost the past six trips to Phoenix, including 0-3 this series. The Mavericks are also just 1-9 record in best-of-7 series when trailing 2-0. Luka Doncic has averaged 39.0 points, 10.3 assists and nine rebounds in three career games facing elimination. The Mavs star also posted 46 points and 14 assists in his only career Game 7 — a loss to the Clippers in the first round of last year's playoffs.
Follow below for all the real-time updates between the Mavs and Suns.
At this point I'm just fascinated by when these teams are gonna get their starters out of here. Dallas has another series coming up here, but Phoenix also probably doesn't want to risk its core guys getting hurt.
ALL OF THIS >>> pic.twitter.com/ruWLtSSTna
LUKA IS RIDICULOUS 🤧 pic.twitter.com/7yiSfm2kJV
We're seriously nearing the point where Dallas just has to get its starters out of there. They've got the Western Conference Finals coming up.
Should I just start using this space to preview Warriors-Mavs? Otherwise I'm at a loss here.
Luka is REDICULOUS 👌👌 pic.twitter.com/oiPOaw4YPr
75 to 34. I just… what do you even say to that? 
The Dallas lead is up to 40. It's Game 7.
.@PatrickMahomes, dis yo mans?? 🧐 pic.twitter.com/dAq2bO9xhk
Congratulatiosn to the Suns for crossing the 30-point threshold… 27 minutes into the game.
MR. SMOOTH pic.twitter.com/inuimwdiks
The Mavericks are just salting the wound at this point. They're up 38.
The Dallas lead is 35.
I repeat, the Dallas lead is 35!!!!!!
Ayton misses the free throw because the Suns just can't make shots tonight.
Phoenix starts the second half with a miss, so it doesn't seem like Monty Williams gave much of a halftime speech.
Game 7️⃣ energy ⚡️ #dALLasIN pic.twitter.com/JzEpEiOR51
Name something hotter than the sun: Luka & Dinwiddie
Let's keep it rollin' @ModeloUSA | #dALLasIN pic.twitter.com/0yeA7vBo4c
PLAYOFF LUKA. PERIOD. 🤯 pic.twitter.com/ufrBcwoOcs
pic.twitter.com/7cJrq41riC
The Suns scored 27 points in the first half. So did Luka Doncic. That's all you need to know here. Dallas leads 57-27. 
Dallas leads by 30. 57-27. The Suns are cooked.
Make it 0-for-7 from Booker.
Dallas has lapped Phoenix. They lead 54-27.
Spencer Dinwiddie is seriously going to outscore Phoenix's starters in the first half.
Our people 💙🤍 #dALLasIN pic.twitter.com/V05snCZeKw
This is absolutely pathetic for Phoenix. It's not even that they're playing badly. They absolutely are. But they've become so frustrated that they're fouling on every possession. 
That's niceeeee 😎 pic.twitter.com/jGQ49Qkmfq
And-one for Luka. Dallas leads 46-25. 
The Suns have 25 points in 20 minutes. I'm speechless.