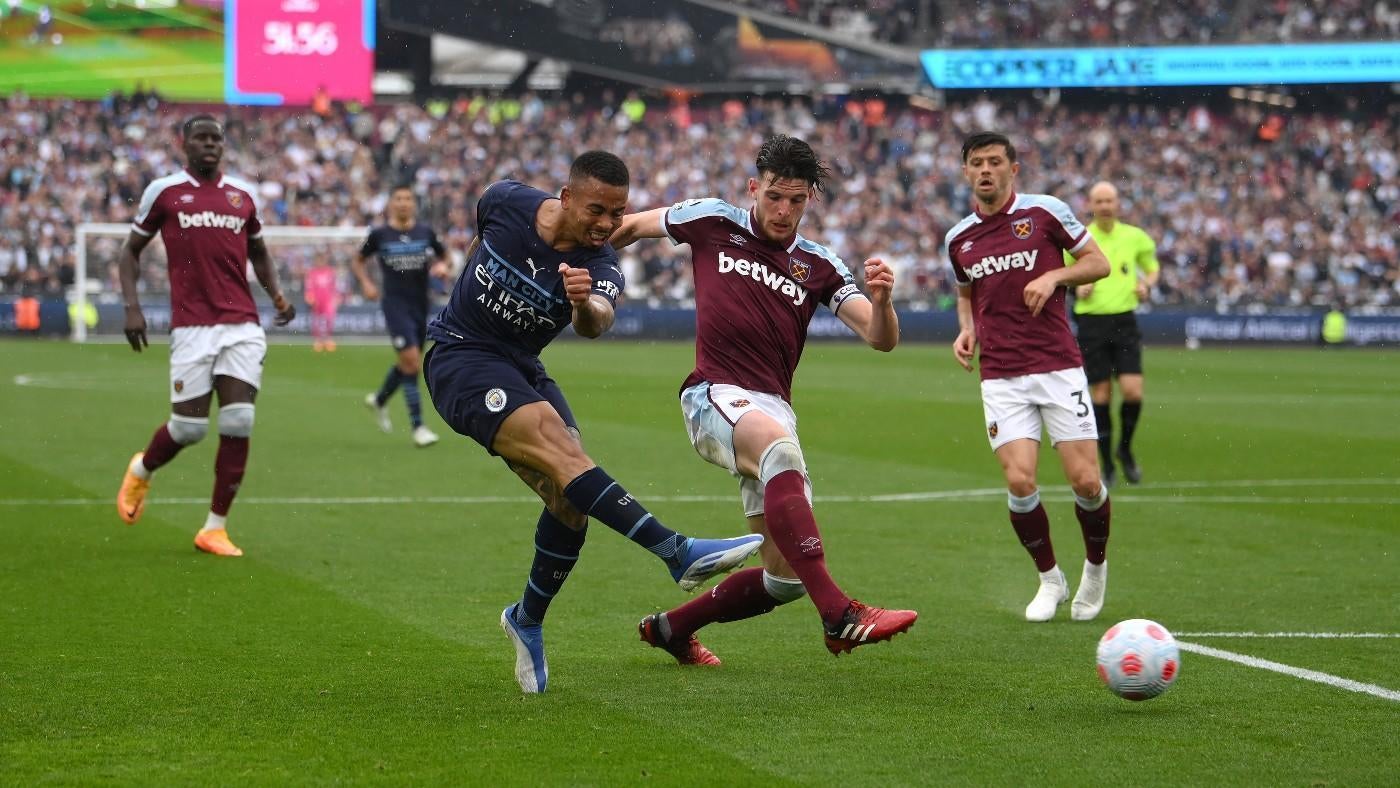 West Ham vs. Man City score: Guardiola's men rally for a point but see win slip away on Mahrez's missed PK
Manchester City clawed their way back to earn a 2-2 draw at West Ham on Sunday, giving themselves a title boost just after it looked like it could slip away. City trailed 2-0 at the break and rallied in the second half to take home a point, but Riyad Mahrez's late penalty miss means the title winners may not be decided till next Sunday. 
A first-half brace by Jarrod Bowen would be cancelled out by a goal from Jack Grealish after the half and an own goal by Vladimir Coufal. City will feel like it was an opportunity missed, however, as Mahrez had a chance to get a winner late from the spot. After a VAR review, Craig Dawson was judged to have fouled Gabriel Jesus in the box. West Ham goalkeeper Lukasz Fabianski read it the whole way, saving the penalty from Mahrez to see the points shared. 
It was a special atmosphere at the London Stadium as Mark Noble played his final home game of his West Ham career with a standing ovation in the 16th minute. His 549th appearance for the club was a special one as he helped play a crucial role in helping to secure a point with City pushing for the victory. 
Defensive errors for Manchester City made things easy early on for West Ham as Jarrod Bowen found himself through on goal to round the keeper leading to the opener in the 24th minute.
Jarrod Bowen rounds Ederson and West Ham take a 1-0 lead over Manchester City! 📺: @USA_Network #WHUMCI | #MyPLMorning pic.twitter.com/DMtpd07CIE
While Ederson did what he could to keep Bowen out of the net, he was locked in to continue his special season that has seen him score 12 goals and assist 10 more. Michail Antonio would find Bowen for his second of the match as Fernandinho and Aymeric Laporte again got crossed up in defense losing Bowen for the equalizer just before the break.
City managed to come back with a hot second half with Grealish's goal in the 49th minute giving them life before the own goal in the 69th minute. 
While it's a significant result in the title race, City being able to salvage a point is important as they are now four points ahead of Liverpool. The Reds travel to face Southampton on Tuesday and will need to overturn things in goal differential where they trail by six while also hoping that City drops more points on the final day of the season. But for West Ham, this is a result that could see them secure a Europa League spot on the final day as they trail Manchester United by only two points.
If Liverpool beat Southampton, City will just need to beat Aston Villa on Sunday to secure the title without relying on other results. But if Liverpool fail to win both of their remaining games, then it won't matter what City do in their season finale. 
It wouldn't be surprising to see Fernandinho benched for the final match of the season after that. He's already on the way out from Manchester after the season and his mistakes were too big to ignore in this one. 
Fernandinho's back pass to Ederson is intercepted by Michail Antonio but Antonio puts his 1v1 effort wide. Pep's reaction to that pass. 😬📺: @USA_Network #WHUMCI | #MyPLMorning pic.twitter.com/l8LRXd2CGL
Guardiola won't be happy as Fernandinho only won 60 percent of his duels on the day. Along with Laporte, he was caught out of position multiple times while allowing West Ham to get off shots en route to their two goals. A slightly better defensive performance and City wouldn't have to sweat on the final day. The defense has been one of the hallmarks of City's strengths this season but with Ruben Dias, John Stones, and Kyle Walker all sidelined, Guardiola is left with tough decisions to make.
Laporte struggled too but it seems like he was rushed back after being withdrawn early in City's last match versus Wolves. Guardiola doesn't have many choices but with Aston Villa's attackers, they could be able to take advantage of mistakes in a similar way that West Ham did. There's enough midfield depth to pull Rodri back as a center back if needed while young CJ Egan-Riley could also be given a run out on the final day, though surely the club will want to avoid that. 
With this draw, Liverpool have been handed a slight lifeline heading into their match. Off to Southampton on Tuesday, the Reds trail City by four points but things could get interesting down the line as the leaders also have a seven goal advantage when it comes to goal difference.
If Liverpool win versus Southampton, they'll trail City by only one point. City would still win the title as long as they can match or better Liverpool's result on the final day as long as their lead in goal difference is intact. If Liverpool draws, nothing changes as even if City lose on the final day, the Reds will not only need to win on the final day but also overturn the goal difference. An improbable Liverpool loss at Saint Mary's stadium would see Manchester City clinch the title on Tuesday.
While a Europa League berth could feel like a slight disappointment for a West Ham side that was on track for a top-four place at different points of the season, with how thin the squad is, it would still cap an incredible season. Consecutive appearances in the Europa League would be a success for a club not used to this level of it. West Ham will need to defeat Brighton on the final day and see Manchester United drop points at Crystal Palace to clinch the Europa League spot. West Ham have a superior goal differential to United, so if they can match their points by winning and United drawing, that will be enough.
Date: Sunday, May. 15 | Time: 9 a.m. ETLocation: London Stadium — London, United KingdomTV: USA Network | Live stream: fuboTV (Try for free)Odds: West Ham +700; Draw +400; City -275 (via Caesars Sportsbook)
Bowen's brace and Fabianski's penalty save to ensure that the Hammers left with a point. It's a disappointing result for CIty but they only have themselves to blame due to defensive breakdowns.
Fabianski comes up BIG with this penalty save late in the match! 📺: @USA_Network #WHUMCI | #MyPLMorning pic.twitter.com/ssWLlobckw
West Ham stands tall as Mahrez has a weak take that Fabianski read the whole way.
Gabriel Jesus went over in the box but this is going to VAR. It could be a brutal decision for West Ham if this is overturned.
West Ham continues to hold a tight defensive setup but City are probing. With nine minutes remaining, can City find a winner? The point could be enough but Guardiola will want all three.
It won't be a sentimental sendoff as he has 14 minutes to help West Ham earn a point or a winner. Scenes at the London Stadium.
Bowen almost completed his hat trick but a deflection from Laporte turns it into a corner.
Just minutes after Antonio's missed chance, Manchester City find an equalizer through a Coufal own goal. Can City complete the comeback? 📺: @USA_Network #WHUMCI | #MyPLMorning pic.twitter.com/DmnNWqdeDa
An excellent free kick from Mahrez doesn't reach a City attacker but it won't matter as Coufal's clearance goes into the wrong net.
It's calamitous at the back for City but Antonio couldn't keep his composure firing over the bar when he had a clear one on one chance with Ederson. City needs to get another goal as their current deficit could get bigger.
Fernandinho's back pass to Ederson is intercepted by Michail Antonio but Antonio puts his 1v1 effort wide. Pep's reaction to that pass. 😬📺: @USA_Network #WHUMCI | #MyPLMorning pic.twitter.com/l8LRXd2CGL
Fabianski is booked for time wasting as West Ham will have a tough job holding out. Laporte tried to clear the ball to safety and put it into the path of Antonio but as Ederson came out of the net, it was almost another defensive mistake to allow the Hammers space fo another goal.
Bernardo forces Fabianski into a save as the City onslaught is now beginning to get through the Hammers defense. It feels like an equalizer is coming sooner than later.
Game on at the London Stadium! Jack Grealish's volley brings Manchester City back into the match! West Ham lead 2-1. 📺: @USA_Network #WHUMCI | #MyPLMorning pic.twitter.com/R4BEp8Eih5
A poor clearance from the Hammers sees them punished. Dawson was close but it's game on!
As it stands, Liverpool would only be behind by five goals if they can defeat Southampton on Tuesday. West Ham have been up to the challenge so far as Manchester City doesn't seem all there defensively. Pep Guardiola will need a strong second half performance from his team but they have folded in the face of adversity so far this season. 
A BRACE FOR BOWEN! Jarrod Bowen doubles West Ham's lead over Manchester City just before the half. 📺: @USA_Network #WHUMCI | #MyPLMorning pic.twitter.com/NHT7Ko5fBQ
It's amazing what West Ham are doing as Bowen doubles the lead before the half. Antonio played him in but no one closed Bowen down once he had the ball.
City has taken 11 shots but only two of those have come from dangerous areas in the box, A whopping amount have been speculative efforts from outside the area which will be the biggest area for improvement as the game goes on.
City comes forward, West Ham defenders deal with it immaculately. Gabriel Jesus had another chance free on goal but it went wide. That's one that would've beaten Fabianski had it been on target.
Laporte takes a shot from distance but City will need to regain composure to ensure that Liverpool isn't handed a gift for their upcoming match with Southampton. 
Jarrod Bowen rounds Ederson and West Ham take a 1-0 lead over Manchester City! 📺: @USA_Network #WHUMCI | #MyPLMorning pic.twitter.com/DMtpd07CIE
⚒️🔥🙌 It has gone bonkers here at West Ham after that Jarrod Bowen goal. Current scene… #WHUFC 1-0 #MCFC #WHUMCI pic.twitter.com/vx0YnarXL6
All it takes is one chance as West ham caught City off on the counter. Ederson tried to make himself big to stop Bowen, but with the form he is in, no way he was missing that.
20 minutes in, City have been able to play a very high line with Fernandinho and Laporte's average positions being basically at midfield while Bowen and Antonio are the only players to venture into the attacking half for West Ham. To say that the Hammers are packed in would be an understatement as Bernardo Silva has completed more passes than the entire West Ham team. They'll need to venture out eventually but so far so good in protecting Fabianski.
Applause rings out for Mr. West Ham, surely buoyed by the performance of the team on the field too.
… And dribbles into a sea of West Ham defenders. While all it takes is one chance, City have their work cut out trying to find space.
West Ham are disciplined to begin the match as City's three shots have only led to one save for Fabianski. While They've been kicking the ball around the park, it isn't at a speed that will tire West Ham out either.
Who else but Bowen troubling Ederson. If West Ham are to get anything, Bowen and Antonio are a good place to start.
Under ten minutes until a key title match is underway.
Our Matchday Live guests share a word on Mark Noble before his final home game! 🗣🤝#ManCity pic.twitter.com/paPmOJUbCk