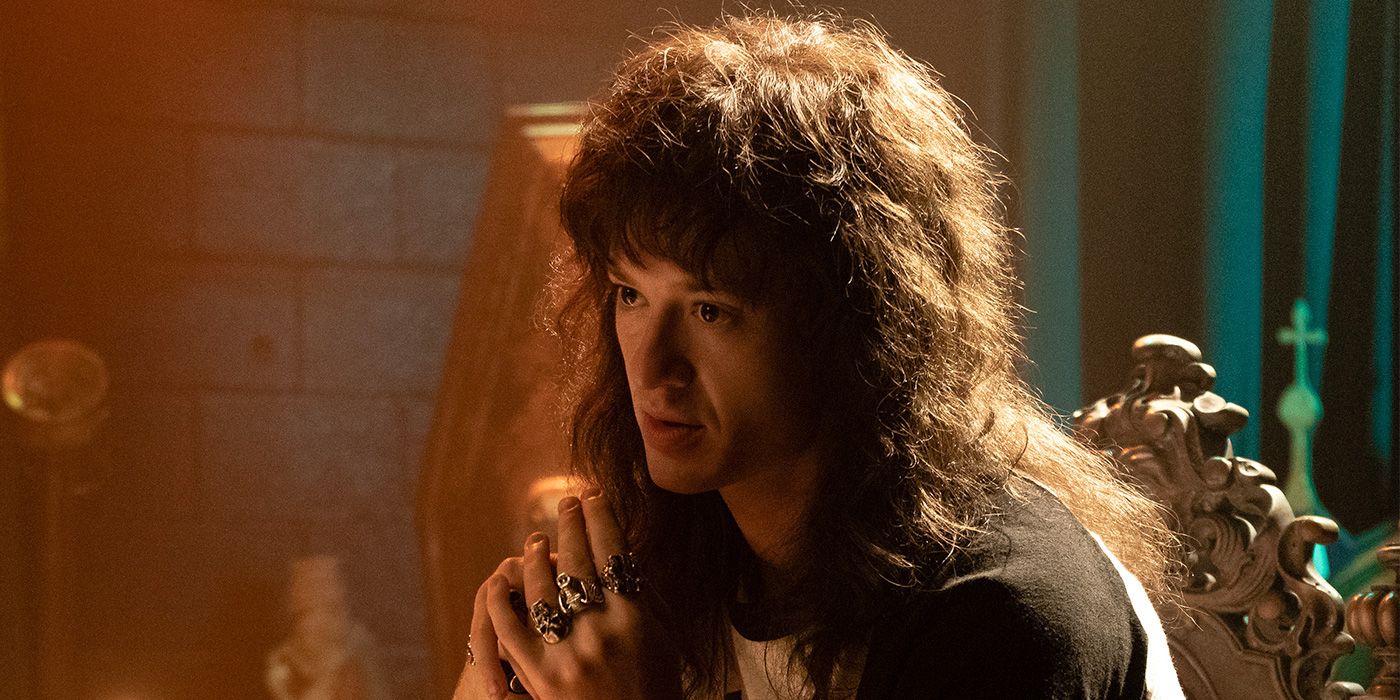 Stranger Things Season 4 Image Shows New Character In D&D Club
A new first-look image from Netflix's Stranger Things season 4 reveals Game of Thrones actor Joe Quinn as Hellfire Club leader Eddie Munson.
A brand new first-look image from Stranger Things season 4 shows off a new character who will be joining the cast. Stranger Things is one of the flagship series on Netflix, remaining consistently popular since it first premiered in 2016. Set in the fictional town of Hawkins, Indiana in the early to mid-1980s, the series follows a group of kids, played by Finn Wolfhard, Millie Bobby Brown, Gaten Matarazzo, Caleb McLaughlin, Noah Schnapp, and Sadie Sink, who discover their town exists over a portal to the dimension known as the Upside Down, from which monstrous threats (including the terrifying Demogorgon) frequently emerge.
Season 4 of the series is finally ready to hit the streaming service after experiencing severe pandemic-related delays. Part 1 of the season is set to drop on May 27, 2022, followed by Part 2 just over a month later on July 1, 2022. The new season will be shaking things up a bit as it splits the storylines between Hopper being rescued from a Russian gulag and the sinister happenings taking place around the supposedly haunted Creel house, which may result in some of the gang experiencing time travel. There will also be a terrifying new enemy surfacing, a power even greater than the dreaded Mind Flayer.
Related: Stranger Things' Title Already Teased Its Perfect Tragic Ending
Today, EW shared a new first-look image from Stranger Things season 4 as part of their 2022 Summer Preview. The image shows Game of Thrones actor Joe Quinn in character as Eddie Munson for the first time. In the image, he's seated in an ornate throne wearing a Hellfire Club T-shirt and a massive, teased mullet. He appears to be DMing a game of Dungeons & Dragons, but his game players are not visible in the frame. Check out the full-size image below:
The Hellfire Club is one of the newest additions to the world of Stranger Things, and in fact provides the title for the first episode of season 4. While some fans had speculated it might be a punk or biker gang like the one seen in season 2, it was revealed that it is actually Hawkins High's official Dungeons & Dragons club. Eddie Munson (whose name might just be a sly reference to Eddie Munster from The Munsters) is the leader of this club, so he has a nerdy heart of gold beneath his punkish exterior.
Knowing Stranger Things, there may be even more to this character than meets the eye. Although he seems like he would be an obvious ally to Hellfire Club members Mike and Dustin, he might just prove to be a thorn in their sides before too long. If that's the case, he'll likely show his true colors before the end of the season this summer.
Next: Stranger Things Season 4 Is Already Fixing Season 3's Worst Mistake
Source: EW
Brennan (he/him) is a senior writer at Screen Rant and a millennial who knows more about 80's slasher films than he has any right to. A former host of the Attack of the Queerwolf podcast, Brennan has been writing and podcasting about pop culture (especially horror films) for a decade. Brennan's interests also include the Muppets, bubblegum pop from around the world, and reading (especially Jane Austen, Agatha Christie, the manga of Junji Ito, and novels of magical realism). His favorite film directors are Wes Craven and Pedro Almodóvar.