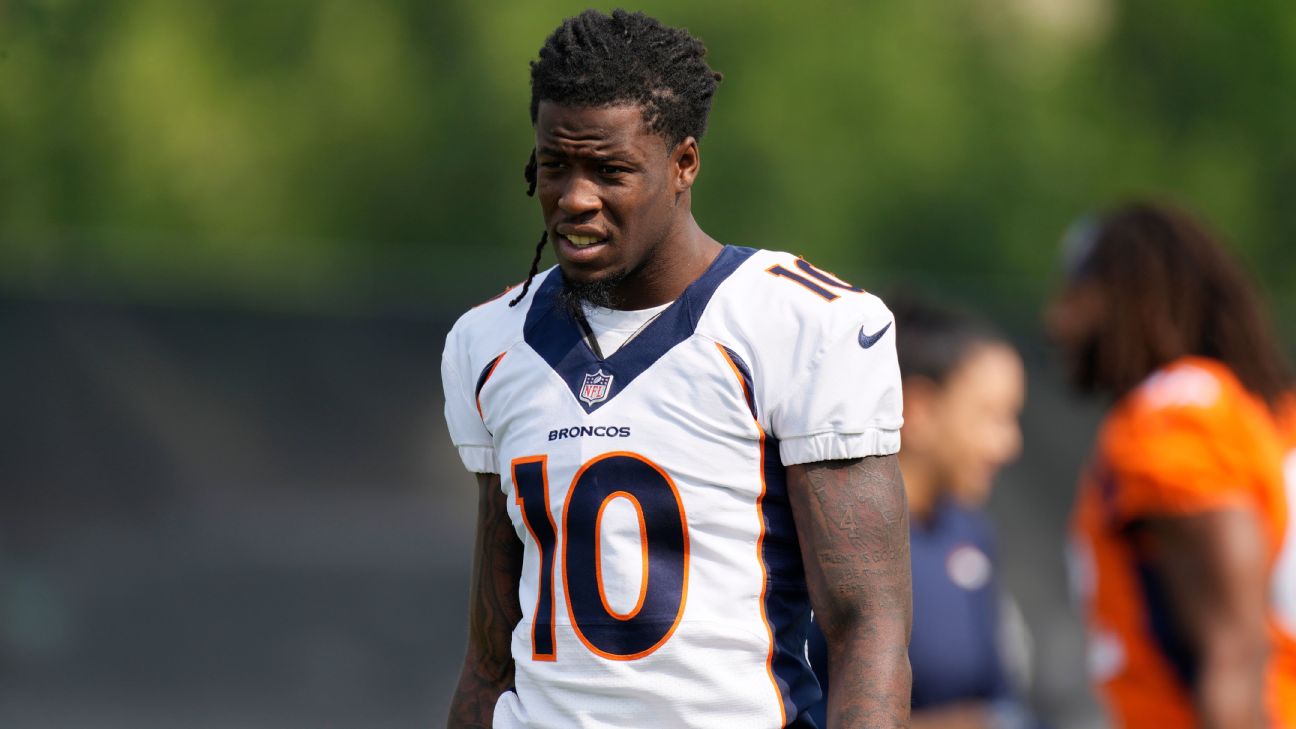 Denver Broncos WR Jerry Jeudy arrested, faces charge of criminal tampering with domestic violence enhancer
Adam Schefter details the charges Jerry Jeudy is facing after being arrested in the Denver area. (0:37)
ENGLEWOOD, Colo. — Denver Broncos wide receiver Jerry Jeudy was arrested Thursday by the Arapahoe County Sheriff's Department and, according to the Sheriff's Office, was charged with second-degree criminal tampering with a domestic violence enhancer, a misdemeanor.
Jeudy is being held without bond until he can appear before a judge in Arapahoe County Court at 8:30 a.m. Friday.
Arapahoe County Sheriff Tyler Brown said in a Thursday afternoon press briefing that no physical contact was made in the dispute between Jeudy and the mother of his 1-month-old daughter.
"It solely involved property, and there was no damage to property," Brown said.
Brown said that per Colorado law, the domestic violence enhancer was added to the charge because of the relationship between Jeudy and the woman. Also per Colorado law, the domestic violence enhancer prevents release at least until an appearance before a judge.
Brown said Jeudy prevented the woman from retrieving several items, including the woman's wallet, medical information for the child and a car seat.
According to a police report submitted to the Arapahoe County court, the woman told a deputy that things began Wednesday night and that Jeudy put her wallet and the medical paperwork in his car at their home so she could not get them.
She said she wanted to go back to Virginia but could not leave without those belongings, telling the deputy she did not want to get Jeudy in "trouble" but just wanted her things back.
According to the document, Jeudy admitted to locking some things in his car, including baby formula, because the woman took one of his three cellphones and would not give it back.
Brown said deputies were dispatched to an Arapahoe County residence at 10:15 a.m. as a "keep the peace" request. Brown said deputies were told Jeudy had withheld some of the woman's property so she could not leave the residence and that the woman had called police from a neighbor's house.
In a statement, the Broncos said: "We are aware of the matter involving Jerry Jeudy and are in the process of gathering more information."
The Broncos are currently in their offseason program, and Jeudy has been a regular attendee. Jeudy, 23, was the Broncos' first-round pick in the 2020 NFL draft.
He missed six games this past season with an ankle injury, and finished with 38 receptions for 467 yards and no touchdowns. On Wednesday, he had expressed optimism that quarterback Russell Wilson's arrival would mean a far better season for him was on the horizon.
Information from The Associated Press was used in this report.