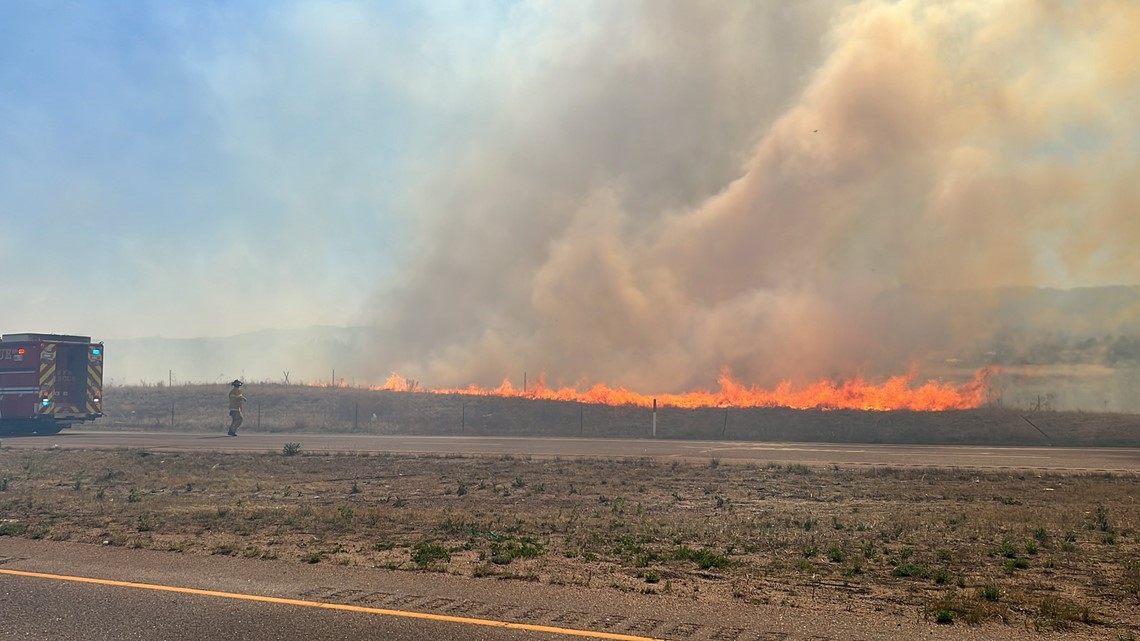 Colorado Springs fire that forced evacuations was started by sheriff's office vehicle
Next up in 5
Example video title will go here for this video
COLORADO SPRINGS, Colo. — One of the three fires that forced evacuations in Colorado Springs Thursday was started by an El Paso County Sheriff's Office vehicle that got stuck in tall grass, deputies said.
The Colorado Springs Fire Department said they estimate the fire has burned about 182 acres and is 15% contained as of 9:45 p.m. Thursday. No structures have been lost, the department said. 
Sheriff's office spokesperson Lt. Deborah Mynatt said a sheriff's deputy was responding to an unrelated call about a suspicious vehicle when the deputy's vehicle got stuck in tall grass. Officials believe the deputy's vehicle's catalytic converter overheated and caught the grass on fire. The deputy, who was not injured, immediately called for help, the sheriff's office said. 
The sheriff's office said they eventually made contact with the person in the suspicious vehicle, and learned the person was on their own property. 
About 50 homes were under evacuation orders due to the fire, which started in the area of Alturas Drive and Cresta Loma Circle. Those evacuation orders were lifted around 7:30 p.m. The fire department said more than 100 firefighters from multiple agencies responded to the fire. 
About 200 people at the Colorado Springs airport were under a shelter in place for about an hour Thursday evening due to the fire, officials said. The airport said at 7 p.m. that all outbound flights have been canceled. Inbound flights resumed around 8 p.m.
Eight homes at the Skylark mobile home park at 3831 N. Cascade Ave. in northern Colorado Springs were lost in a separate fire that started late Thursday morning.
The entire complex remains under evacuation orders, and officials said the evacuation will remain in place at least overnight. 
The fire is contained to the mobile home park. 
A grass fire that burned about 30 acres in eastern Colorado Springs is fully contained, the Colorado Springs Fire Department said.
The fire in the area of the 6700 block of Akerman Drive started around 11:20 Thursday morning. The cause remains under investigation.
Residents in the area of Summer Grace Street and Akerman Drive were evacuated due to the fire but were allowed to return home shortly before 4 p.m.
Fire Marshal Brett Lacey said about 500 homes were evacuated. The Rocky Mountain Vibes baseball team opened up their facility to provide food and refreshments to evacuees, Lacey said.
RELATED: 40 homes evacuated due to wildfire in Teller County
RELATED: Here's just how wildly dry it was in eastern Colorado on Thursday
SUGGESTED VIDEOS: Wildfires in Colorado