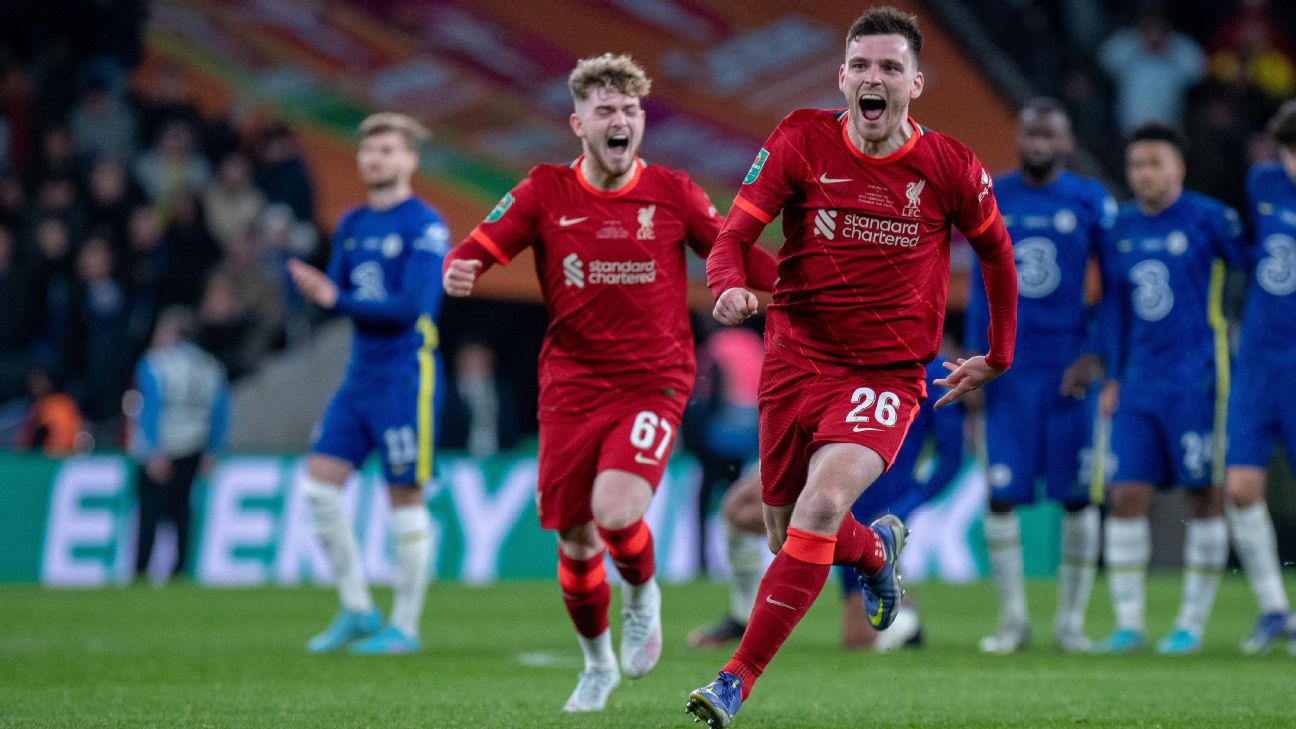 Liverpool vs. Chelsea FA Cup final preview six key questions to decide Saturday's game
Liverpool's quest for the quadruple continues, while the success of Chelsea's season seems like it hangs in the balance. Win the FA Cup on Saturday (streaming LIVE, 11:45 a.m. ET, ESPN+) and it's a major trophy for Thomas Tuchel in each of his first two seasons with Chelsea. Lose and it feels like a step backward after last season's Champions League trophy, last summer's major investment in the front line and last week's sale of the club. Such are the fine margins and nature of knockout football.
So, what can we expect to see at Wembley? Here are six questions to consider before the FA Cup final at Wembley.
Quietly, this has once again become a fascinating and compelling rivalry. After Tuchel arrived last season, Chelsea did something almost no one ever does: dominate Liverpool … at Anfield. Although it was in the midst of the hosts' injury crisis to the extent that Fabinho and Ozan Kabak were starting at center-back, Chelsea conceded possession, but outshot their opponents 11 to 7. They created the better chances en route to a 1-0 win.
Of course, this year's Liverpool is much different than last year's Liverpool. Kabak is playing for Norwich, Fabinho is starting at the base of midfield and the center-backs are now Virgil van Dijk and one of either Joel Matip and Ibrahima Konate. Throw Luis Diaz and a mostly healthy Thiago into the mix and you've got arguably the best team in the world.
Despite Liverpool significantly outperforming Chelsea on the whole this year, there hasn't been a ton to separate the two sides across their three matches this season (two in the Premier League, plus the Carabao Cup final, which Liverpool won after a remarkable 11-10 penalty shootout). If we throw out the second half of their first league meeting, when Chelsea were down to 10 men, then they've each scored three and conceded three. Per Stats Perform, Liverpool are about a full expected goal better (4.84 to 3.89), but that's not a massive gap over 170 minutes.
Gab & Juls debate who Thomas Tuchel should pick to face Liverpool in the FA Cup final.
Some other numbers from that stretch of game time:
Possession: Liverpool 52%, Chelsea 48%
Final-third possession: Liverpool 54%, Chelsea 46%
Touches in opposition penalty area: Liverpool 77, Chelsea 62
Possessions won in the final third: Liverpool 18, Chelsea 15
Liverpool have the slight edge from what we've seen so far, but this is the best team of the Jurgen Klopp era. Outside of Manchester City, Chelsea have played them as well as anyone else has this season.
Here's how all of the teams in the Premier League compare across two facets of the game: How far do they play the average pass, and how quickly do they move the ball? The former is measured in meters, while the latter is measured in passes per second of possession, or "velocity."
You'll see Manchester City and Burnley as the two massive outliers: one team that passes short and encourages players to hold onto the ball for a bit longer and another that just constantly boots the ball upfield like a latex hot potato filled with air. Liverpool, meanwhile, play longer passes when compared to most of the other big clubs in the league, but shorter compared to the average team. And they ping the ball around as fast as anyone other than Brentford and Burnley. Chelsea, on the other hand, move the ball around at a close to league-average speed, but play shorter passes than anyone else in England.
However, all teams behave differently in different areas of the field. Your passing tendencies change when you're closer to your own goal, and also when you're closer to your opponent's goal. To try to isolate for buildup play in particular, an analyst (@markrstats on Twitter) has looked at how far the teams pass the ball outside of the attacking third and how many of those passes they complete.
Here's how the league looks across those metrics:
In buildup, Chelsea complete the shortest passes (16.8 meters) at the second-highest rate (87%). Liverpool aren't far behind (86%), but they play a bit more directly (18.3 meters per pass) outside of the attacking third. However, against each other, both teams played longer passes and completed fewer passes outside the attacking third. While Liverpool's pass distance leapt to 19.7 meters and their completion rate dropped to 80%, Chelsea's shift was even starker. The distance on their passes climbed up to 18.1 meters, but their completion rate fell to 77%.
There are two reasons for it. The first is strategic. In that game against Liverpool last year, Chelsea won by playing diagonal long balls in behind the full-backs, who like to get forward. Tuchel has encouraged his side to play more directly against Liverpool, and it's closed the gap with an overall much better team. At the same time, though, not being able to complete your passes is what happens when you play against Liverpool.
On the whole, Liverpool's opponents complete 74% of their passes. The league average is 81%, and no other team has held the opposition below 77%. They've forced 410 turnovers within 40 meters of the opponent's goal — 55 more than Brighton's second-best mark.
Here's a heat map of all of their fouls, tackles, interceptions and ball recoveries in the attacking half this season:
When the ball breaks through the press, Virgil van Dijk and either Konate or Matip are there to mop up. If not, they draw opponents offside at a higher rate than any other team. If the ball makes it through both of those fail-safes, Alisson is there to stonewall any 1v1s.
Chelsea, on the other hand, have held their opponents to a 78% pass completion rate (fourth-best in the league) and forced 274 high turnovers, which is tied for eighth-best. While they do still engage opponents in the attacking half, it's mainly toward both sidelines — not the wall of flaming mauve you saw above:
Despite all the consternation over Chelsea's inability to score goals, the main reason the defending European champs are closer to West Ham than Liverpool this season is that their defense declined. The performance under Tuchel last season to this season looks as such:
2020-21: 0.68 goals allowed per game, 0.63 xG allowed, 13.5 penalty area touches allowed
2021-22: 0.89 GA, 1.10 xGA, 18.1 penalty area touches allowed
This season, they're allowing more shots (9.3, up from 7.7) and better shots (0.12 xG/attempt, up from 0.08). They're not winning the ball quite as much high up the field, and when the ball gets into their defensive third, an aging group of defenders (Thiago Silva is 36, Cesar Azpilicueta is 32 and N'Golo Kante is 31) haven't been as airtight as they were last season. Their defense put up an all-time great run of form in the second half of the previous campaign. It led them to a Champions League title and had plenty of people wondering if it might not bring a Premier League title challenge this season, too.
Instead, their defensive level now matches their place in the table: third-best.
Steve Nicol explains why he's given up hope that Liverpool can win the title this season.
On Saturday, Liverpool will likely do what they always do: a combo of measured buildup play with direct attacking when the space is there, followed by a fierce press when they lose it. And given that it's worked relatively well in the past, I'd expect Chelsea to play much more directly than they normally do in order to counteract the press and force Liverpool to do what they're worst at: defend in their own third.
The company Twelve uses tracking data from broadcast video to assess the value of every pass in the Premier League. They're able to determine which players add the most value — i.e. increase the team's probability of scoring a goal — by completing passes that bypass opposition defenders. And they're also able to determine what players play valuable passes in transitional moments, or when everyone around the ball is moving quickly rather than standing still.
– ESPN+ guide: LaLiga, Bundesliga, MLS, FA Cup, more (U.S.) – Stream ESPN FC Daily on ESPN+ (U.S. only) – Don't have ESPN? Get instant access
According to the first metric, Liverpool midfielder Thiago and Chelsea center-back Antonio Rudiger (who's leaving for Real Madrid this summer) both rate in the 99th percentile for their positions. Liverpool right-back Trent Alexander-Arnold and another Chelsea center-back, Thiago Silva, both rank in the 98th percentile. All three of Chelsea's top midfielders rank above the 90th percentile — Mateo Kovacic (96), Jorginho (93) and N'Golo Kante (91) — while right-back Reece James comes in at the 91st percentile. Liverpool's other players in the top 10 percentiles: left-back Andy Robertson (93), center-back Joel Matip (93) and central midfielder Jordan Henderson. (While Van Dijk is obviously Liverpool's best overall center-back, Matip tends to be the one who moves the ball up the field most frequently).
Consider these the key players in creating the capacity to score from more structured play.
When the game is moving faster, Henderson and James have been particularly important, ranking in the 99th and 100th percentiles, respectively, for the value added from their passing when adjusted for the speed of movement of everyone else on the field. (Most passes are more dangerous when everyone is moving at speed.) Other key ball movers when everyone is moving: Robertson and Rudiger rank in the 95th percentile, Kante in the 94th, Matip in the 92 and Thiago in the 90th.
As you can see from this graphic, which includes all of the passes played by Chelsea this season that increased their chances of scoring by at least 10%, their most dangerous passing comes mostly from the center, sometimes from the right and almost never from the left.
Liverpool's pattern, meanwhile, is obvious to anyone who's watched them: passes from the right at all angles and then diagonal balls into deep right side of the penalty area.
Per Twelve, Alexander-Arnold has created more overall value from his passing than anyone else in the league. That picture was painted, mostly, by him.
Among Premier League players who have appeared in at least 750 minutes this season, per FBref, Liverpool have five players who rank in the top 12 for non-penalty expected-goals-plus-assists per 90 minutes.
Despite his recent slump since returning from the Africa Cup of Nations, Mohamed Salah leads the league with 0.87 xG+xA/90. Right behind him in second: Diogo Jota, with 0.86. Roberto Firmino is sixth (0.68), Sadio Mane is seventh (0.67) and Luis Diaz (0.61) is 12th. Salah and Mane should both start on Saturday, and despite his fantastic numbers, it seems like Jota's fallen slightly behind Diaz in Klopp's hierarchy.
Unsurprisingly, Liverpool lead the league in total shots and expected goals. Since their full-backs are such prominent passing threats, all three forwards can spend their time closer to the goal. And since none of their forwards are true "center-forwards," they're all capable of interchanging positions and creating chances for each other. More bodies in the penalty area, combined with unpredictable movement and creative vision, adds up to something like this:
The majority of Liverpool's shots come from the exact area on the field defense is trying to protect: the center of the field, and particularly the penalty area.
As for who starts for Chelsea in attack, Mason Mount, Kai Havertz and Timo Werner seem to have become the first choice trio. They're the only Chelsea players with xG+xA marks over 0.5 per 90, but none rank in the Premier League's top 15. For the second year in a row, Werner has paired fantastic underlying numbers with paltry goal totals, but even if he's not scoring — and he's mostly not — his speed seems to open up all kinds of space for his teammates.
Havertz, meanwhile, moves as well off the ball as any striker in the league, and Mount is the group's hybrid creator/goal scorer. They're able to generate lots of high-quality shots at the edge of the six-yard box, but they haven't been able to add too many tap-ins or medium-quality shots from elsewhere in the penalty area. They're fourth in shots and third in xG.
He grabbed an assist last weekend against Wolves, but Christian Pulisic's value this season has come mostly from breaking into the box and getting shots for himself. He's third on the team in xG per 90 but 13th in xA. As for Romelu Lukaku, his main problem is that he hasn't been able to get any shots: 2.15 per 90, or 52nd-most in the league.
Based on the odds from Caesar's, they're giving Liverpool a 63% chance of lifting the trophy. FiveThirtyEight's Soccer Power Index is basically in agreement, pegging Klopp and Co. as the winners 61% of the time. To put that in context: the odds are essentially the same for Liverpool's Champions League final against Real Madrid: 61% per the bookies, 65%t per SPI.
If Chelsea end up winning, it'll likely be because they're able to exploit the spaces behind Liverpool's full-backs and frustrate the Liverpool attack with plenty of bodies behind the ball. If they're not able to do either of those things, they're not likely to win. But even if they do both of those things, it still might not be enough. That's what happens when you're playing one of the two best teams in the world.
Liverpool have so many options in attack, while the midfield and defense is specifically designed to facilitate their performance: center-backs who cover the space in behind, midfielders and full-backs who find them inside the box. They're just going to play their game — and more often than not this season, that's been more than enough.