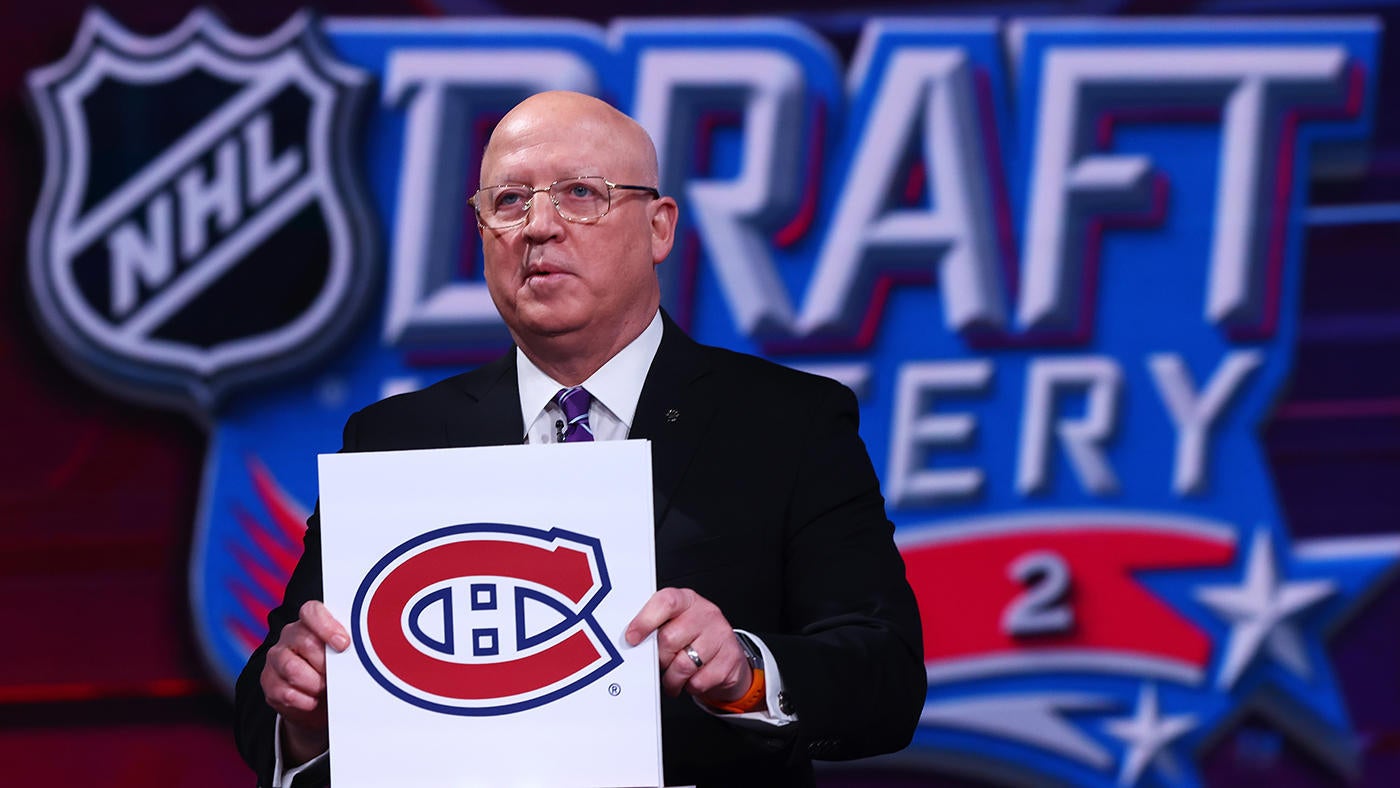 2022 NHL Draft Lottery: Canadiens win No. 1 pick for sixth time in franchise history
The Montreal Canadiens have officially won the No. 1 pick in the 2022 NHL Draft. Tuesday's 2022 NHL Draft Lottery saw Montreal win its sixth top pick in franchise history, while the New Jersey Devils and Arizona Coyotes will pick second and third, respectively. 
Montreal is set to host the 2022 draft, putting the squad in extremely rare company. The last time a host team made the top pick was in 1985, when the Toronto Maple Leafs selected defenseman Wendel Clark.
Montreal last picked No. 1 in 1980, when it selected forward Doug Wickenheiser.
!!!!!1!!!!!!!!1!!!!!!!!1!!1!!!!!!! pic.twitter.com/YIXOtObR8D
This is the second consecutive lottery in which the team with the best odds won the top pick. The Buffalo Sabres won last year and used their No. 1 pick on Michigan defenseman Owen Power. Power, 19, proceeded to appear in eight games and score three points (two goals, one assist) for the Sabres in 2021-22. 
While Montreal will pick No. 1, New Jersey is arguably the night's biggest winner. The Devils came into the lottery with the fifth-best odds, but they leapfrogged the Philadelphia Flyers, Seattle Kraken and Coyotes for the No. 2 selection. New Jersey's last top-two selection came in 2019, when it selected center Jack Hughes No. 1 overall. 
*angry fans from other teams*Us: pic.twitter.com/ef8wcKTBVo
Here's a look at the entire lottery order: 
To relive all the excitement of the 2022 NHL Draft lottery, follow below. 
The Montreal Canadiens have won the lottery and will pick No. 1. New Jersey will pick second. 
BUZZING! pic.twitter.com/VKuN4nkfrp
Seth Jarvis scored twice to help the Hurricanes to a 5-1 win against the Bruins in Game 5 of the Eastern Conference First Round.Carolina leads the best-of-7 series 3-2.https://t.co/uKtLwTKmPx
The @MapleLeafs' game-winning goal, courtesy of Auston Matthews (@AM34)‼️ #StanleyCupNHL x @massmutual pic.twitter.com/aNagyGFDXl
BACK AND FORTH WE GO! #StanleyCup pic.twitter.com/ia4fj9UScG
The @TBLightning tie it right back up! #StanleyCup pic.twitter.com/e97U8enObA
Another Surge in Raleigh!! pic.twitter.com/2nHfpsaimN
Tie the game ✅Take the lead ✅🇺🇸: @espn ➡️ https://t.co/O8fbcrCrvM🇨🇦: @Sportsnet ➡️ https://t.co/Nmzkf8LIiN#StanleyCup pic.twitter.com/AokqxcbMyo
#CANES WIN!!! pic.twitter.com/JaEgrlQ4M9
Two quick @MapleLeafs goals to give them the lead! #StanleyCup pic.twitter.com/ynADOKEPE2
Devils win No. 2 pick of 2022 NHL Draft at lottery, open to tradehttps://t.co/rcoJaERagq
The @NHLBruins are on the board. 🐻 #StanleyCup🇺🇸: @ESPN ➡️ https://t.co/KeSJLBs6v6🇨🇦: @Sportsnet ➡️ https://t.co/03wslR0a7s pic.twitter.com/Zh2VvXeGpT
Filip Forsberg said Tuesday he wants to return to the Predators.The forward is a pending unrestricted free agent. "I've said that since Day One: The goal is to come back here," Forsberg said.https://t.co/lomTFiZErU
It's Jarvy's world, we're just living in it pic.twitter.com/hoIYMQVP5o
Seth Jarvis scored his second goal of the 2022 #StanleyCup Playoffs and became the seventh player in @Canes / Whalers history to record multiple career postseason goals before age 21. The only player with more: Andrei Svechnikov (7).#NHLStats: https://t.co/7ihEdi3Y1N pic.twitter.com/azv4X2lodU
Victor Hedman became the third active defenseman to score at least 10 career playoff power-play goals, joining John Carlson (12) and P.K. Subban (11). #StanleyCup #NHLStats: https://t.co/m6qDTQcJu9 https://t.co/OclHVx18TL
GAME 5. #LetsGoOilers pic.twitter.com/VgEadq1gQH
The @Canes are up by two after this power play goal. 🔋 #StanleyCup 🇺🇸: @ESPN ➡️ https://t.co/KeSJLBs6v6🇨🇦: @Sportsnet ➡️ https://t.co/03wslR0a7s pic.twitter.com/G7YDPZxOmK
Patty might be the one saying "Thank you, hockey" but we're saying "Thank you, Patty!" 🙌 pic.twitter.com/rDsyyYRgdX
Just like in Game Four, Steven Stamkos (@RealStamkos91) opens the scoring. 👀 #StanleyCup🇺🇸: @espn ➡️ https://t.co/O8fbcrCrvM🇨🇦: @Sportsnet ➡️ https://t.co/Nmzkf8LIiN pic.twitter.com/uzUtm6HkBz
Through 16 games, #NHL fans continue to tune in to first round coverage of the #StanleyCup Playoffs on ESPN pic.twitter.com/wpsPggi1et
The @CanadiensMTL are the second team in as many years to retain the No. 1 pick in the #NHLDraft Lottery and fourth to do so in the past seven years after Toronto in 2016 and Buffalo in both 2018 and 2021.#NHLStats: https://t.co/J6BrDTSKDs pic.twitter.com/N3kArV1kFu
Results from the 2022 #NHLDraft Lottery, which saw the @CanadiensMTL retain the No. 1 pick and the @NJDevils move from fifth to second overall in July.#NHLStats and more information on the Draft Lottery: https://t.co/J6BrDTSKDs pic.twitter.com/UQDfGAK0PL
Good company to keep!#AllHailCale #GoAvsGo pic.twitter.com/gmJNgKwxzC
Rants 👀 pic.twitter.com/nFUaBP6CT9
The @CanadiensMTL have the 1️⃣st overall selection in the 2022 #NHLDraft! pic.twitter.com/6JRSTctMf0
That's the start we were looking for! pic.twitter.com/JpN2VIsn5g
Gang back together 👊 💙 pic.twitter.com/9SK4LoW5wu
Suited and hatted up. 🎩 #StanleyCup🇺🇸: @espn ➡️ https://t.co/O8fbcrCrvM🇨🇦: @Sportsnet ➡️ https://t.co/Nmzkf8LIiN pic.twitter.com/8KDYfOBJY1
Pivotal Game Fives Galore in the #StanleyCup playoffs 🤩📺 TONIGHT | ESPN, ESPN2 pic.twitter.com/YfNpSL040p
Charlie McAvoy returned to the lineup for the Bruins for Game 5 of the Eastern Conference First Round at the Hurricanes on Tuesday (7 p.m. ET; ESPN, SN360, TVAS2, BSSO, NESN). The defenseman was placed into NHL COVID-19 protocol before Game 4 on Sunday.https://t.co/IfdlUvwWVQ