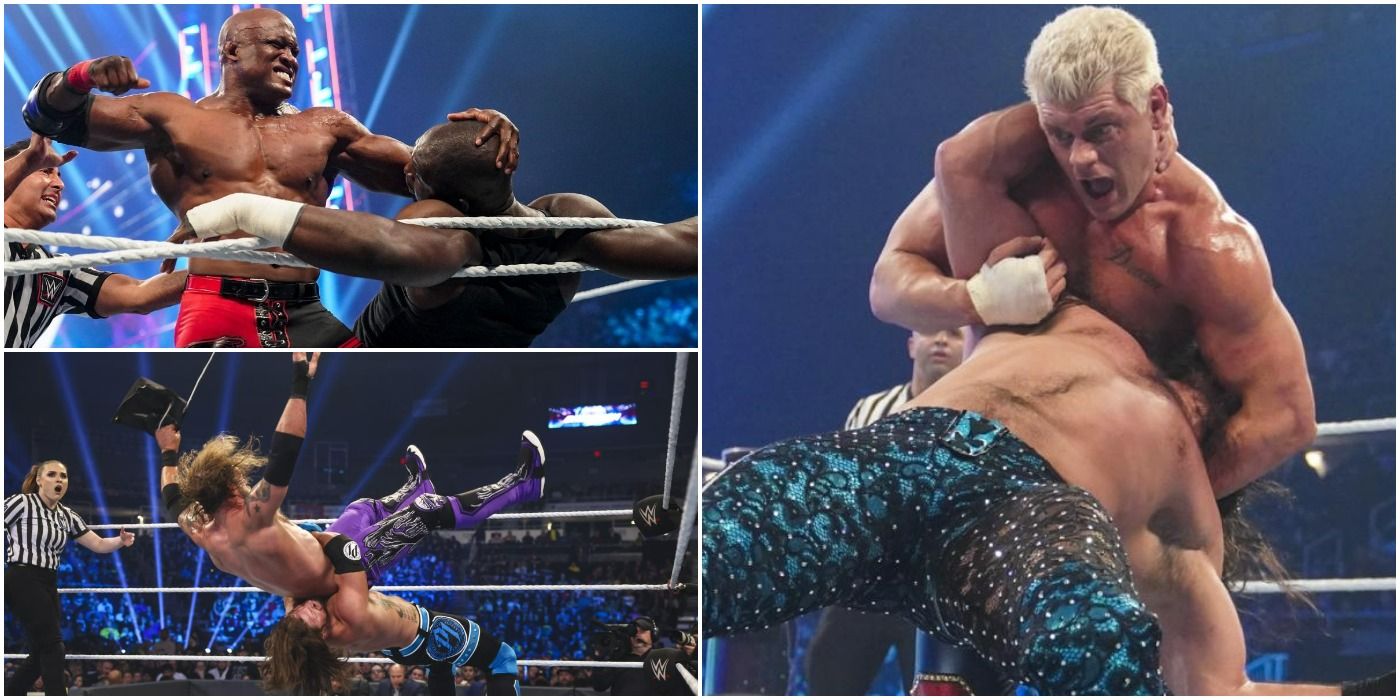 WWE WrestleMania Backlash 2022: Every Match Ranked From Worst To Best
WWE WrestleMania Backlash is in the books! Which match was the best on the card, and which bout was skippable?
WrestleMania Backlash only had a short card in comparison to the juggernaut two-night event that took place during WrestleMania 38 weekend. It also lacked in major title matches or bouts with giant stakes, but the show still managed to be an enjoyable one overall due to the in-ring product from the WWE talent.
RELATED: Every WWE Backlash PPV: What Was The Best Match Of Each Show
There was some excellent wrestling on display throughout the night, with some good grudge matches happening. It kept the live crowd hooked, and the same can be said for the WWE Universe at home. While it may not have been an all-time classic event, there are several matches well worth checking out.
Nobody was expecting a classic from these two men, and the match that they provided was likely similar to how people thought it would go down. It was a slugfest that was quite sloppy at times, with things just feeling awkward and slow. Omos is still very green, and unfortunately, that was clear in this one.
RELATED: MVP's First 10 WWE PPV Matches, Ranked From Worst To Best
MVP's presence did help this one overall though in comparison to their previous PPV match. He worked hard on the outside to add heat, doing everything he could to cheat. That did lead to the finish, as he used his cane to attack Lashley, which sent him into the finisher of Omos, which kept this one short, and that was the right call.
Happy Corbin facing Madcap Moss was fine, but nothing overly special. Both men went back and forth in a competitive manner, putting on a fun mid-card match for the show. It wasn't the type of match that fans will be desperate to see again, with this one feeling more like a standard television bout.
However, it was effective in terms of getting Madcap over as a bigger star, as he pulled off a win over his former mentor. It was something that highlighted his abilities, while Corbin more than held up his side of things to make a competitive bout.
This one was another WrestleMania 38 rematch, and once again Edge and AJ Styles put together a very enjoyable match. These are two experienced wrestlers who know how to tell a story, and that's exactly what they did via AJ's shoulder issues. It's something that they worked on during the build to this one, and they played on it throughout.
RELATED: The Best AJ Styles Match Every Year For The Past 10 Years
Edge focused on that area, while Styles had to be creative to get around it, which was great to see. They were methodical and took their time, but they certainly had the fans with them. It all culminated with a new member of the Judgment Day faction debuting, as Rhea Ripley helped Edge to secure the victory.
Adding the I Quit stipulation to this match was the right call, because Ronda Rousey and Charlotte Flair went to war in this one. They pushed each other to their limits in what was a true brawl, which is an environment the former UFC star truly works well in. With weapons, fights around the fans, and up into the stairs, there was a lot for fans to enjoy here.
Flair tried her best as champion to dominate here, throwing everything she had at Ronda. From brutally using the kendo tricks to locking in a submission with the metal stairwell as assistance. But the challenger refused to give in, eventually winning via an armbar with a chair, and overall they created a fantastic back and forth that felt like a true fight.
There may have been no actual stakes on the line here, but this six-man tag team match was tons of fun. It proved to be a perfect main event, and it had the live crowd going crazy for everything that happened. Initially, it was all about Roman Reigns not wanting to get involved, particularly against Drew McIntyre.
RELATED: The Bloodline: 10 Things You Didn't Know About The Anoa'i Family
The Usos put in tons of work, and they were impressive here. But ultimately, Roman put Drew threw a table, took out Randy Orton with a Superman Punch, and then Speared Riddle to get the victory. The final flurry of the match had tons going on that had audiences hooked, and it created chaos in the best way possible.
WWE opened up the show in hot fashion by having Cody Rhodes and Seth Rollins collide. The story here was simple, but effective, as this time Seth Rollins was prepared for his opponent, and that allowed him to have reversals and counters for a lot of things, creating a new dynamic in comparison to their previous match. They told an excellent story together, going back and forth throughout as they pulled out all the stops.
The fans were red hot for Cody as a babyface, which led to everything they did working out. The near falls were well built, and not over the top, which helped, while the finish was smartly done. Seth trying to mock Dusty Rhodes was smart, only to eat a Cross Rhodes was great. But with a nod to WrestleMania, he reversed the follow-up attempt, while Cody then took a page out of Seth's book by holding the tights for a win to wrap up a brilliant match.
Matthew Wilkinson is a writer based in Bradford, England. Can be found on Twitter @MC_Wilkinson1