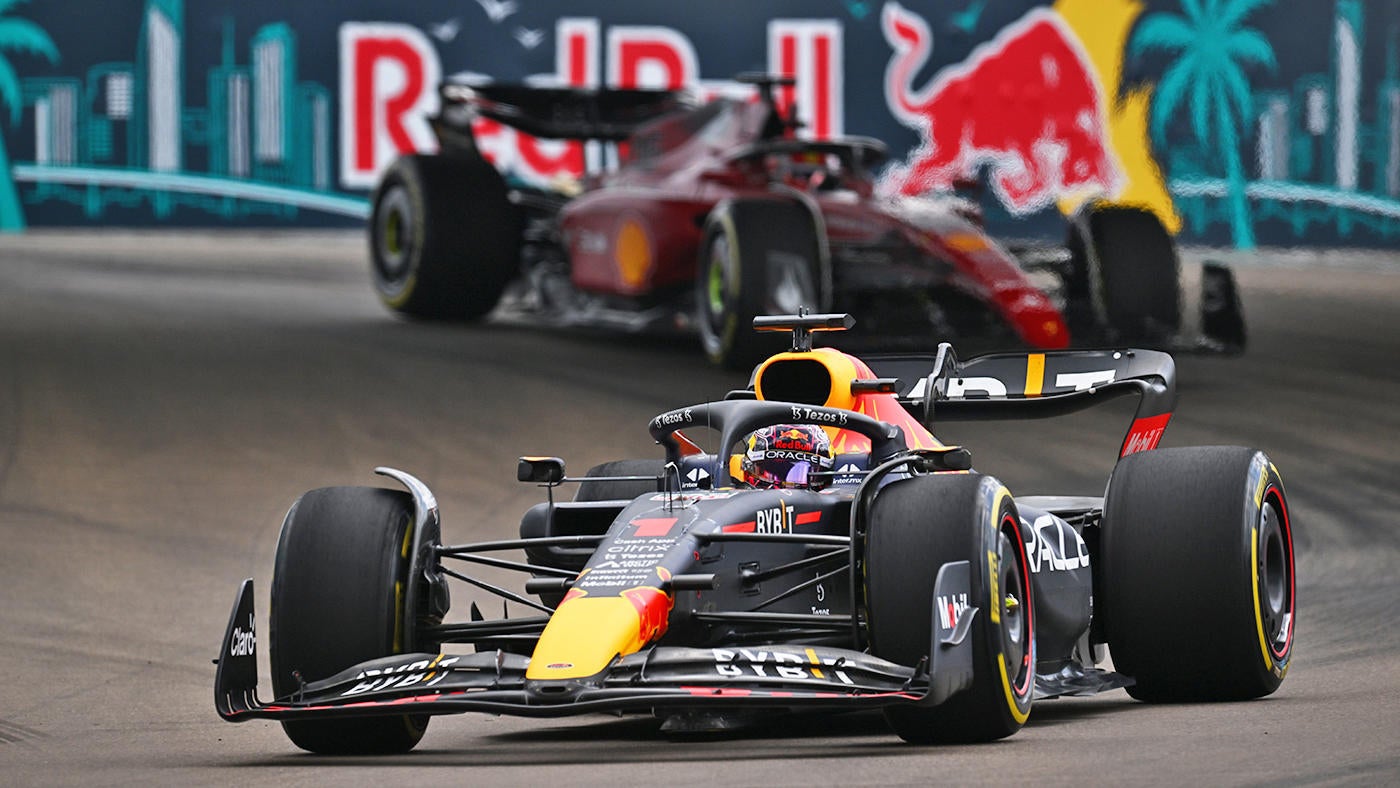 2022 Formula 1 Miami Grand Prix winner: Max Verstappen puts his troubles, and Ferrari, behind him in Florida
Max Verstappen put his head down at the start, slipped past Carlos Sainz Jr. by the first turn and then caught Charles Leclerc down the back straight for the race lead. His troubles were behind him and that's where he kept them on the way to winning the first Miami Grand Prix, and his defense of his world championship is now back on track.
Ferrari brought changes after the Imola setback, and while the Scuderia had great speed through the opening sector at the Miami International Autodrome — also known as the parking lot at Hard Rock Stadium in Miami Gardens, Fla. — Charles Leclerc and Carlos Sainz Jr. simply didn't have the straight line speed that Verstappen had in his Red Bull. 
A safety car period just before the final 10 laps closed things up and gave Leclerc his chance, but he just didn't have enough to catch the flying Dutchman.
"We kept it exciting to the end," Verstappen said at the finish. "It was an incredible Sunday for us."
And so Leclerc continues the trend of drivers leading the First Practice failing to win the race. In fact, it only happened five times last season where a driver who led P1 went on to win.
"I was a difficult race, physically," Leclerc conceded. "We struggled with the medium tires, and that made our race more difficult early on."
His teammate, Sainz, agreed.
"It wasn't easy at all," the Spaniard said. "The tires, with the heat, the car was sliding. But we got what we deserved. I wanted more, but it wasn't to be."
The series now moves on to Spain in two weeks, where Leclerc hopes they can make incremental steps to closing the power gap.
"We need to keep pushing," Leclerc said. "I hope we can take a step up for the next race."
The best strategy is a fast car.
Coming to a circuit they had only experienced through computer simulations, drivers and teams had no real idea what was in store for them at Miami Gardens. Would this be a two-stop race? A one-stopper? With the surface looking to be very abrasive after the opening practices on Friday, how long will the soft tires last? Or the mediums and hards?
As it turned out, the medium tires lasted just fine as Max Verstappen was able to stretch his laps out before pitting at Lap 27 for the hard compound, which saw him through the rest of the race. Perhaps some of that is due to the Red Bull cars running less downforce than the Ferraris, but the Scuderia pushed out their laps, too, so it's not all down to that. It's simply that Pirelli did a good job on their homework and brought a good mix of tires to the race.
At a circuit that was looking to be a high-speed affair from the get-go and played out that way, Red Bull configuration of low downforce, higher straight-line speed was the difference as even with DRS Charles Leclerc was not able to make up much of the gap to Vestappen over the final 10 laps. It was the same story at Imola, and Ferrari need to make up that power difference if they are going to stay in the title chase.
And that brings us to Mercedes, who teased us Friday, fell off on Saturday, then flashed potential again on Sunday. The team that could pretty much do no wrong and was nearly invincible for eight seasons seems to not be able to hold it together for a grand prix weekend now, with Lewis Hamilton radioing his team at the finish, "your strategy was not kind to me."
A fifth-place finish for George Russell and a sixth for Hamilton may look promising on paper, but until the Silver Stars can get their act together in the garage, that looks like the best they can hope for on race weekends.
Clinical from Verstappen 💪#MiamiGP #F1 pic.twitter.com/HkwmfHQlA2
MAX IN MIAMI. #MIAMIGP. https://t.co/KyNjipplH3
A 23rd victory in @F1, but a first @MiamiDolphins lid 🏈🇺🇸 pic.twitter.com/4lc9J8kO2W
Back-to-back in the USA! 🏆🇺🇸🏆 pic.twitter.com/hqMOLZFW7F
We're cheering all the way from the West Coast!!!!!!! Congratulations to @redbullracing's @Max33Verstappen on winning the first ever @F1. #MiamiGP #MakeItMiami pic.twitter.com/xVvho9fEJ1
Your #F1DriverOfTheDay It could only be Max! 💪#MiamiGP @salesforce pic.twitter.com/8JY3zAXpNP
WAVE THAT 🏁, @Tua!Congrats @Max33Verstappen on winning the first-ever #MiamiGP! 🏎 pic.twitter.com/9fz0DKgb1W
.@DanMarino with the trophy presentation AND @MiamiDolphins helmet to the inaugural #MiamiGP winner, @Max33Verstappen‼️ pic.twitter.com/VvuGX6pexG
UNREAL. WHAT A WEEKEND. #MiamiGP x @F1 pic.twitter.com/B7cWRqYeBb
The points scorers 👀#MiamiGP #F1 pic.twitter.com/fv3gN0cLcm
When you know you've earned it 😤🏆 #MiamiGP pic.twitter.com/ZyyAirZcAD
🎉🍾 1️⃣ @Max33Verstappen 2️⃣ @Charles_Leclerc 3️⃣ @Carlossainz55 #MiamiGP pic.twitter.com/cTnQOY1aHl
What. A. Race. 🙌#MiamiGP x @f1miami pic.twitter.com/eXj1CsSAfx
We heard y'all! 🗣 Thank you for making our first @f1miami incredible! #MiamiGP pic.twitter.com/Gk1LVqpoSz
P3 for @Carlossainz55 🤩#essereFerrari 🔴 #MiamiGP pic.twitter.com/4NLERxDWPG
MAX: "I'm incredibly happy with winning here in Miami. It was an incredible Sunday for us"#MiamiGP #F1 pic.twitter.com/e5BDHsirnW
CLASSIFICATION (LAP 57/57)Brilliant comeback from Verstappen after a tough start to his weekend 👏#MiamiGP #F1 pic.twitter.com/NJjGSWVdXN
Stateside podiums are ALWAYS special 🏈😍#MiamiGP #F1 pic.twitter.com/hpXZVVOcxa
First winner in Miami! 👏👏👏 @Max33Verstappen #MiamiGP #F1 pic.twitter.com/Wudi4ssRlF
https://t.co/vCNztATSCO #MiamiGP Podium 🏆🔥#FFTB pic.twitter.com/jl4LUz7yOV
First winner in Miami! 👏👏👏 @Max33Verstappen #MiamiGP #F1 pic.twitter.com/Wudi4ssRlF
Stateside podiums are ALWAYS special 🏈😍#MiamiGP #F1 pic.twitter.com/hpXZVVOcxa
A total of 25 pit stops throughout the #MiamiGP 🇺🇸Here's how it looked for the #Fit4F1 teams!🟡⚪️🔴#F1 #Formula1 #Pirelli #Pirelli150 pic.twitter.com/K4XfJv5Sx5
There's a new quarterback in town! #MiamiGP @Max33Verstappen pic.twitter.com/tBealHcQl4
CLASSIFICATION (LAP 57/57)Brilliant comeback from Verstappen after a tough start to his weekend 👏#MiamiGP #F1 pic.twitter.com/NJjGSWVdXN
#MiamiGP mood 🏎 pic.twitter.com/G1CXdtTuqV
CLASSIFICATION (LAP 57/57)Brilliant comeback from Verstappen after a tough start to his weekend 👏#MiamiGP #F1 pic.twitter.com/NJjGSWVdXN
MAX: "I'm incredibly happy with winning here in Miami. It was an incredible Sunday for us"#MiamiGP #F1 pic.twitter.com/e5BDHsirnW
CHARLES: "It was a very difficult race physically. Towards the end I thought I could get Max at one point, but today they had the advantage in terms of pace. But, it was fun, great to see so many people again!" #MiamiGP #F1 pic.twitter.com/aMNLW30gKj
CARLOS: "We managed to keep the podium so it's a decent result. It wasn't easy at all. It was a tough race" #MiamiGP #F1 pic.twitter.com/rkWZ7wmHsD